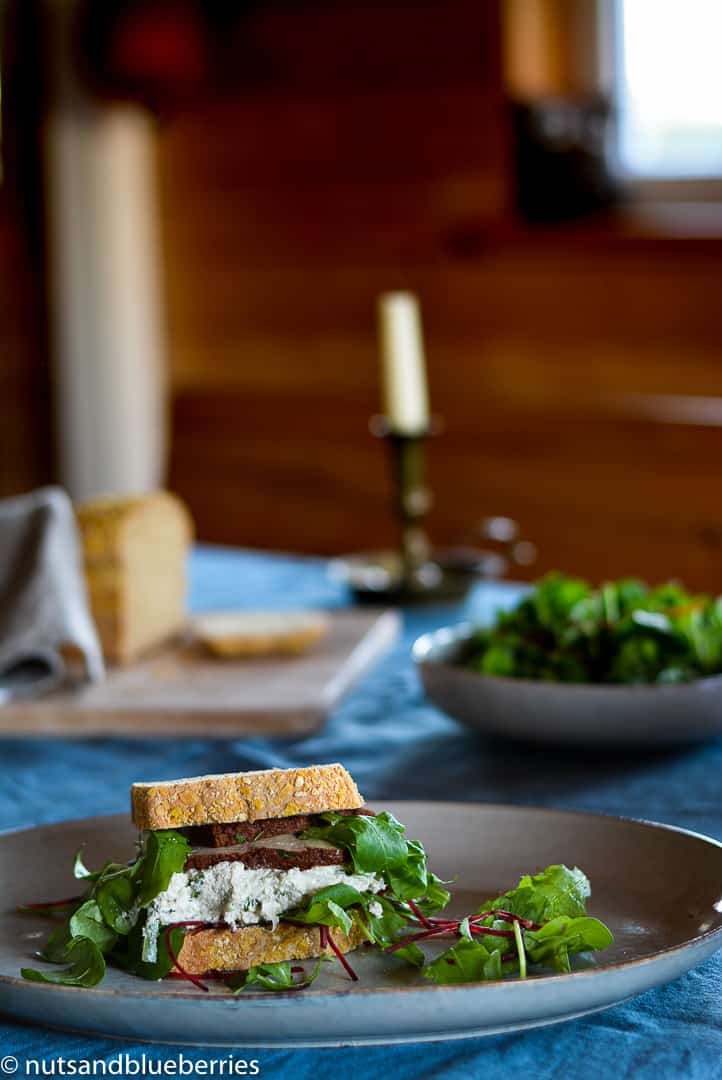 A healthy vegan sandwich and lots of fun! That's what you find in this post.
Finished! My #healthyfastfood4 Blog Carnival is over. I'm happy about your enormous participation and I love to see so many "food" friends from Instagram as well. As promised I share the list of your delicious recipes, Websites and Instagram Accounts today and I would be totally happy if you would do the same on your social media and Website. It's such a great way to share our passion of food. You find the complete list of all participants at the end of this post. Thank you all for your participation! I had so much fun and all participants would be really happy if you find the time to share the complete list also on your blog. To share our Passion for Blogging, Food, cooking and Food photography.
I like to introduce you to one participant who joined as well and published her eBook last week. It is Traci from vanillaandbean (@vanillaandbean).
You can find her amazing eBook here: grab-n-go snacks. I bought it and I am totally satisfied.
Be You
I want to share a little bit about my feeling to be more YOU in this life.
At the moment I'm really in a lazy mode and spend a lot of time with relaxing and slow movement. I'm thinking about what's really important for me. I like to discover more silence, calm and awareness because I feel that I really enjoy it. I don't like to run across my life and recognize nothing. So many people are busy and stressed from their own timeframe because they want to fulfill the expectations from others and their own. The expectations from the world and from yourself are so high. Nobody can fulfill them the whole life. Don't fulfill the expectations means to be not everybody's darling. And some people won't understand you when you act like yourself but that's the only way to find happiness in life. To find your own way.
I recognized I need a change. I needed a break from the society to think about my truly needs. I recognized I don't want many people around me. I don't want to join every party or event. Instead of this I love time with myself, my cats, my food and my hubby. I love to meet family and friends from time to time but not every day and not every weekend. I enjoy to do some sports, yoga, meditation in my free time. I enjoy to cook. I enjoy to read books and watch movies. I love cuddling my cats and I love to sleep early to feel fit the next day. I'm truly happy I realized this.
What are your Needs?
Food to Go – for example a sandwich
Because I'm really lazy at the moment I don't want to spend too much time in the kitchen. I try to find more easy recipes to relax in the evening. I am a full-time worker and be in the kitchen mean a kind of meditation but I can't meditate hours and hours. I don't want to spend more time than 1 hour after my work with cooking and cleaning. I discovered Sandwiches for me to have a great and healthy lunch I can easily prepare in advance. I often prepare the ingredients in the evening and put them all together in the morning for my hubby and me.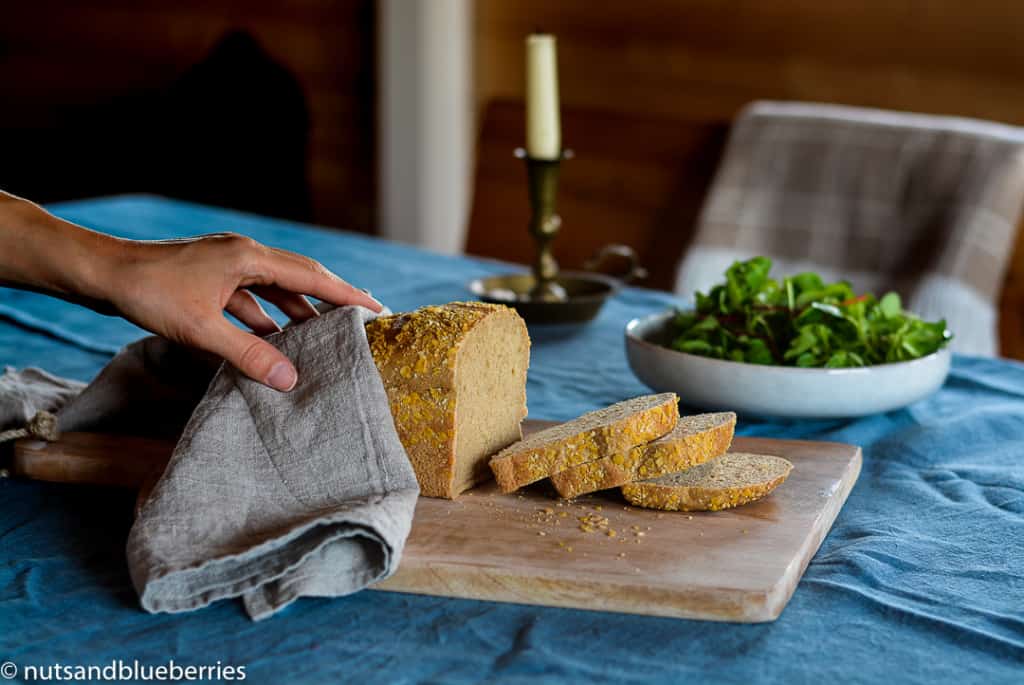 As you already know I don't eat animals because I love them. My base bread topping is cheese and avocado. But I try out other toppings as well like this sunflower seed tzatziki. It is so easy to made, vegan and full of healthy nutritions. For example it's is full of Vitamin E. I love Vitamin E because it is really helpful for a good skin. Maybe I'm crazy but I recognized my skin is so much better since I eat more seeds and nuts. I eat them every day. Vitamin E also help neutralize free radicals to protect brain health.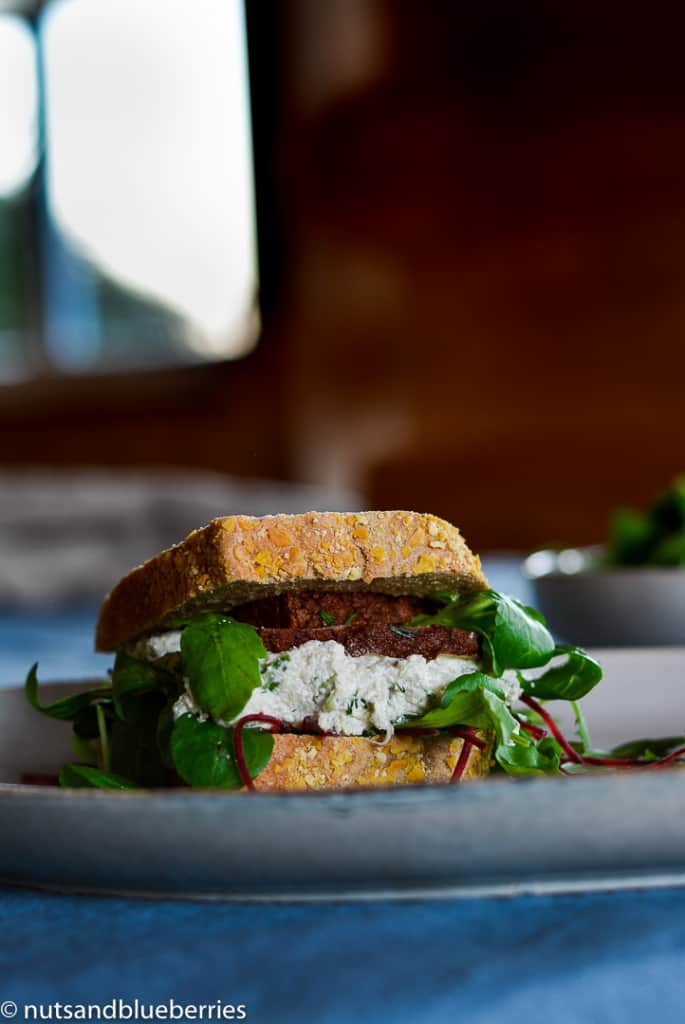 RECIPE
Sunflower seed tzatzki sandwich
Serve 2
100g sunflower seeds (soaked for 4 hours in water)
2 tbsp fresh lemon juice
2 tbsp olive oil
salt and pepper
2 tbsp fresh dill (chopped)
1/4 cucumber (grated, scrape out the seeds with a spoon to avoid liquid)
4 slices of whole wheat bread
6 slices of smoked tofu
salad
Preparation
After soaking your sunflower seeds, drain and rinse them.
Add lemon juice and olive oil and mix in a blender or with a immersion blender.
Add the grated cucumber and the dill.
Season with salt and pepper.
Serve your sandwich with tzatski, fresh salad and smoked tofu.
Enjoy.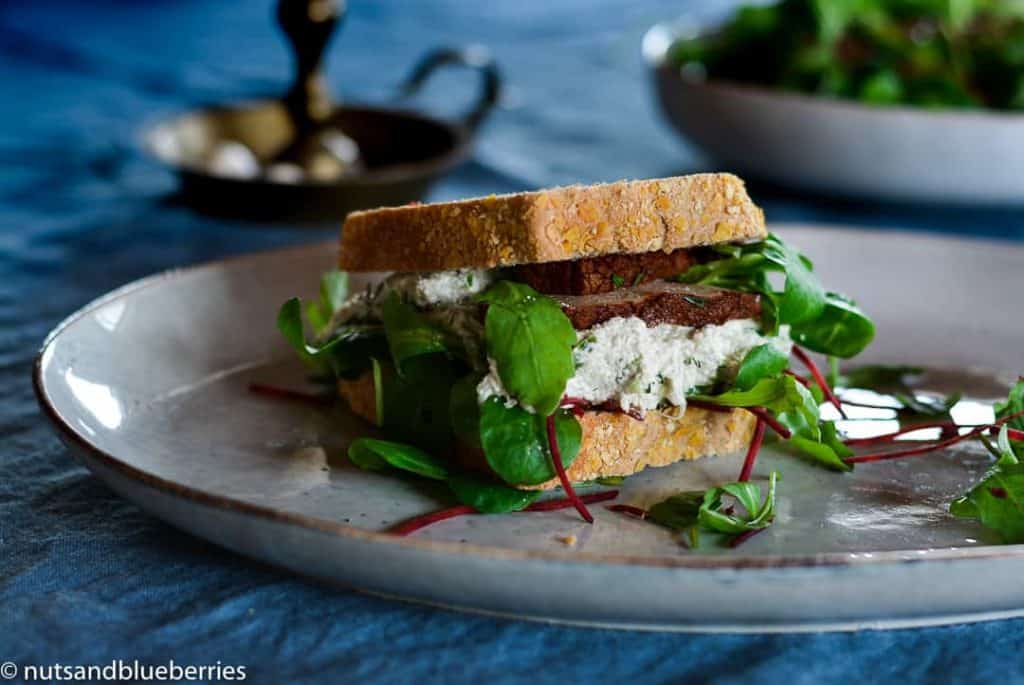 ---
Participants of #healthyfastfood4 Blog Carnival
Thank you all for your participation! I had so much fun and all participants would be really happy if you find the time to share the complete list also on your blog.
To share our Passion for Blogging, Food, cooking and Food photography. I would be happy if you share this list as well on your Blog to share the food love.
Blogger Recipes
Sweet Potatoe Sandwich with beetroot cashew cheese from Tiina @myberryforest
Pumpkin Millet Burger from Klara
Pineapple Lime Coconut Parfait from Dee @greensmoothiegourmet
Golden roti, curried carrot falafel and masala corn Bo from @bos.kitchen
Strawberry Rhubarb Tart and salted brownie cheesecake bites from Mitra @nutriholist
Healthy fast food pizza from Jo @healthyeating_jo Pumpkin millet burger from Klara @klaraslife
Vegan saitan chicken sandwich from Lauren @rabbitandwolves
Sri Lankan beetroot curry & toasted coconut sambol from Annabel
Sweet Potato and Chickpea Curry from Nattalie @healthynatty
Healthy Indian Chaat from Meghnas @meghnas_
Quinoa-Pumpkin Burger with veggie chips from Verena @frei_style
Pink dream cream parfait from Corinne @healthypieceofcake
Antioxidant Açai Chocolate Oatmeal Bowl from Brenda @crave.the.benefits Cashew cream kale Caesar sald and fried shallots with parmesan vegan from Lyndsey @lyndsey_eden
Raw vegan oreos from Sara
German
Regenbogen-Lunch: Buchweizennudeln mit Tofu und Tahini from Anna
Healthy Sushi from Steffi
Schnelle Beerenmuffins für das Wochenende from Jessi
NEWS!
One of my favorite food blogger published her eBook. Traci participate with one of her new recipes from her eBook: Almond Chocolate Coconut Bars from @vanillaandbean
Download: grab-n-go snacks

Instagramer Healthy Fast Food Ideas
Portobello Bun Red Lentil Burger / Slider from Marisa @missmarzipancom
Cauliflower pizza crust from Chloe @the_smallseed_
Mexican taco style from Annelina @food_without_regrets
Savoury Rainbow toast on glutenfree bread from Dora @theradiantkitchen
Rainbow Veggie Open Pittas from Lorna @eatmyyythoughts
Breakfast bowl from Jenny @jenny.rai
Mango Vegan no churn ice-cream from Arzu @vitalityandmore (Facebook: https://www.facebook.com/vitalityandmore)
Potato chili fries with the best plantbased cheesesauce from @lenkas_kitchn
Spring rolls with satay and sweet chilli style sauce from Lee @vegan_naturalee
White and red quinoa from, hummus, eggplant dip, chimmichurri, vegetable stock and 4 greens pesto and Tropical Bliss Pitaya, mango, Pineapple, Banana Nicecream from Silv @minimuncherbali
Creamy Millet Porridge from Philine
---