I don't spend so much time in the kitchen as I do in the last year. I started my blog round about one year ago and my Instagram 8 months ago. I couldn't imagine that this would be such a big part in my life. To thank you all for your great support I will run a winning game after my vacation. Can't wait to share it :o)). Without your support I wouldn't be here now. I learned so much in the last year about healthy food, work-life-balance and to listen to myself.
It is so important to make things you really love and to avoid too much stress in your life. We need to listen and be honest to our self. Decide what is good for us and what not. The society requirement are so high. Nobody can withstand that permanently. Think about your own possibilities. It's your life, you are the creator. Remember that!
Maybe these snickers are a good start to make a break ;)?
Hemp seeds healthy benefits
Lots of you asked me for these snickers I made often in the last week. I developed my own version with lots of hemp seeds to add healthy omega-3 fatty acids. Hemp seeds have a mild and nutty flavor. Hemp seeds are also a big protein source, as more than 25% of their total are from high-quality protein. You find also Vitamin E for a perfect skin in these little seeds. If you don't want to use hemp seeds you can also add more oats. These bars are the best snack before you start a sport workout or get new energy after a half working day. Lots of protein and they make you full for longer! One bar is enough for a few hours.
For these snickers you need a base, a caramel and a chocolate layer. All made from healthy natural ingredients and organic sweetener.
I used peanuts to impart a crunch. Peanuts harmonize perfect with chocolate. The chocolate I made is from coconut oil and raw cacao. In the past I often drank sweetened Cacao. I don't know if they is a lot of unhealthy sugar in these drinks. In the last months I discovered raw cacao powder you can use instead of the other. In combination with natural sweetener like dates or rice syrup it taste amazing sweet and delicious. I often prepare a drinking cacao in this way.
You need to store them in the freezer. Best time to enjoy is to take them out 15 minutes before serving.

RECIPE
HEMP SNICKERS
For a baking dish of 20x30cm
Serve 8-10 Snickers
Base
100g Hanfsamen
100g Cashew Nuts
100g Oats
50g Almonds
100g desiccated coconut
100ml rice syrup
2 tbsp coconut oil
½ tsp salt
Date Caramel
300g dates
1 tsp vanilla powder
1 tbsp coconut oil
2 tbsp cashew butter (or Peanut Butter)
½ tsp salt
Water
100g peanuts, unsalted (for the topping)
Chocolate Layer
75g raw cacao
100ml coconut oil
50ml rice syrup
Preparation
Base
Crash the Almonds, Cashew Nuts and Oats in a blender
Add desiccated coconut, rice syrup, coconut oil and salt
Press the mixture in a 20x30cm baking dish or form and store in the freezer
Date Caramel
Mix all ingredients (except the peanuts) in a blender until it get creamy
Add water if necessary
Spread the Caramel on the base
Sprinkle with Peanuts
Store in the freezer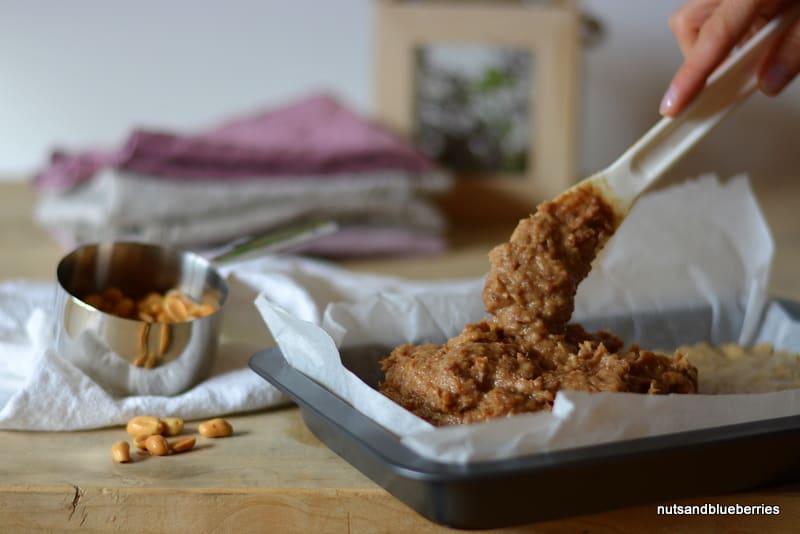 Chocolate Layer
Stir the coconut oil with the raw cacao and rice syrup
Sprinkle over the snicker base and store in the freezer for minimum of 2 hours before serving.
Best time to enjoy is to take them out 15 minutes before serving.