*This post is sponsored by Broste-Copenhagen
One of the most delicious savory meals I know are wraps and falafel (as well as burger and French fries). I recognized I didn't share my favorite Taco recipe on my blog yet.
So I hurried up and wrote down the ingredients for you. This kind of food really makes me happy. It's a kind of celebration. Not at least because these meals includes beer ;o).
Vegan Taco filling
Most of the times I eat a lot of cheese. But sometimes I prefer to cook vegan as well to have my own balance. After eating vegan meals I simply feel "light" and healthy. I really feel the difference between what I eat. I learned a lot about vegan diet and already know how to replace dairy products which are delicious as well. For these taccos I use a "cheese cashew sauce". It taste like cheese because of the nutritional yeast.

 
What is this nutritional yeast?
If you check it out by Wikipedia you will read the following about nutritional yeast:
"Nutritional yeast is a deactivated yeast. It is sold in the form of flakes or as a yellow powder. It is popular with vegans and vegetarians and may be used as an ingredient in recipes or as a condiment. It is a significant source of some B-complex vitamins, and contains trace amounts of several other vitamins and minerals. Sometimes nutritional yeast is fortified with vitamin B12.
Nutritional yeast has a strong flavor that is described as nutty, cheesy, or creamy, which makes it popular as an ingredient in cheese substitutes."

If you want to try out a vegan replacement to cheese products I highly recommend nutritional yeast.

Win a big Broste salad bowl!
As you know I'm a food photographer since 2 years now. Beside the horrible camera technique I learned how to serve food to make it look pretty. I felt in love with lots of tableware but especially with the table stoneware from broste-copenhagen. So I'm ultra happy to teamed up with this wonderful company to giveaway a Salad Bowl Nordic Sand 34,5 x 7,5cm Stoneware.
To join you simple need to leave a message under my blog and tell us what's your favorite mode of use for this wonderful tableware. Leaver your E-Mail address and I will contact you on the 4th june 2017 when you are the winner. You find the Eligibility Requirements at the end of the blog post.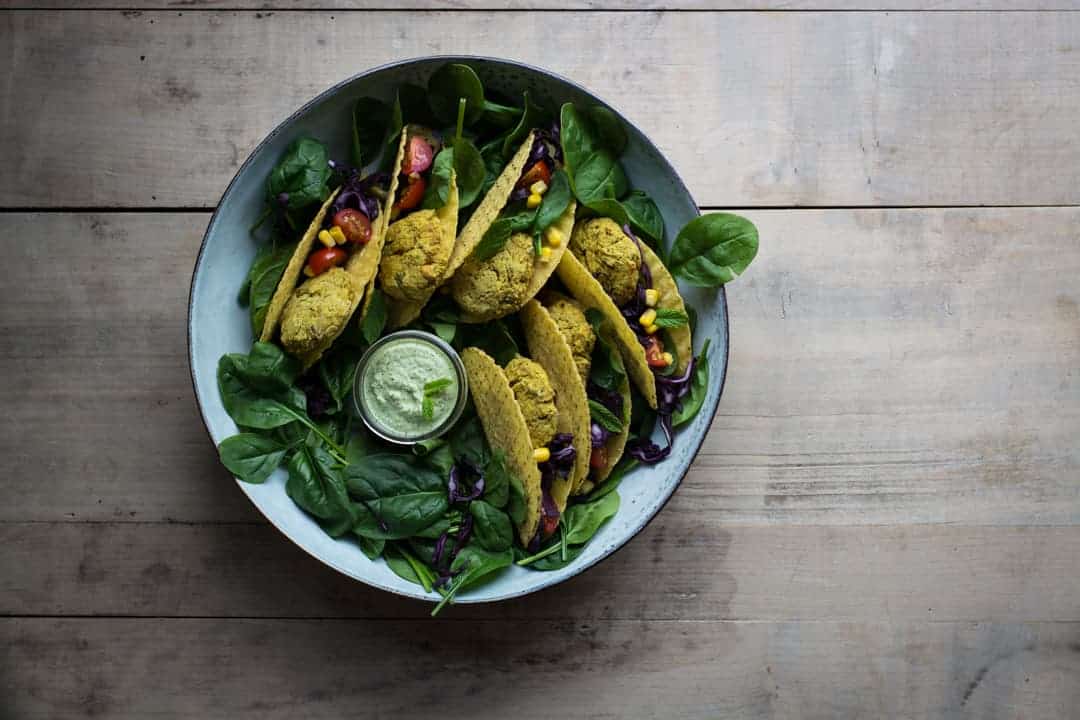 Falafel Tacos and Broste giveaway time!
Author:
nutsandblueberries
Ingredients
2 cans of chickpeas, canned
60g flour
Half bunch chopped parsley
2 tbsp nutritional yeast (or parmesan)
2 garlic cloves
1 tbsp lemon juice
1 tbsp turmeric
1 tbsp cumin
salt and pepper
Cheese Cashew Sauce
150g soaked cashews (4 hours, best overnight)
1 tsp fresh ground mustard seed
2 tbsp lemon juice
Half bunch mint leaves
Half bunch mint parsley
50ml water
salt and pepper
For serving
Fresh Spinach
Cocktail tomatoes
Purple cabbage
Tacos
Instructions
Drain cashews under water and mix them in a high-speed blender.
Chop the mint and parsley.
Add all your ingredients to the cashew sauce - except the mint and parsley.
Blend until you get a very smooth consistency. After its done add your parsley and mint.
Falafel Directions
Pre-heat the oven for 175C.
Mix the ingredients in a high-speed blender (or use an immersion blender)
Use a spoon to measure the same sized falafels.
Lay parchment paper on a baking a sheet, bake the falafels for 30-45 minutes. Depends on the crispiness you want.
Heat up your tacos and serve.
Follow my blog with Bloglovin


Eligibility Requirements:
• Leave a message on this post how you would use this salad bowl in your kitchen
• Leave your E-Mail address
• If you not want to leave a message here write me an E-Mail to: post@nutsandblueberries.com
• Entitled to participate are all persons with a Minimum Age of 18 years
• Entitled to participate are people from Europe
• The competition end on 4th june 2017
• The winner will be contacted via E-Mail or @instagram
THIS COMPETITION IS SPONSORED BY HTTP://BROSTE-COPENHAGEN.COM/
THE PRICE WILL BE SHIPPED BY BROSTE-COPENHAGEN DIRECTLY.
THE WINNER WILL BE CHOOSEN BY DRAWING LOTS.
THE COMPETITION IS NOT SPONSORED BY FACEBOOK.
You may interested in the following as well
The lovely Tamara from sweetcafeinternational shared a wonderful recipe for a mango coconut cream tart