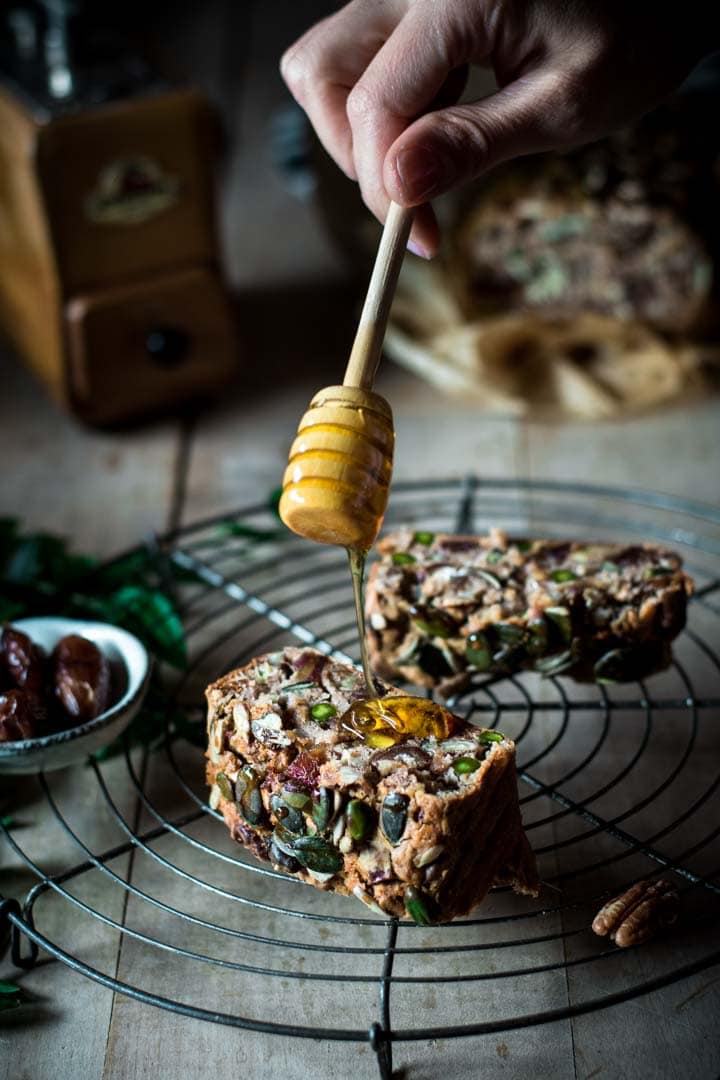 Are you cookbook addicted as well? I'm working on a big giveaway for you. I want to giveaway some of my favorite cookbooks as well as some favorite products from on of my favorite organic brand. As you read in my latest blog post I'm a hobbyblogger and have less time to publish a new post every day. So I already worked on this big one since a few months. It will be ready soon in December.
Until it's finished I will sweeten your day with this "Foolproof low carb super healthy fruity nut loaf". It's foolproof because you only need to toss all ingredients together and bake it in the oven until it's ready. Low carb because it contains tons of nuts and seeds which are super-healthy and full of protein. Perfect for sportive people or for provide your muscles with healthy stuff.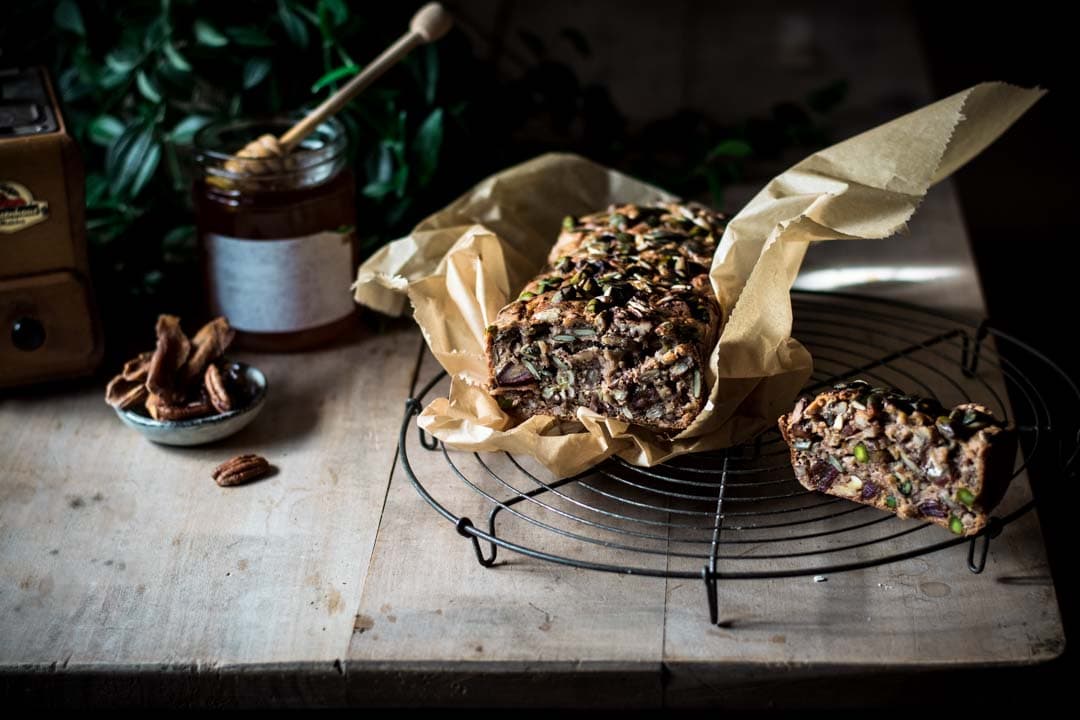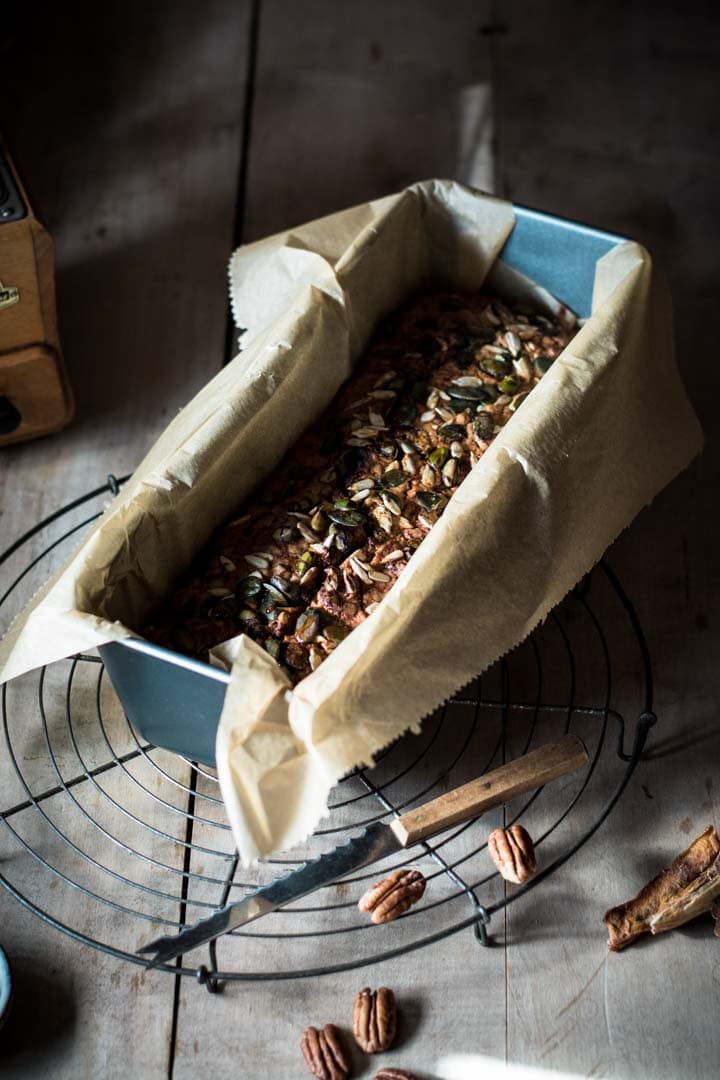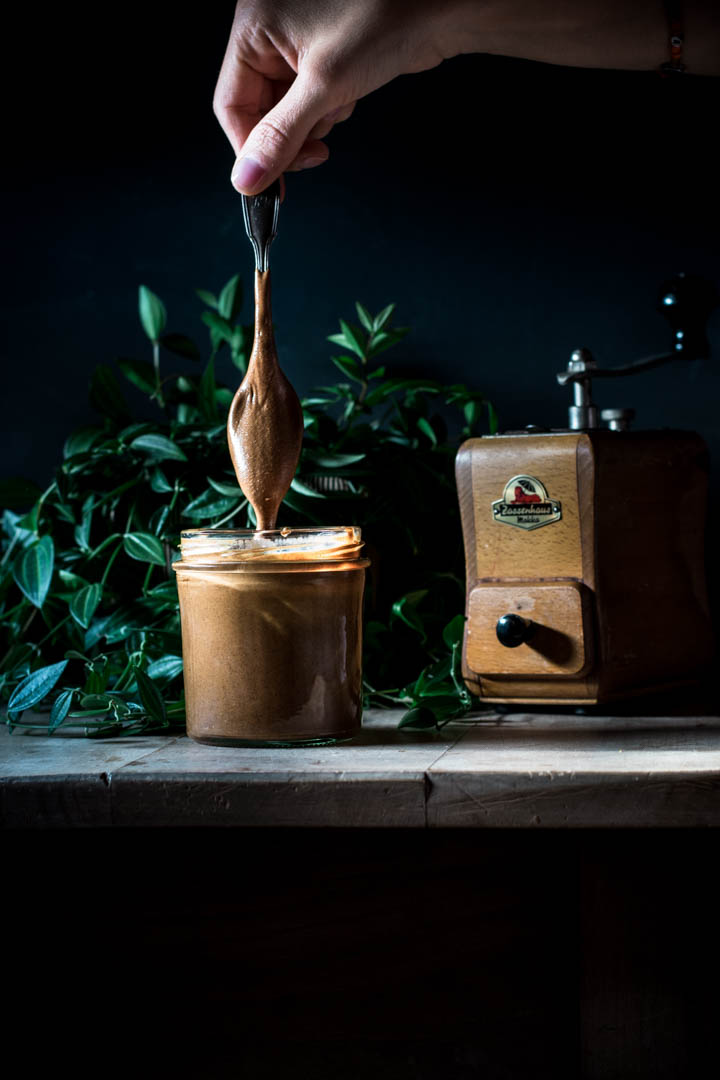 You can store this loaf in a fridge for up to four days. Most of the time I enjoy it instead of a smoothie in the morning and top it with almond butter (recipe)or raw honey.
And I love to eat it as well after my yoga class – need some healthy stuff most of the time after a healthy workout.
To bring color in this loaf I use pistachios and dates.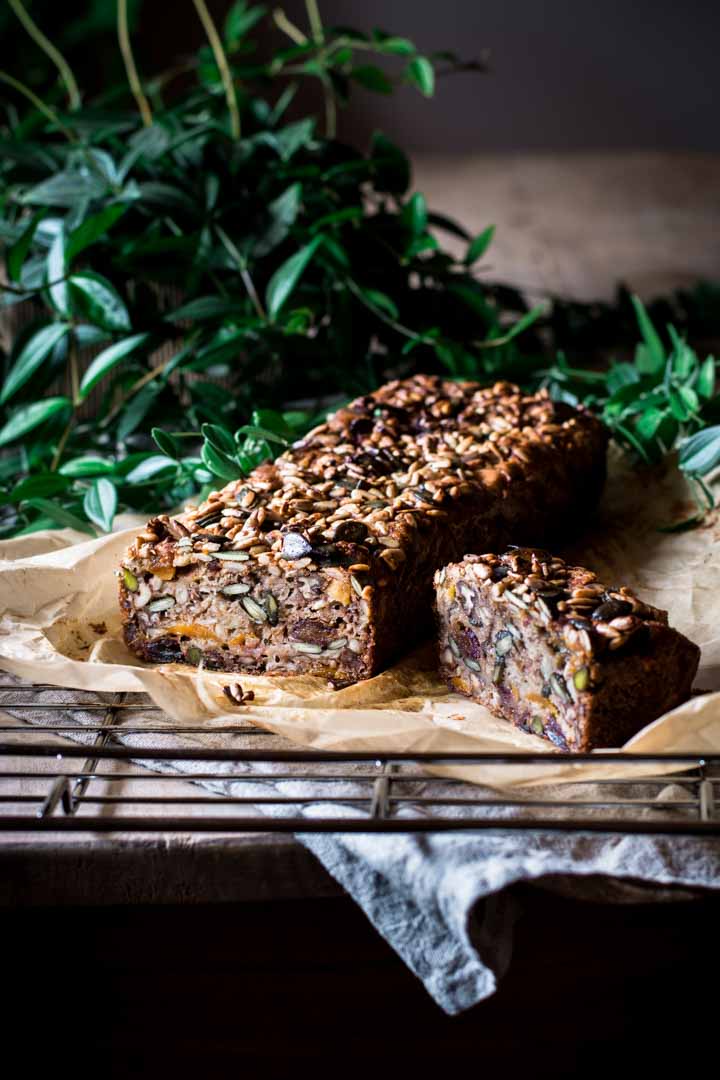 This recipe based on a recipe from Elsa's cookbook. Elsa is really a wonderful soul and inspiration.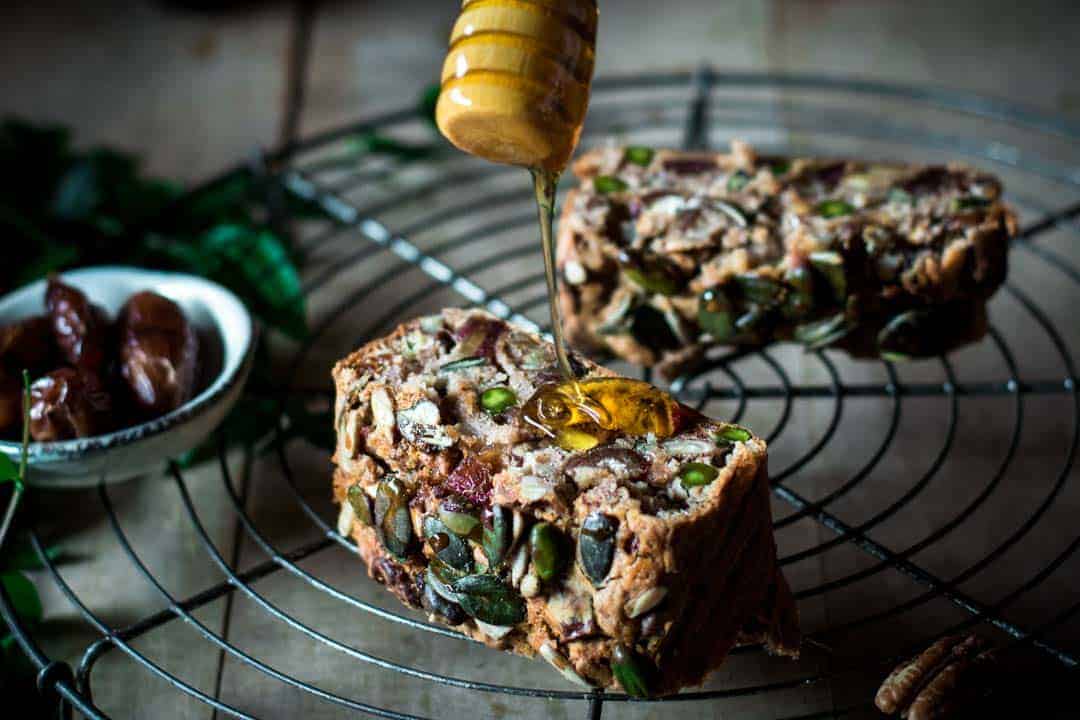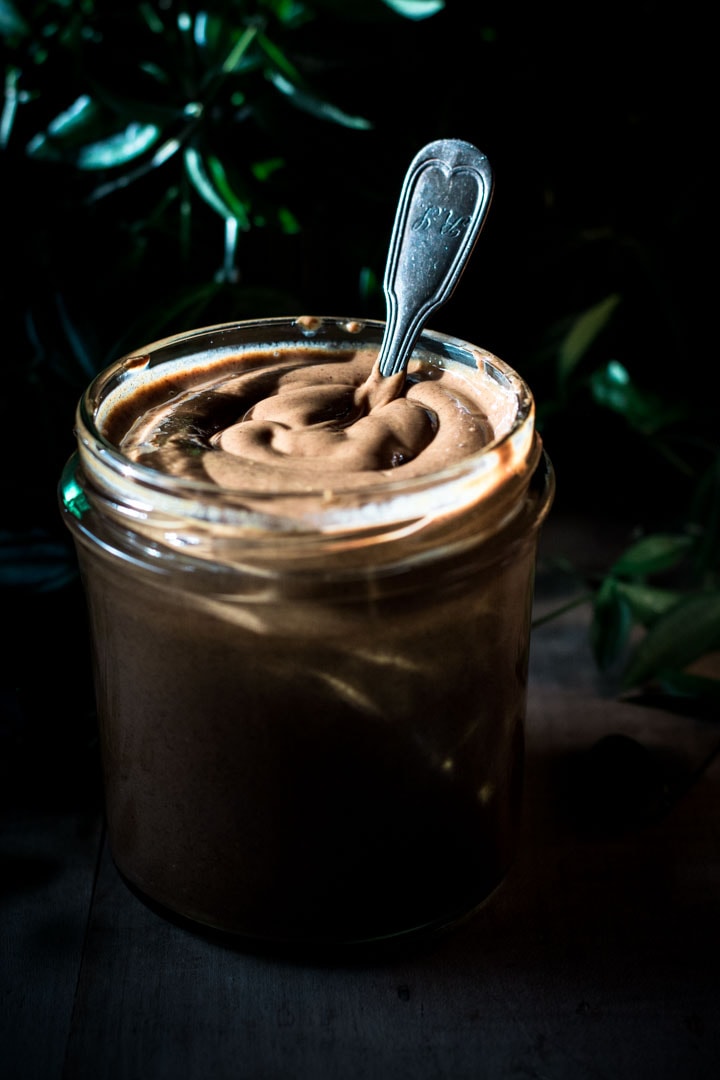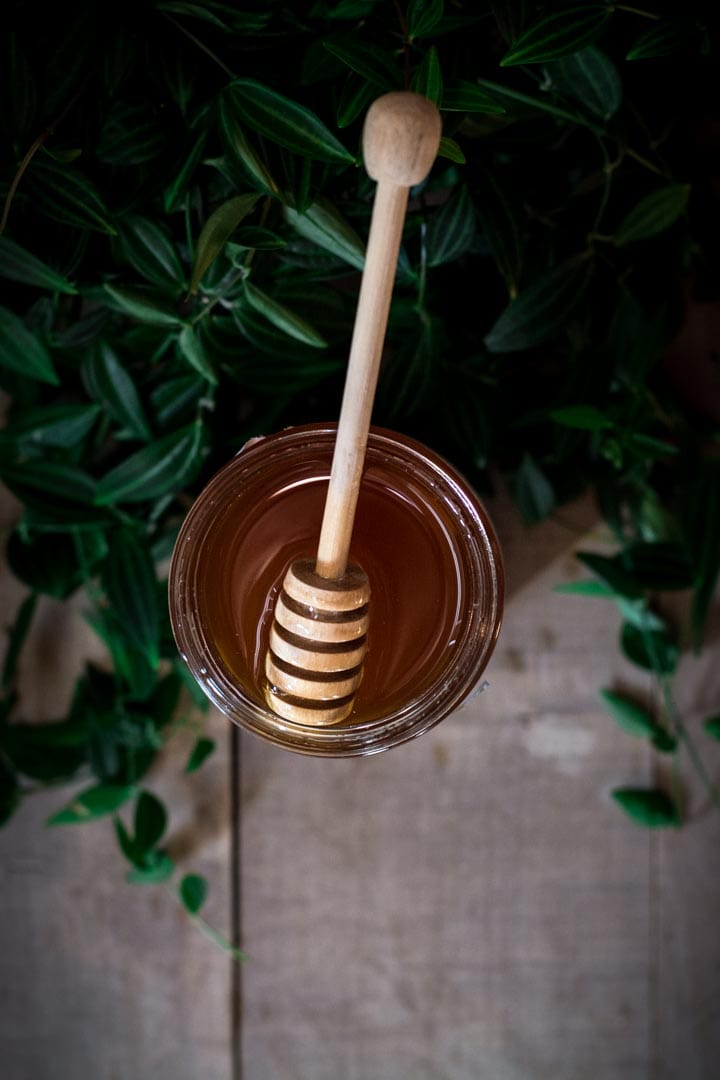 Fruity nut loaf
Author:
nutsandbleberries
Ingredients
150g spelt flour
2tsb baking powder
1tsp cinnamon
pinch of salt
100g dried mango
100g dates
30g sunflowerseeds
30g pumpkin seeds
50g pecan nuts, coarsely chopped
50g walnuts, coarsely chopped
20g pistachios
50g olive oil
1 ripe banana
250ml plant-based milk
honey
Instructions
Preheat the oven on 200°C
Line a loaf tin with baking paper
Mix all ingredients in a bowl
Add the mixture to the loaf tin
Top the loaf with nuts and seed of your choice
Drizzle with honey
Bake for about 40-50 minutes
Let cool down for about 30 minutes until enjoying
Serve with honey or almond butter
---
---
Favorite of the week
I'm happy to be a part of Christine Wongs latest project. I published a recipe in her eZine (Online Magazin) which includes more than 80 vegan recipes. All ingredients are free of any plastic to support the Oceans Foundation and the Ocean Conservancy. You can buy it here: payhip.com/b/nJ53

You may interested in the following as well
My best muffins – Saftige Apfel Joghurt Muffins
My best cookies with orange flavor: Pistazien Orangen Cookies