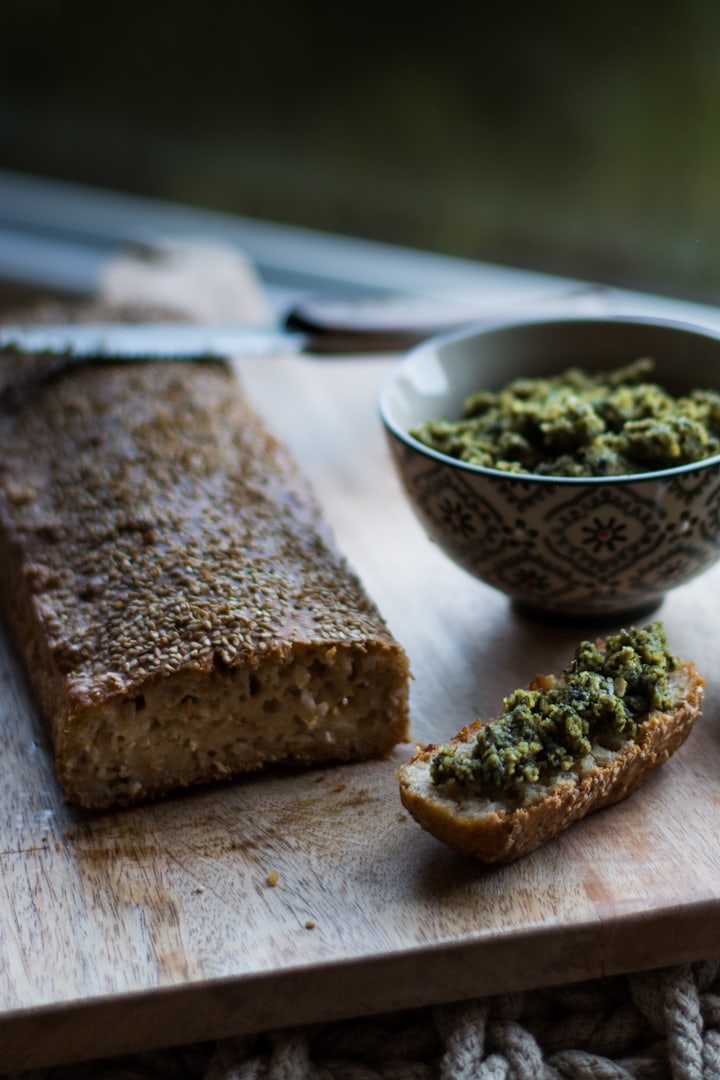 To be honest! I can't avoid eating cheese and I don't want to miss it in my life. But I learned to enjoy other spread ideas as well like this vegan pumpkin seed olive cream. For example nut and seed creams, pastes or dips. Sometimes I feel surfeited by eating lots of cheese every day and I'm happy to have delicious and healthy alternatives.
Anyway I'm absolutely confident that a vegan and plant based diet is the best you can eat as a human. Why? I tried it out a few days and I really feel so much better. But I'm a gourmet as well and I love eating cheese and dairy products like whipped cream and butter. Oh – I love butter. So I wouldn't never turn into a full vegan. The best for me is to enjoy vegan from time to time because I love eating vegan stuff too.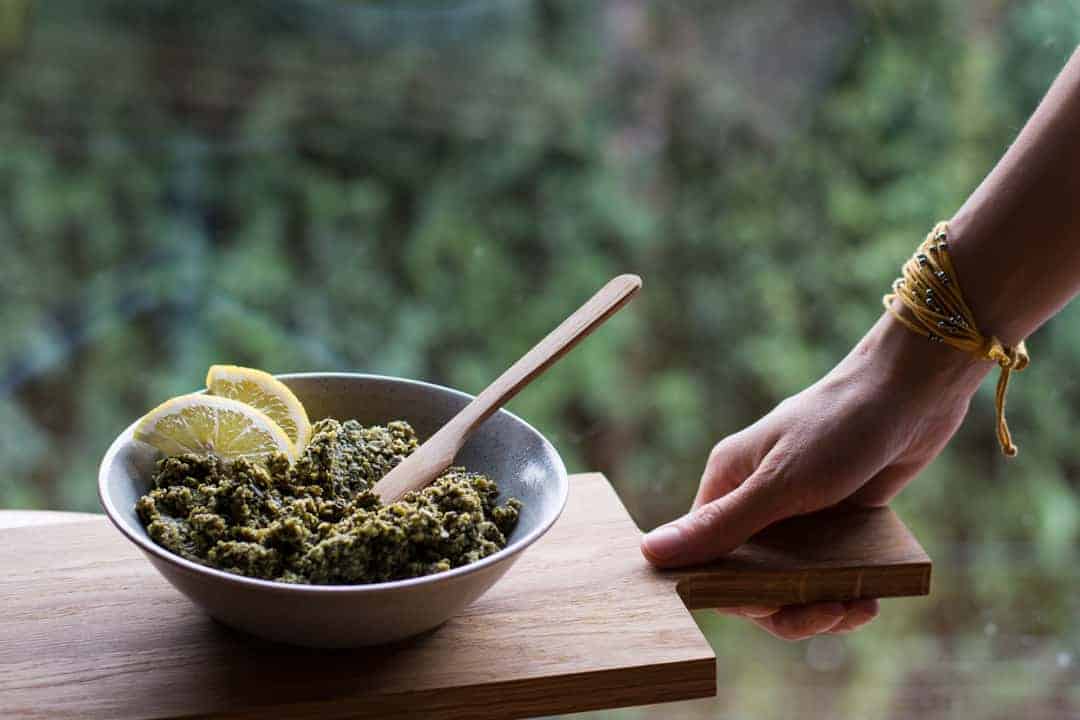 My diet & cooking routine
I asked you on Instagram which topic you are most interested in for my next post. Meditation, my Instagram work, my diet & cooking routine or food photography tips. I was very surprised the ranking is dead even between diet & cooking routine as well as meditation. Maybe I wrote already so much about the other topics. So let's start with my diet & cooking routine which is sometimes really special for some people who organize their selves not good and want to learn how to improve it.
First I need to tell you: IT IS A LOT OF WORK (especially for your brain) to organize your week in a way you can eat healthy and regularly when you are a full-time worker. My time slot is very limited because after my full-time work I often struggle with headache so I try to find a way to handle my planning and food purchase when I feel fit.
 
Here is my list for me weekly diet & cooking routine
Cooking days
I cook! When you want to eat healthy you need to cook by yourself. It's nearly impossible to find healthy food in a store or restaurant when you are busy.
I only cook 3 times a week. Eating 2 days from every meal = 6 days, eat outside or only bread = 1 day
Marking recipes
I use a lots of cookbooks at home and mark favorite recipes to find a recipe fast when I need it. Here is a list of my favorite books:
Greenkitchenstories
Bowls of goodness
Krautkopf
At home in the whole food kitchen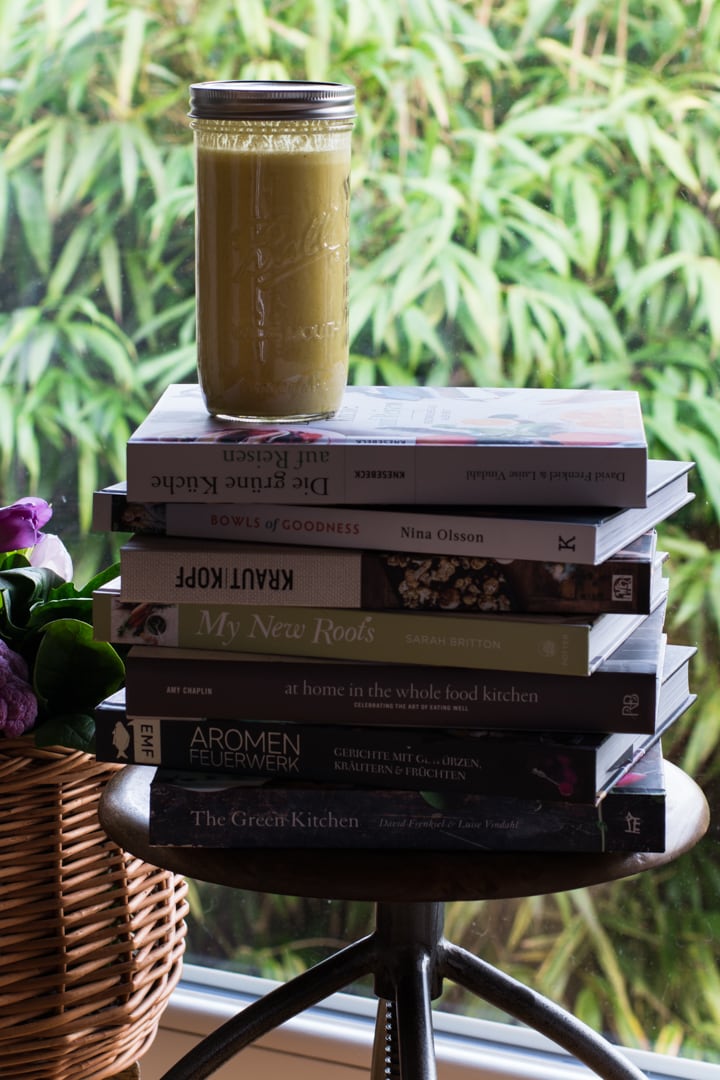 Simple meals
I cook simply meals during the week when I'm working full-time
For example: Stews, soups, noodles, salads
Regularity
This is the best tip I can give you. I strictly eat regularly (4-5 meals a day) to avoid munchies, low blood sugar and headache. This is the best way to keep your mind clear to have the possibility to think before you eat something. Avoiding eating shit.
Bread, Avocado & Lentils, coconut milk
I always stock bread & avocado as well as lentils & coconut milk at home to have something "healthy" on hand when I don't feel good to cook. When I want to cook something really fast and like to avoid to drive to the supermarket I cook my lentil soup.
Variety
I try to eat different food during the week to provide my body with different nutrients.
I never eat or drink the same breakfast. Sometimes I drink a smoothie which keeps me full for long, like this turmeric cashew lemon smoothie, sometimes I eat muesli from self-made granola I stock for up to two weeks and sometimes I eat nut cream with fruits.
Vegetables & fruits
I eat fruits in the morning, every morning and vegetables during the other third of the day because it's the best way to provide your body with the right nutrients. I change between apples, bananas and other fruits to bring a variety in my fruits. I freeze bananas when they are ripe to have them on hand when I want to make a smoothie.
Listen to your body
95% I eat what I want to eat! I'm happy my body often calls for healthy, fresh and organic food instead of unhealthy convenience products. It simply makes me happy to EAT.
Treats & unhealthy stuff
I allow me to eat unhealthy stuff from time to time. I love french fries and pizza. I love wine gum and always stock some in my home. But I only need a few one when I want to eat some.
Open-minded
I'm open-minded to learn more about food, food ingredients and health.
What I eat in a day
To give you an idea what I eat in a day I wrote down my 4 meals.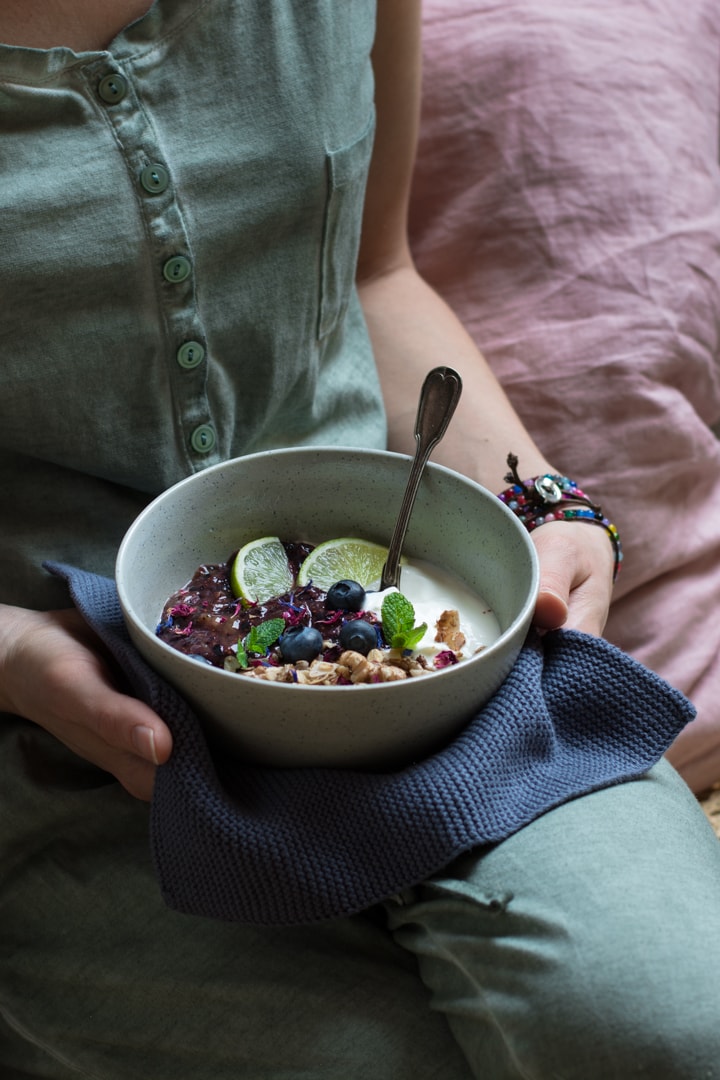 Morning start
I enjoy a big cup of my favorite tea (it's a rooibos lemon tea) every morning after my yoga sun salutation (it's only 2 minutes)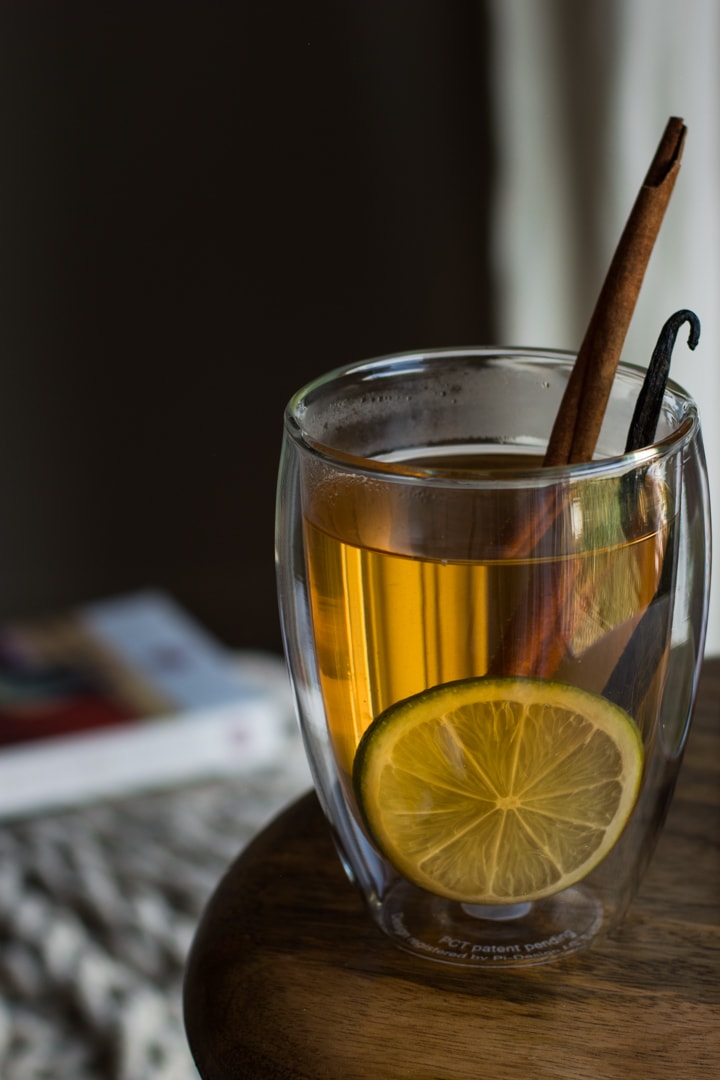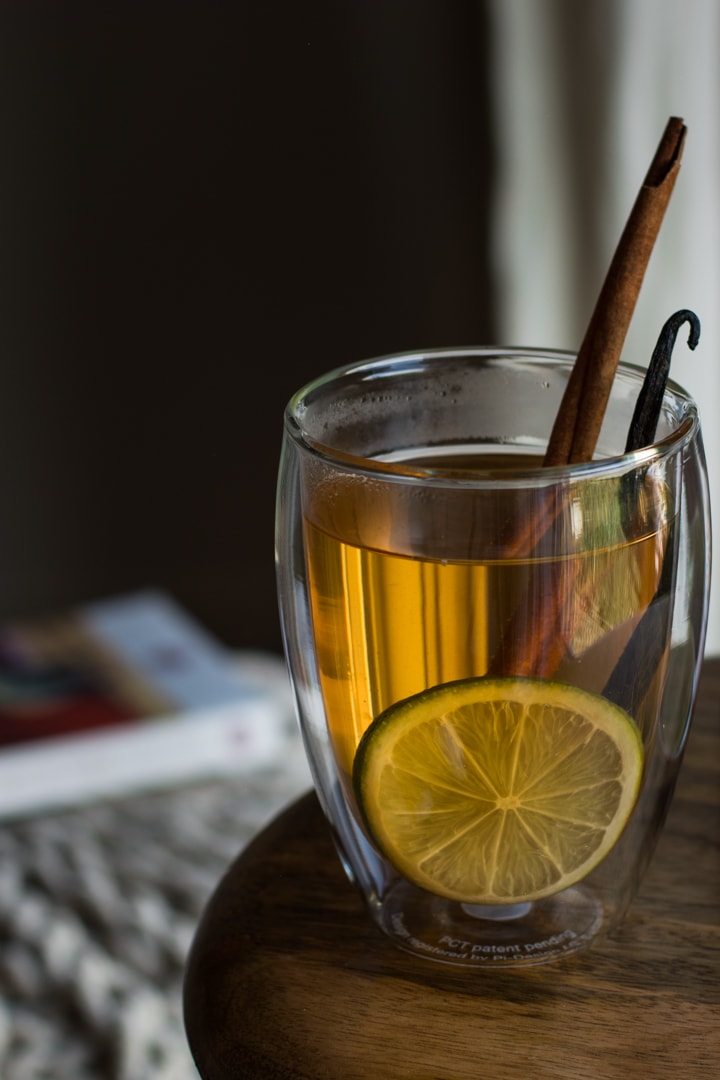 Breakfast
After my finishing in the bathroom I prepare my breakfast which is often a smoothie which keeps me full for longer. This means I use soaked nuts, seeds, chia or oats. A friend of my asked me how many calories one smoothie have. I calculated 550, but this is a MUST because I don't need to eat until my lunch time.
Breakfast espresso
After my breakfast I sit down in my blue chair and enjoy my Espresso or sometimes a cinnamon Mocca.
Lunch
I cook my lunch in the evening for up to two days and enjoy it together with my hubby (lucky he has a home-office). Sometimes it is a stew or a soup (like this lentil soup), sometimes noodles with pesto or a salad (mainly in summer). I eat a big portion to keep me full for the next hours.

Snack
I'm working in an office and I need a midday snack from time to time depends what I eat at lunch. I always keep some muesli bars in my office or coockies (find my favorite coockie recipe here) I prepared during the weekend.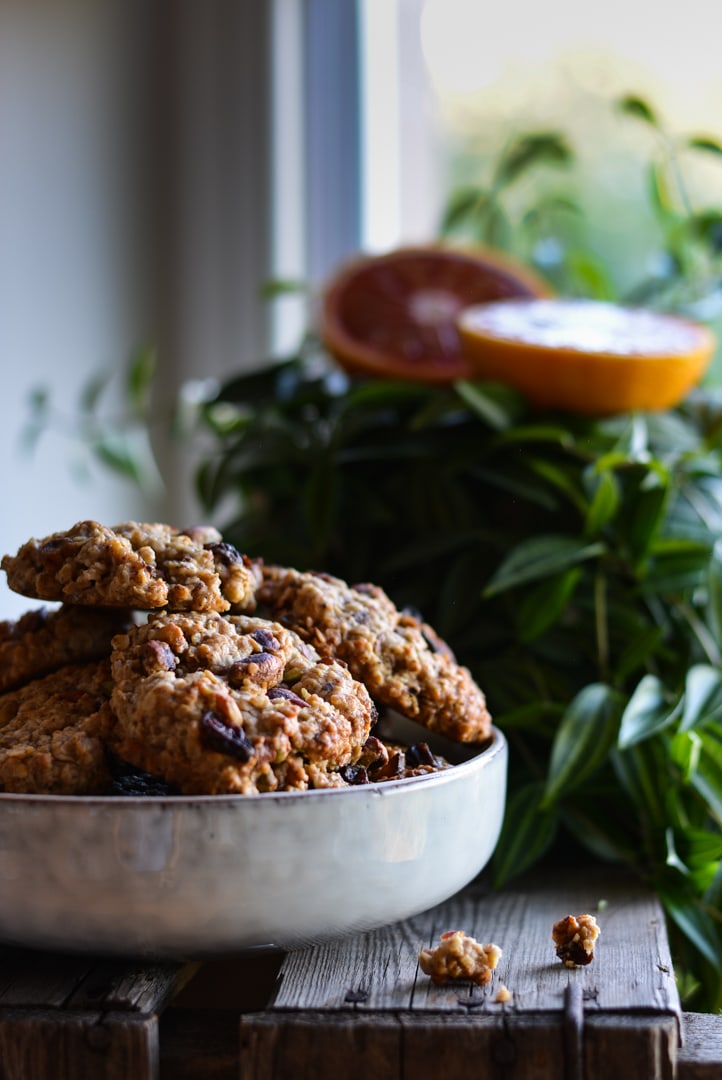 Dinner
My wish is to have a fresh meal for dinner as well. But this is too stressful. I tried it out. But this means I need to cook EVERY day and I want to have some time for other things as well. So I make the compromise to eat different bread as dinner and mix up the spreads. Sometimes it's cheese, sometimes avocado (ok, very often), sometimes self-made spreads like this vegan pumpkin seed olive cream (you find the recipe in this post).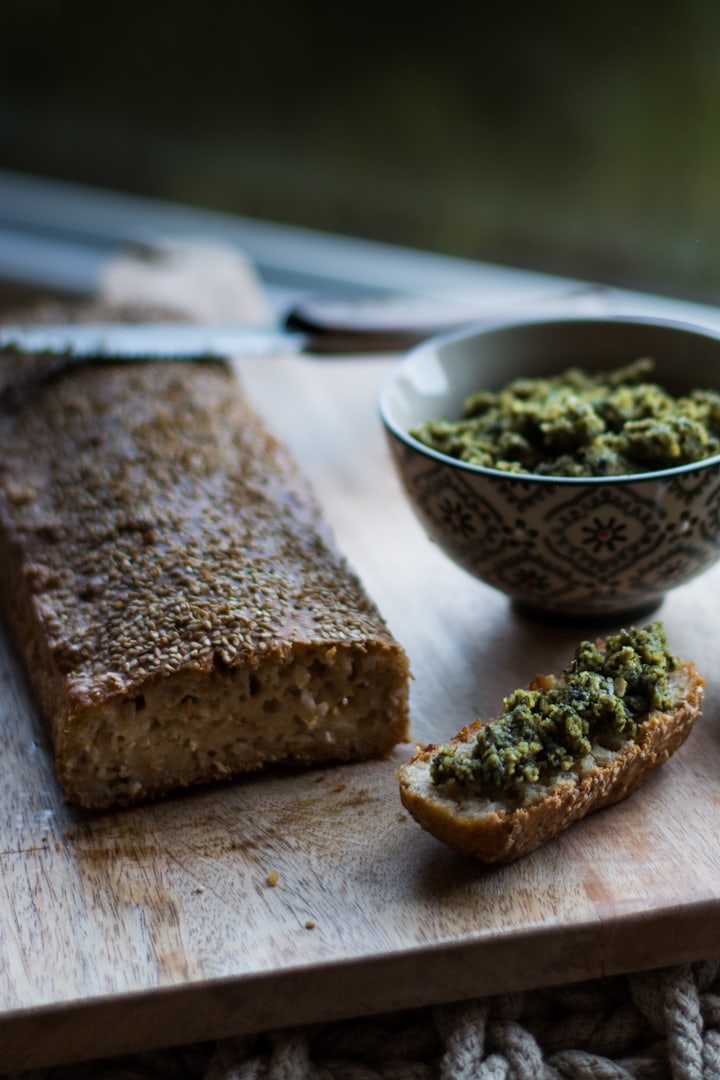 Vegan pumpkin seed olive cream
Author:
nutsandblueberries
Ingredients
150g pumpkin seeds
75g green olives
4 tbsp olive oil
3 tbsp pumpkinseed oil
1 tbsp lemon juice
salt and pepper
Instructions
Roast the pumpkin seed in a pan without oil
Mix all ingredients to a paste
Taste with salt and pepper
You can stock the cream in the fridge for up to one week
As you can see I eat regularly and healthy. But I only can do this because I invest
time
. A healthy diet IS really important to feel good and it really is a
good
invest. Decide where you spend your time with.