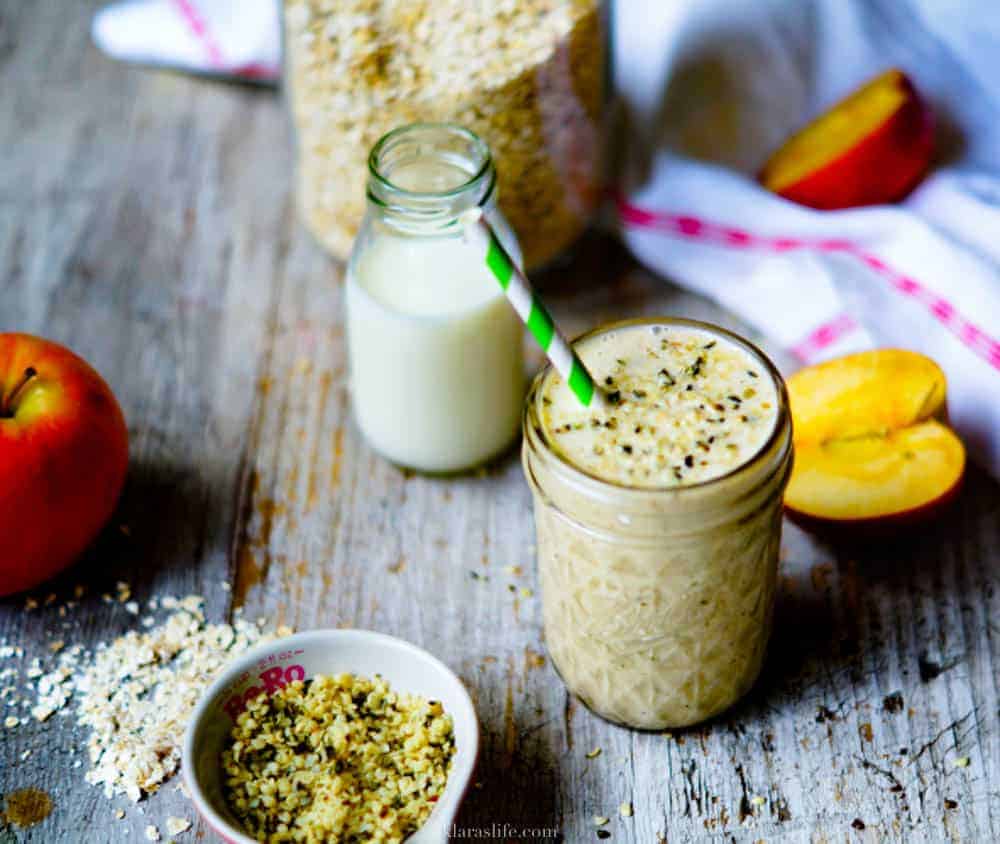 Who gets mouth watering by reading apple pie? You will love this smoothie for sure!
I'm totally happy today because I introduce you to a special girl I met on Instagram. I love to share my passion of food and blogging with others who feel exactly the same. It is really special to learn all this blogging and photography stuff and it is really helpful to talk to each other and learn. Klara is a person living in Germany with her dog and her chickens (aww I love them!). She is a quiet and balanced young woman who shares her passion of food in her blog and Instagram account. I adore her recipes and love every single one. It's a dream from us to visit a food photography course together sometime. It is a bit difficult because we live far away from each other. I'm so happy to publish an interview as well as one of my favorite smoothies from her. Her apple pie smoothie. This creamy filling smoothie is a base in my weekly breakfast routine. It is easy to prepare, super healthy and tasty so good. Thank you Klara!
---
Interview with Klara
What's your Name?
My name is Kathrin Salzwedel.
Where are you living?
I live in a small town near to the beautiful university town of Tübingen.
Can you tell me something about you?
I love to be in nature, preferably on horseback or while hiking in the mountains. I also go running regularly during the week. You can enjoy your workout and your head will be free.
On my blog Klaraslife I share my passion for healthy, simple and delicious dishes.
Wheat means healthy living for you?
Besides my passion for nature. I live a healthy and balanced lifestyle. Healthy living means to me, that you can hear what your body wants and needed. He knows very well what we needed.
If possible avoid stress and hectic to take time for themselves and learn to appreciate the little things in life. This has all to do with each other. I always like to eat a lot of vegetables, fruits, legumes, plant based or coconut yogurt or vegan cheese. Everything fresh and without additives. If I'm sweet tooth have, then I eat a piece chocolate or homemade cake.
And I´m happy. One should not put under pressure, it is "only" eat 🙂
What is your favorite meal?
I'm a total breakfast lover. I prefer to get up earlier, than I start my day without my breakfast. My favorite food is overnight soaked oats and porridges in different versions; with fresh fruit, nut butter or with matcha or baobab powder. And smoothies like my Apple Pie Smoothie.

Recipe
Apple Pie Smoothie from Klara
Serve 1
200ml almond milk (or any other milk you prefer)
2 small apples (pelled)
5 tbsp rolled oats
2 tbsp hemp seed
1 tbsp almond butter
1/2 tsp cinnamon
Preparation
Place oats and the milk into your blender and let it soak for 30 minutes. The oats should be soften.
Now add all ingredients into the blender. Blend until soft. If it too thick add more milk.
*NOTES: If you don´t have time in the morning, soak your oats overnight!
Website: klaraslifeblog
Instagram: @klaraslife
---
You could be interested in these posts as well: