This Blog Post is sponsored by Greenkitchenstories, Nourish Atelier & Sonnentor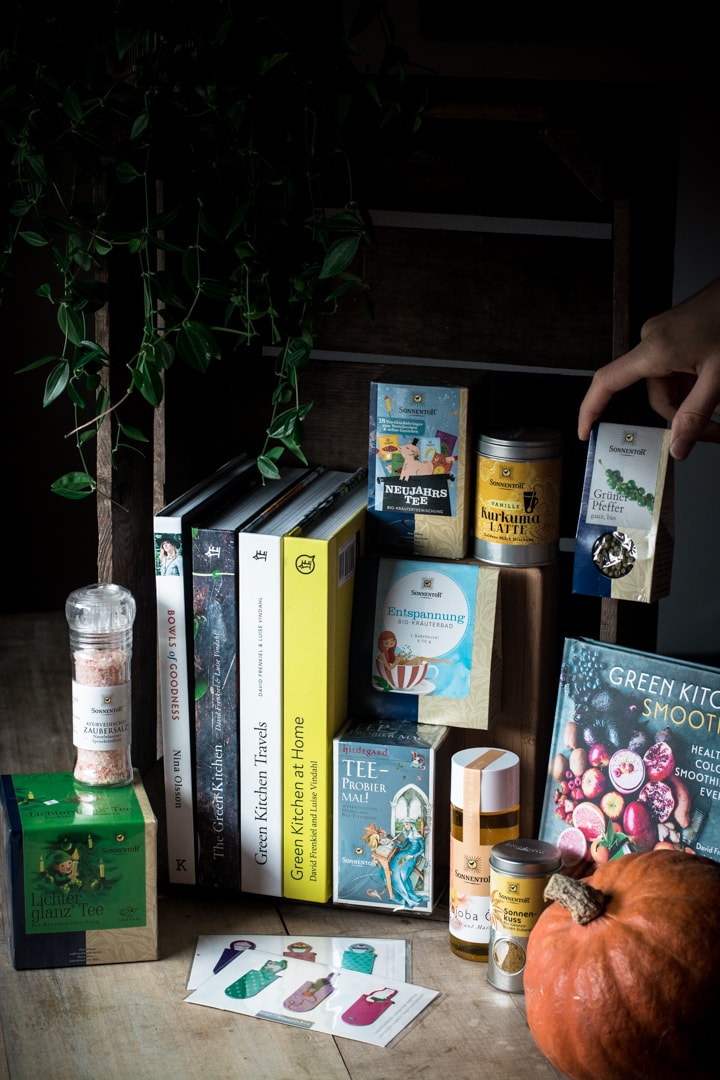 In Love with vegetarian Cookbooks
As a Food Blogger it's not a secret that I have a big passion for good cookbooks. I already selected a lot of vegan and vegetarian masterpieces. Last year a bough a book shelves from a cabinetmaker to arrange all my beauties in front of me and my kitchen. Now I can see them every day together with some favorite props like bowls and wooden knifes. Heaven! It's so easy to make a Food Blogger smile.
I'm planning my meals carefully and calmly. It is really relaxing for me to study cookbooks and write a cooking-plan for the next days. I love to get some extra tips for cooking or my pantry. Most of the cookbooks I own includes further information like pantry recommendations, nutritious values and which meals you can cook in advance to avoid stress.

 
Every cookbook is a masterpiece
I recognized every single cookbook author has his own handwriting and whenever I'm in a special state of mind I choose what fits perfect to my emotions. Some books are looking really clean and organized, others are full of chaotic and life. Some recipe idea are hearty and some are light. When you read a cookbook you learn a lot about the person who wrote it. You learn which ingredients he or she prefers. It's always a journey in another life.
The first book which I locked in my heart
Do you remember your first cookbook which awake your enthusiasm? Your enthusiasm to cook something really special?
Mine was the greenkitchenstories cookbook "The Green Kitchen: 80 Delicious Vegetarian Recipes for Every Day" a few years ago as well as Nina Olsson's cookbook "Bowls of Goodness" last year. I'm really a big fan of both cookbook authors. Not only because I cook from their books since years. I also had the possibility to follow them on Instagram and their blog as well as "talk" to them from time to time. So I got the possibility to learn more about their personality and lifestyle, about their values and attitude of life.

Win vegetarian cookbooks or some of my favorite Sonnentor products
David, Luise and Nina are mindful cooks, always using wholesome ingredients. I'm more than happy to get a few of their books for a giveaway on my blog. I bought pretty bookmarks which I use in my kitchen daily. You have the possibility to win this "book gift" in reward of a comment with your favorite cookbook. It's all about sharing the love and ideas here in this space.
Beside these books I will giveaway some of my absolutely favorite Sonnentor products. I came across this wonderful organic company when I visit our organic store. They are producing their products on a high quality standard and I felt in love with their tea and spices immediately. I just read a big article in a magazine that Sonnentor already using organic recyclable packaging for their products.
Price 1
Green Kitchen at Home: Quick and Healthy Vegetarian Food For Everyday
The Green Kitchen: 80 Delicious Vegetarian Recipes for Every Day
Green Kitchen Smoothies: Over 50 ways to build a modern smoothie
Green Kitchen Travels
A package of my favorite bookmarks
Price 2
3 different Sonnentor Tea Packages
Sonnentor Turmeric Latte
Sonnentor Herbal bath
Sonnentor Herbal salt
Sonnentor Green pepper
Sonnentor Flowered spice
Sonnentor Jojoba Body oil
Price 3
Bowls of Goodness from Nourishatelier
A package of my favorite bookmarks

  
Finally I like to introduce the cookbook authors:
About greenkitchenstories
Greenkitchenstories was the first blog I followed. I didn't and don't read many blogs but I'm always faithful to David and Luise. David is a magazine art director and Luise is a Nutritional Therapist at School of Nutritional Medicine in Stockholm. Both are living together with their three kids which were born the last years during my following. It's amazing to follow their journey. I learned a lot of thinks about Food Photography and my own diet from greenkitchenstories. With this post and giveaway I like to say thank you for their great work.

About Nina Olsson von Nourishatelier her mouthwatering Caesar Salad
I "met" Nina via Instagram. I love her nostalgic style. Her recipes are really special. Nina is a mother living in Amsterdam and she is just launching her second book! Nina love to do different things as she wrote on her blog:
I make my living as an independent art director, photographer, designer, stylist, writer and illustrator. I like doing different things.
Her recipes are vegetarian or vegan because she believes a plant based diet is kinder on our bodies and it's the best choice for people who wants to live longer, feel and look better. I felt in love immediately with her style of food. I own a lot of cookbooks and I can tell you Nina's is my absolutely favorite (next to greenkitchenstories).
To give you a little preview I share my favorite simpel salad from her book with you.

Caesar Salad
Author:
nutsandblueberries
Ingredients
2-3 slices of sourdough bread
1tbsp olive oil
150g romaine lettuce
4 Avocados
Dressing
100g raw Cashew nuts (soaked for at least 4 hours)
100ml water
juice of ½ lemon
1tsb mustard
1tsb capers
2 garlic gloves
2tbsp nutritional yeast
1tsb sea salt
Parmesan
50ml Olivenöl
Instructions
Mix all the ingredients to form a smooth sauce
Put the romaine lettuce in a bowl and drizzle with 100ml of the dressing
Heat a frying pan over a medium-heat and add the olive oil
Toast the bread pieces on all sides
Slice the Avocado in small wedges and serve all together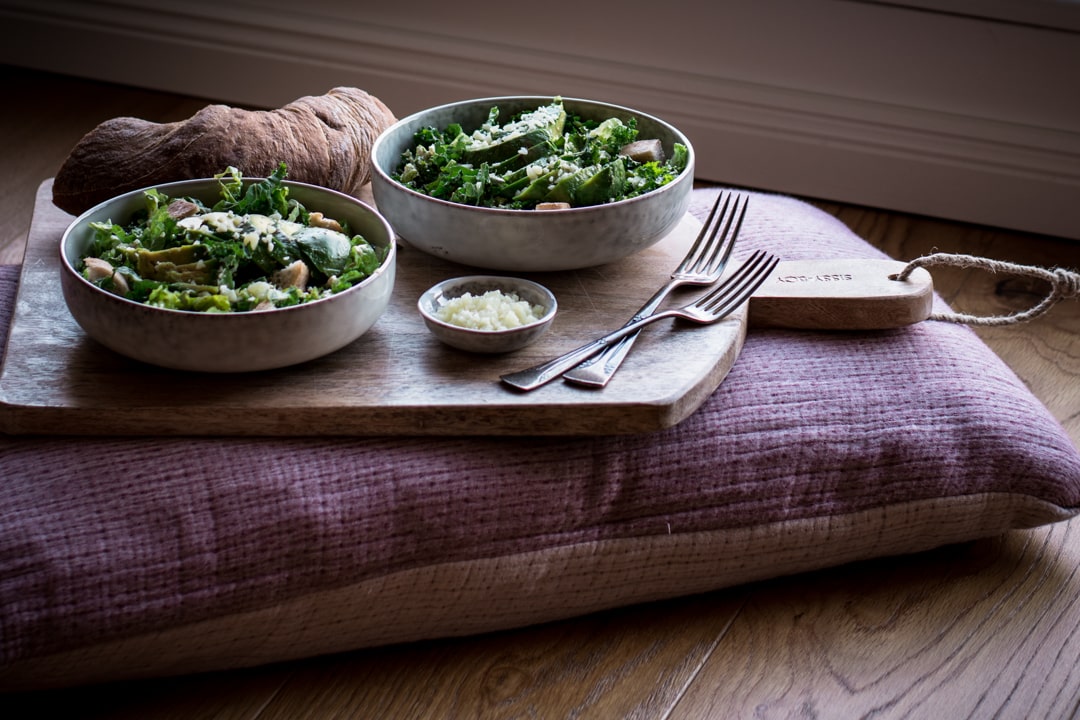 ELIGIBILITY REQUIREMENTS:
• WHAT'S YOUR FAVORITE COOKBOOK? LEAVE A MESSAGE ON THIS POST
• LEAVE YOUR E-MAIL ADDRESS
• IF YOU NOT WANT TO LEAVE A MESSAGE HERE WRITE ME AN E-MAIL TO: POST@NUTSANDBLUEBERRIES.COM
• ENTITLED TO PARTICIPATE ARE ALL PERSONS WITH A MINIMUM AGE OF 18 YEARS
• ENTITLED TO PARTICIPATE ARE PEOPLE FROM EUROPE
• THE COMPETITION END ON 31ST OF MARCH 2018
• THE WINNER WILL BE CONTACTED VIA E-MAIL OR @INSTAGRAM
THIS COMPETITION IS SPONSORED BY GREENKITCHENSTORIES, NOURISH ATELIER & SONNENTOR
THE WINNER WILL BE CHOOSEN BY DRAWING LOTS.
THE COMPETITION IS NOT SPONSORED BY FACEBOOK.

Pin me!