I like to share my favorite superfoods and healthy food products with you. I already checked out some products from different brands and companies and one of the most lovely companies I met is arcticpowerberries.
This young company sell real, nutrient-dense foods that make you healthy and happy. Anna and Eveliina are two beautiful girls, full of life and full of enthusiasm for their business. Both enjoy having a healthy balance in life in general. Eve is a specialist in fashion marketing and freelance styling, while Anna's is in sports therapy and massage. These beautiful girls grew up by the Arctic Circle in Finnish Lapland, picking berries from the backyard and eating them out of the freezer all year around. And when they lived abroad they have always missed the taste of wild berries from back home.
They said "The farmed berries from local supermarkets do not taste the same at all, fresh berries go off really quickly and frozen berries are often either too expensive or not always available. That is why in the beginning it felt natural to always throw half a year's supply of Finnish berry powders into our suitcases on each trip to London. After making the berries travel with us for over three years, we started questioning why we couldn't share them with other people too. We were sure that at least some people would love them as much as we did." So the idea for arcticpowerberries was born and now they are running a Company with lots of healthy and special berry products like Cranberry Powder, Blackcurrant Powder, Lingonberry Powder, Blueberry Powder and Seabuckthorn Poweder. The products will be shipped in bundles and oversea if you are not located in Finnland. Find more information about the health benefits on their lovely Homepage.
I used Lingonberry in my Creamy Lingonberry Raspberry Smoothie. The Scandinavians are crazy over this berry! Here are some health benefits:
Packed with antioxidants called polyphenols that strengthen the immune System
Contains vitamins A, B, C, E and K
Naturally high in fibre – improves Digestion
Detoxing effect
Promotes metabolism and weight loss
Anti-aging benefits, good for Skin
Nutrients calcium and magnesium, iron, sodium, potassium
Helps to keep blood sugar low, lowers blood pressure and cholesterol Levels
Widely used to treat cystitis and kidney diseases.
GET 10% DISCOUNT WITH THE CODE "BERRIES"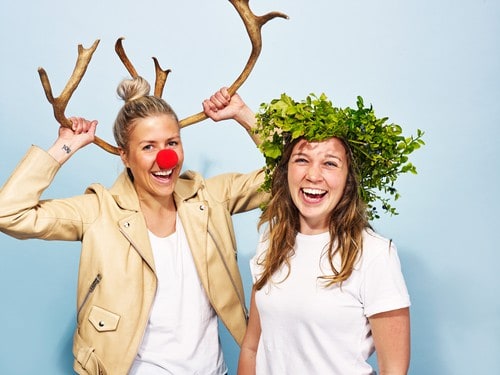 Creamy Lingonberry Raspberry Smoothie with Chia Porridge
Serve 1
40g buckwheat, soaked over night
40g cashew, soaked over night
pice of fresh ginger
50ml orange Juice
1/2 ripe banana
100g raspberries (I use frozen)
1 date
150ml almond milk
1 tsp arcticpower lingonberry powder (and more to serve)
Porridge
3 tbsp oats
1 tbsp chia seeds
2 dates, chopped
1 tsp ground vanilla
Topping
almond butter
Add all ingredients for the Porridge together and stir around. Let soak over night in the fridge.
In the morning mix all smoothie ingredients together until creamy, arrange on the porridge and top with more lingonberry powder and almond butter.
Learn more on arcticpowerberries.