As promised on Instagram I share one of my new favorite porridge recipes – Vanilla Porridge with hot berry Sauce.
This VANILLA PORRIDGE with HOT BERRY SAUCE topped with MULBERRIES is really easy to make and makes you feel happy the whole day. I love to add some dried berries to my breakfast because I cannot buy them the whole year. Berries are one of the best sources of antioxidants. Dried mulberries are a great source of protein, vitamin C and K, fiber and iron. They are one of my favorite berries, very delicious and sweet.
Oats make you feel full longer and they provides a high level of protein. They are also rich in different minerals like a specific type of fiber.
Chia Seeds are rich in omega-3 and they are also rich in fiber and protein.
I love to add a lot of flavors to my porridge. My favorite is vanilla. I can't stop adding vanilla. I'm not the biggest chocolate fan but I love vanilla so so much. With the start of November I also use a lot of cinnamon. Cinnamon can lower cholesterol and it have a regulatory effect on blood sugar. Furthermore cinnamon is a great source of manganese, fiber, iron, and calcium.
In the colder month I'm a "warm" eater. I love to add warm sauce on my breakfast.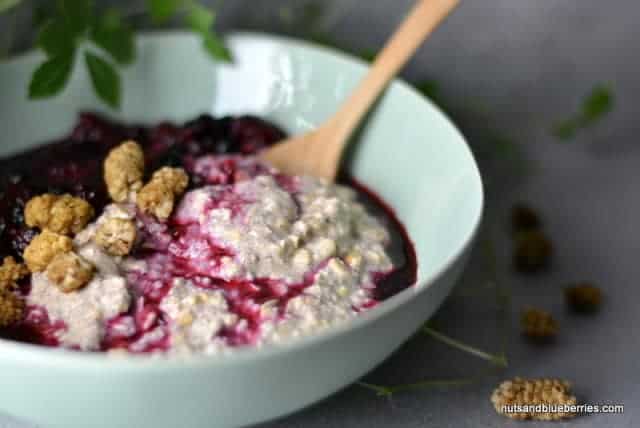 Vanilla Porridge with hot berry sauce
1 tbsp chia seeds
1 tbsp sunflower seeds
3 tbsp rolles oats
1/2 tsp cinnamon
1 tsp ground vanilla
1 tbsp walnuts
1 tbsp dried aronia berries or goji berries
1 tsp raisins
75ml almond milk
75ml orange juice (best is fresh pressed)
1 tsp honey or agave syrup
In the evening mix all together and soak in the fridge overnight.
Add more milk in the morning if you like.
Hot Berry Sauce
50g blueberries, frozen
50g raspberries, frozen
1 tsp honey or agave syrup
Heat up the berries with a 1 tbsp water in a pan over medium heat and let simmer
a few minutes. Sweeten with honey or agave syrup.
Topping
Dried mulberries