One of my absolutly favorites savory meals are tortillas filled with everthing I find in my fridge. It is very hard to find spelt tortillas, so I make them by myself and freeze them, so I have them on hand when I need them. I use the recipe from ohsheglows.
I love to eat avocado the whole day long. Avocado is such a multi talent in the kitchen! Do you know that Avocado helps your body absorb the nutrients from your food? That is because of Avocados are "lipophilic" (soluble in fat, not water), isn't that amazing? Lear more and more, every single day. Avocado are also full packed with hearth-healthy compounds. They makes you feel full because of the oleic acid, a fat for activating the part of your brain who says "Hello, I am full!".
Beans and legumes are also a veeeeerrrrry big part of my diet because I am a full vegetarian since 2009 (sometimes vegan) and I provide my body with high quality protein. Beans are one of the best source of protein. In combination with whole grains (maybe rice) your body can absorb much more protein.
Also red beans are such a great source of antioxidants, ever richer than blueberries. Really true!
Beans are a great idea to consumption meat eating if you like. Beans can help to strengthen your body and muscles because of the protein.
I served this tortillas with beans, avocado, bell pepper salsa, sour cream, gratet aromatic cheese  (serve without sour cream and cheese when you like it vegan) and Rice (because of the whole grain combination for the absorbtion of high quality protein).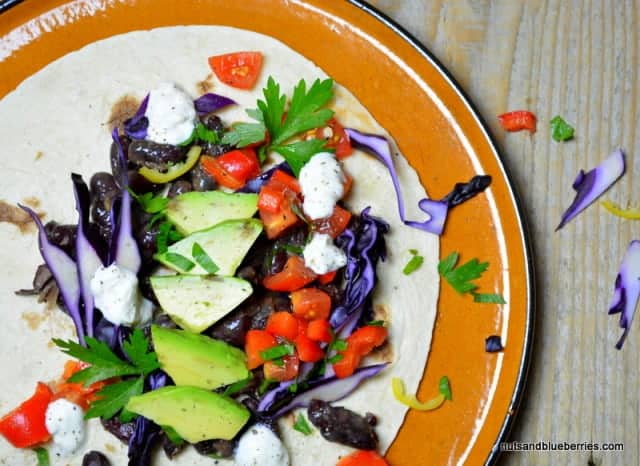 Easy Red Bean Tortillas with Avocado and Bell Pepper Salsa
Serve 4 Tortillas
Beans
600-800g red beans (cooked fresh or canned)
2 red onions
1 glove of garlic
1 tsp cumin powder
1 tsp bell pepper powder
Salt and pepper
Chop the onions and fry them together with the pressed garlic 5 min. over medium heat. Stir in the cumin and bell pepper poweder and let simmer a few minutes until the mixture gets sticky. Add salt and pepper to taste.
Bell Pepper Salsa
1 red bell pepper
6 cocktail tomatoes
1/2 Chili
2 tbsp olive oil
2 tbsp parsley
Salt and pepper
Chop the bell pepper and the quarter the tomatoes.
Chop the chili into small slices.
Chop the parsley.
Add the olive oil, salt and pepper and set asite.
To serve
4 Tortillas (I use spelt)
2 Avocados (cut in slices)
100g sour cream
100g gratet aromatic cheese (I use Gruyère)
200g cooked whole grain rise (I use black one)
fresh crunchy salad (I use finely chopped red cabbage)
For serving split all the ingredients carefully and roll the tortilla if you like. Enjoy!