Christmas time is coming here in Germany and I'm so happy to find one of my favorite fruits on the farmer market. Mandarins!
Mandarins are rich in fiber and mandarins contain a high level of Vitamin C which provides a number of health benefits. Vitamin C helps to fight a number of unstable molecules in our body known as free radicals through its antioxidant properties. Mandarins are a substantial source of fiber. Fiber rich foods keep the stomach full for a longer period of time and reduce the desire or need to eat more food, assisting in weight loss. The antioxidants present in Mandarin protect the skin from harsh UVA rays and help the skin to resist the damage caused by the sun and free radicals.
I love to alternate between some grain and nuts in my breakfasts. For me the best way to provide my body with all vitamins, minerals trace elements he need is to change my food ingredients regularly and don't eating one-way. I often eat buckwheat or cashew nuts in my breakfast but also very often I simple use rolled oats soaked overnight in a bit of apple cider vinegar to make them more digestible for my body. They are so versatile in the kitchen. My favorite is to cook them as a porridge or soak overnight and enjoy them without any stress in the morning.
Oats make you feel full longer and they provides a high level of protein. They are also rich in different minerals like a specific type of fiber. As well as mandarins.
Dates are my ultimate healthy sweetener and a great option to the raffinated sugar. This version of an overnight porridge is very easy to make and you have less work in the morning.
I like to add also a tsp of ground maca or baobab powder. Both are good for extra energy, vitamins, minerals and trace elements.
I use the products from organicburst because I am very satisfied with their products.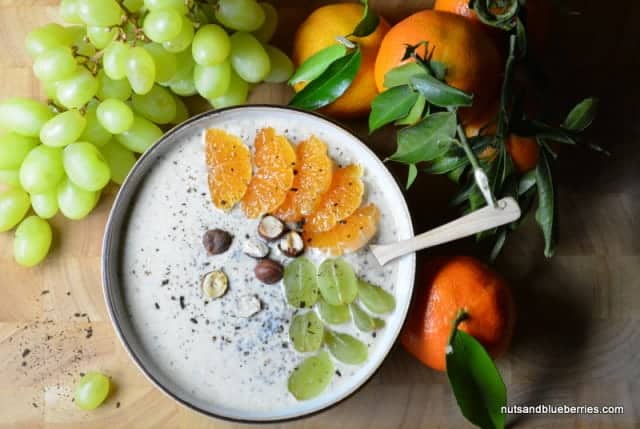 Mandarin porridge with roasted hazelnuts
125ml cup almond milk
6-7 tbsp rolled oats
1/2 tsp apple cider vinegar
2 dates
2 mandarins
1 tbsp chia seeds
optional
1 tsp maca powder
1 tsp baobab powder
Topping
fresh fruits
fresh mandarins
roasted hazelnuts
Soak (only!) 5 tbsp rolled oats and dates with the apple cider vinegar and the almond milk overnight to make them more digestible. Soak the chia seeds with 3 tbsp of water overnight in an extra bowl.
In the morning mix the porridge together with the mandarins. After mixing add 1-2 tbsp rolles oats for a bit more pithy consistence and stir in the soaked chia seeds.
If you like add maca or baobab powder for extra energy and top with more fresh fruits and roasted hazelnuts. Enjoy!