This post is sponsored by Holly's Natural
Who knows me and follow me for a while know that I love a healthy living and take care of the balance in my life. Not only the right diet is important for me. First and foremost I'm aware of living. Find time for me and do things I really love is so important to feel good and get back energy.
I've been to the Maldives and drank a lot of fresh coconut water. There are so many reasons to drink more of this natural liquid. Sure you don't get fresh coconuts everywhere but you can buy the natural water in supermarkets. Here are some fact about the health benefits of coconut water:
Coconut Water is perfect for a clear and soft Skin because the Minerals clean up the Skin from the inside
The ingredients in coconut water are the best to hydrating your Body
Coconut water contains 5 of the essential electrolytes that are really healthy for your Body
Coconut Water is very low in calories
Beside Yoga and Meditation I practice my own wellness regularly. I tried out my new Holly's Natural Peeling and Oil and I'm really excited about the results. Normally I want to make my own peeling with natural products and I collect all the magazines where I find those recipes. But until know I was too lazy to try it out. So I'm really happy to found that alternative from Holly's Natural.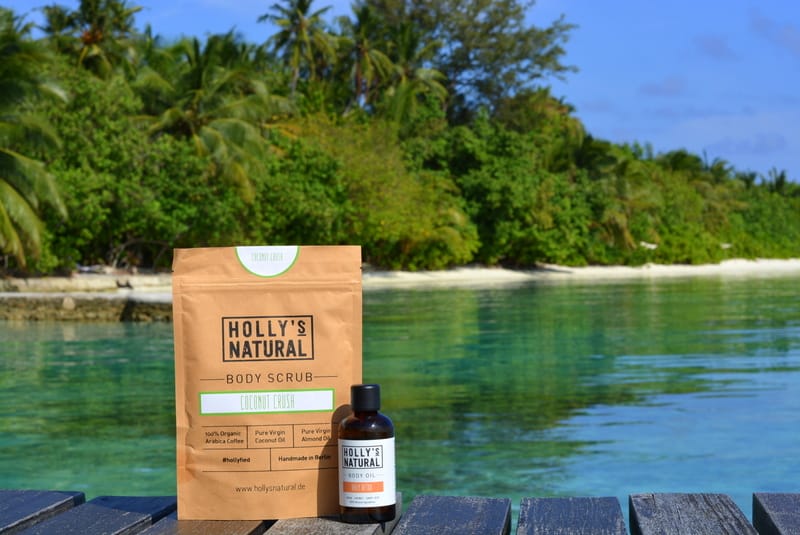 They have a peeling made from coffee. Coffee is an essential aid for most people to get started in the morning not only due to its delicious taste. Did you know, coffee is a true miracle cure for your skin? Besides this Coffee not only contains beneficial antioxidants it also has the power of caffein. Our natural reviver has the strength to activate an enzyme called triacylglycerol lipase. This enzyme breaks down fat by releasing water into fatty acids and glycerin, which soothes the appearance of unwanted cellulite. Also, when using coffee as a scrub and massaging onto your skin, it eliminates dead skin, stimulates your body's blood circulation which has a tightening and smoothing effect on your skin.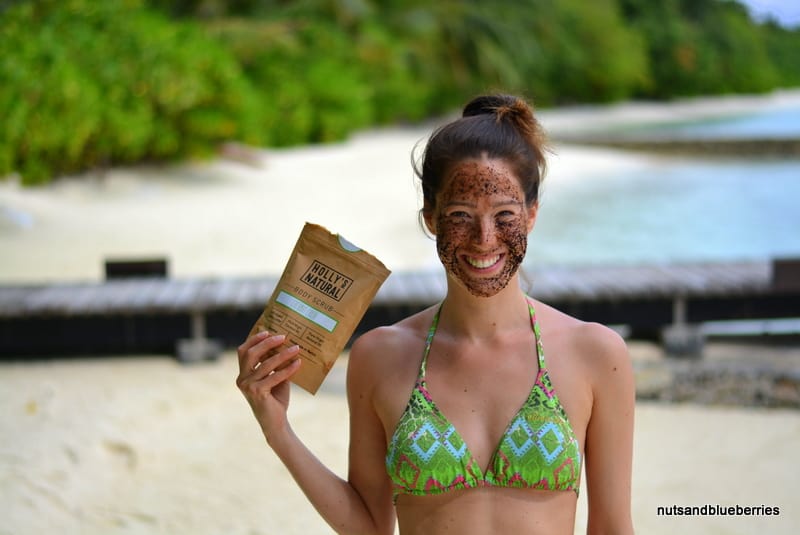 The peeling also contains coconut oil. Coconuts rich and precious Oils are attained through its dried pulp. Coconut Oil is definitely a rising star amongst other cosmetic Oils. It bursts with the goodness of Laurin, Capryl and Myricstic Acid and also contains Vitamin B and E. I will never forget how the father of my friend rub his face with coconut oil I normally cook with. That was too funny. Coconut Oil is so good for your skin.
Furthermore you find Almond Oil in the Body Oil. Normally I eat them. I eat Almonds nearly every day. In my breakfast or as an Almond Butter. Self-made Almond Butter is the best snack. Almonds consists of around 80% oil acid, 15% linoleic acid and about 5% of palmitic acid. It also benefits from Vitamin A, B1, B2, B6, E and protein. It turns rough skin into smooth beautiful skin. Leaves skin feeling moisturised, soft and looked after.
You find 2 products on Holly's Naturals Website. They explained their products so lovely and I really love the package as well. You find the Body Oil and the Body scrup their selfs or a package of both.
Coconut Crush – Body Scrub
I am after cellulite, skin impurities, dryness, redness and acne. My super weapons include exclusively selected organic Arabica Coffee, a large helping of Organic Coconut Oil, Organic Almond Oil, Organic Cane Sugar and natural finished Sea Salt paired with the irresistible scent of the Coconut.
Daily Detox – Body Oil
I can help you to detoxify your body and fight stretch marks and cellulite. My secret weapons for a cleaner body are essential organic grapefruit oil and mandarin oil as well as virgin organic argan oil, almond oil, grape seed oil and coconut oil.
Body Scrub & Body Oil Set
The perfect duo in the fight against cellulite and stretch marks. Use our Daily Detox Body Oil and Coconut Crush Body Scrub for an incredibly soft and supple skin. Now at an unbeatable price!