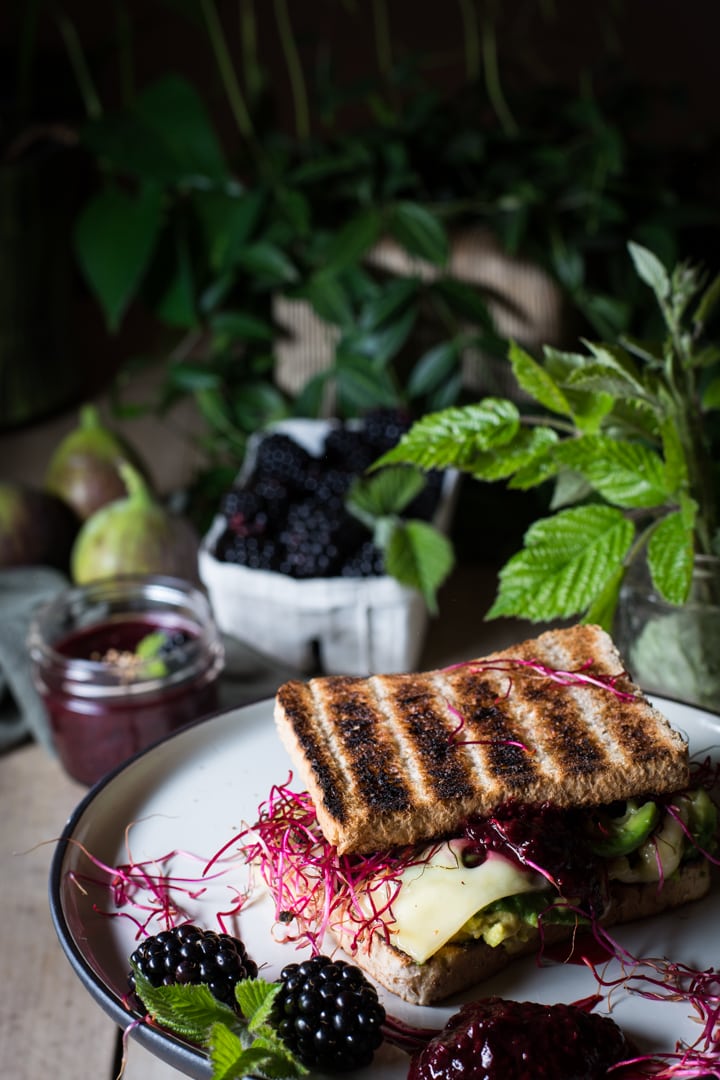 Blackberries from my own garden! A dream! We moved in our own wooden house 4 years ago and we got a small blackberry bush from friends which I directly plant in front of our house. I picked my first blackberries two years later. It's a pleasure to hold your own fruits in your hand. I can't wait to get my greenhouse this year to grow more vegetables, herbs and fruits.
Are you cultivating veggies and fruits at home?
I'm really interesting in reading if you cultivate your own fruits or vegetable at home. What's your experience? Leave me a message under this post.

 
Seasonal cocking with blackberries
I decided to cook more saisonal when I picked my first blackberries. It's difficult sometimes but I try to change it every year. Normally I cook what I'm interested in no matter the food has a good life cycle assessment.
But it's not the right way. We all need to save our environment. We have a self-responsibility.
So this delicious sweet-savory is a new beginning to cook more saisonal. Did you know blackberries are very low in calories and fat and they are high in dietary fiber. Blackberries also contains a huge amount of Vitamin C. Blackberries are also high in antioxidants, which are chemicals that fight damage to cells caused by free radicals in the body.

 
What's the difference between animal rennet enzymes and microbial enzymes
Enzymes are needed in order to coagulate milk and separate it into solids curds and liquid whey which is an important step in the cheese making process. Some brands are using only microbial enzymes instead of animal rennet. I try to buy and eat only the cheese with microbial enzymes because I'm a vegetarian and it's again my considered opinion.
So I worked a long time on this mustard and I can't be more happy to share it with you.

Avocado-cheese-sandwich with blackberry mustard
Author:
Nutsandblueberries
Ingredients
2 avocados
6 slices toast
3 slices cheese
radish sprouts
Blackberry-Fig-Mustard
250g fresh blackberries
2 fresh figs
50g coconut sugar
2 tsp granulated mustard
20ml red balsamic vinegar
1 small shallot
Instructions
Puree blackberries
Heat up mashed blackberries, coconut sugar and red balsamic vinegar
Let simmer for 15 minutes
Cube figs and shallots
Add both and the mustard to the simmering blackberries
Let simmer for more 5 minutes
Taste with salt and pepper
Let cool down before serving
Avocado-cheese-sandwich
Mash the avocado with a fork and taste with salt and pepper
Grill the toast in a grill pan or hot grill from both sides
Assemble one toast slice with avocado and a slice of cheese
Garnish with radish sprouts
Top with a hot slice of toast
Enjoy with the blackberry mustard
Follow my blog with Bloglovin
Pin me!