Figs are the most delicious fruits and I add them nearly every day when it is fig season. Figs are very low in calories and they are an excellent source of minerals and vitamins. They are high in antioxidant such as carotenes and lutein. These antioxidants helps to scavenge free radicals from the body. You can eat fresh figs whole or peeled.
Nuts and seeds are full packed with healthy fatty acids and they give you lots of energy for your concentration during the day. I like to add some nuts or seeds in every breakfast I ate and I love to roast them for a salad topping.
I love to use soaked nuts or seed with a pinch of apple vinegar in my breakfast because soaking and adding apple vinegar makes them more digestible. Normally I use cashew to get a great creamy consistence but for this breakfast I tried walnuts to vary the selection of nuts. I don't like to eat the same every day. In that way my body gets different minerals and vitamins. Walnuts are a good hair food. This is because walnuts contains biotin = vitamin b7.
And as you already know I like to add some superfoods from time to time to get a high volume of antioxidants. Spirulina is a miracle micrsoalgae that helps you stay focused, nourished and energized! It's rich in complete protein (60-70%) and helps weight loss by curbing cravings and preventing overeating. I use the products from organicburst because I love the kind company (it's a small one) and they have high quality organic products.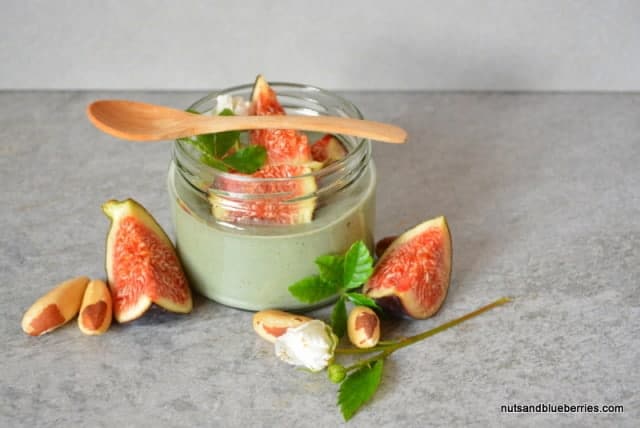 Walnut Fig Porridge
Served 1
1/2 a cup fresh walnuts (soaked over night)
1/2 tsp apple vinegar
1 fresh fig
1 small banana
1 date
1 tsp spirulina
pinch of almond milk
Topping
More figs
Mix up all ingredients with only a pinch of milk until the porridge is very creamy. Add not too much milk to avoid that it gets to liquid.
Top with fresh figs, nuts or seeds. Whatever you want. Enjoy!