This salad is so easy to prepare. I use red beans, red onions, feta cheese on lambs lettuce and top it with sprouted mung beans. Most of the time I cook raw beans and store them a few days because self-cooked beans have the maximum of fiber and good quality protein as well as no unhealthy additives.
I am a full vegetarian, sometimes vegan, living person. So I need to take care of my balanced budget on protein. Legumes are very rich in high quality protein. I love adding beans and chickpeas to my meals at any time I can.
I love to add some sprouted grains and in my salads because their nutritional value is higher than in non-sprouted grains. Sprouted grains are rich in vitamins B and C as well as folate, fiber, essential amino acids and a variety of antioxidants. You can buy already sprouted grains or sprout them yourself with a sprouting jar or a strainer. You only need to soaked them overnight in water and rinse them with water 2 times a day for 3-4 days. You can see how they starts to sprout. It is amazing.
This salad can be stored in the fridge for up to 3 days. I love to prepare food for a few days because I am a full worker and don't have the time to cook every day.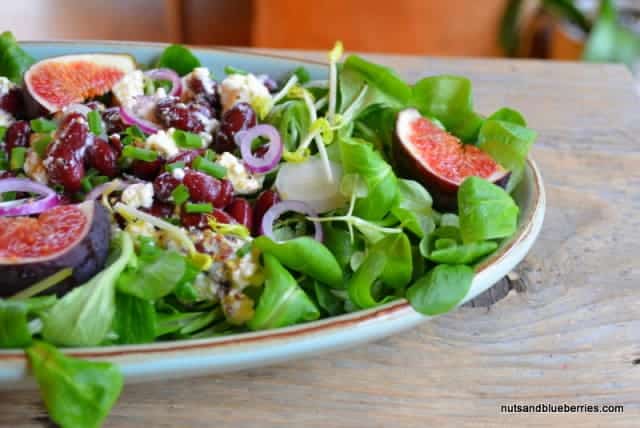 Red bean feta cheese salad
Served 4
1200g red beans
300g feta cheese
2 small red onions
3 garlic gloves
some sprouted mung beans
lamb's lettuce to serve
Dressing
5 tbsp white wine vinegar
1 tsp granary mustard
125 ml olive oil
2 tbsp chives
salt and pepper
Drain and rinse the red beans and chop the red onions into small rings. Add both in a large bowl and press the garliv gloves in.
Crumble the feta cheese in the salad and mix all together with the dressing.
Serve the salad on lamb's lettuce. Enjoy!
You can prepare the salad easily on the previously day.