As some of you know I am very active on Instagram. Here I share my favorite pictures and food creations. It is the best community to share each others healthy food experiences and get new and special inspirations every day. I met already so many lovely people there from all over the world. One of them is Tiina a mum of 2 Kids (4 years and 2 years old) from Finnland. She is also a totally healthy food lover and she loves creating healthy vegan food & food photography. She worked in media & advertising for over 10 years. You can see her creativity in her pictures and recipe creations. I love her input so much and be happy about every single post from her. If are also on Instagram you need to check her account asap #myberryforest. With her consent I love to share her recipe creation of an CARAMEL APPLE PIE SMOOTHIE.
In the original recipe Tiina use only 1/4 cup of cashew and 1/4 cup of apple sauce. And she makes some raw pekan bites for this smoothie. You find the recipe for the bites on her instagram account #myberryforest.
The list of health benefits of apples are very long. You find a lot of vitamins, minerals and nutrients. A lot of minerals like potassium, copper, manganese, and magnesium helps your body to regenerate and feel healthy. Apples also helps to  detoxifying the body in a healthy way. You find also healthy cashews in that smoothie. They are full of healthy fatty acids and have less calories than other nuts (still enough but less). Cashew gives smoothies an unbelievable creamy consistence. Add a pinch of apple vinegar to make the nuts more digestible.
Tiina and I often use organicburst products. This company sell healthy organic superfood products like maca, Acai, chlorella, spirulina and baobab. We use Baobab in this smoothie. Baobab gives your immune system support with the natural Vitamin C in Organic Burst Baobab. Plus Organic Baobab's natural Vitamin C is non-acidifying, unlike synthetic Vitamin C. If you've been eating out or drinking too much coffee, cola or alcohol maintain the best alkaline balance for your body with Organic Burst Baobab! I tried some other superfood products from other companies but the quality was not that good like the quality from the organic burst products.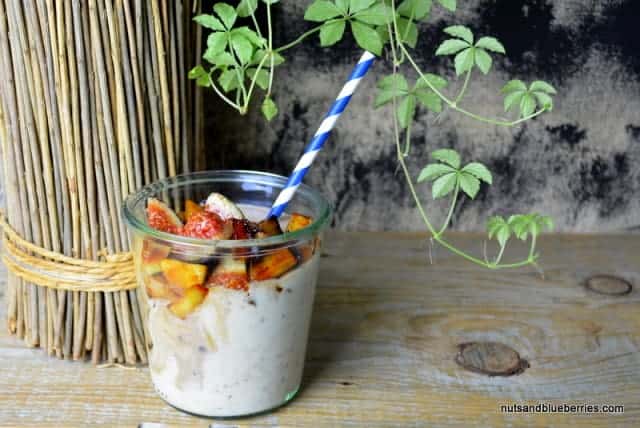 Caramel Apple Pie Smoothie
serves 1
Smoothie
1 frozen banana
1 apple
1/2 cup cashew nuts (soaked overnight with a pinch of apple vinegar)
pinch of ground vanilla
1 tsp Baobab (I use organicburst)
1/2 cup of almond milk
Fry the apple in a pan with a bit coconut oil.
Set half of the fried apple aside for topping. Blend the other half together with the other ingredients in a blender until smooth.
Date Caramel Sauce
4 dates
pinch of water
pinch of cinnamon
pinch of coconut or almond milk
Blend together until you get a little bit sticky consistency. Add more water when it is too thick or more dates if it is to liquid.
Topping
1 fresh fig
fried apples cubes
Arrange all together in a nice jar and top with fresh figs.