Baked Broccoli Patties! Patties are one of the most popular dish in our house. You can combine them with nearly all vegetables, salad or dips. As a vegetarian is cook a lot with fresh vegetables and legumes. I like to bring some variety in my diet to get the maximum of different nutrition. I don't eat the same two times and a day. I try to use lots of kale in my diet because kale are one of the most healthiest vegetables. This patties are made with Broccoli. Broccoli contains a high amount of potassium. This mineral helps maintain a healthy nervous system and optimal brain function. Furthermore it promotes regular muscle growth. The calcium and vitamin K is very important for your bone health and the beta-carotene is good for your immune system.
I love baking my patties in the oven and not frying them in a pan because I don't like to clean up the mess after frying.
Instead of normal flour I add gluten free chickpea flour. I'm not intolerant but I love the flavor of chickpea flour. It gives the patties a special nutlike flavor. Chickpeas are a very good source of protein. You can get chickpea flour in an organic store or make it by yourself with dry chickpeas.
I served them with fresh guacamole. Avocado is a real natural superfood which includes lots of healthy fatty acids. This fruit is high in fiber, vitamin e (THE vitamin for good skin), B-Vitamins like folic acid. Folic acid is a B-Vitamin which plays and important role in facilitating many body processes. I often use avocado in smoothies or smoothiebowls. Make them really creamy.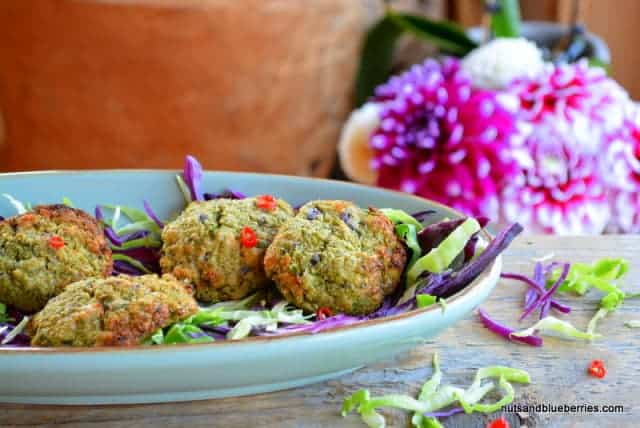 Baked broccoli patties with guacamole
for 30 small patties
2 small broccoli (800g)
1 red onion
100g chickpea flour
100g parmesan
1 bunch of parsley
sea salt
few chili flakes
1 tsp cumin
1 tsp sweet Paprika powder
1 egg
coconut oil
Guacamole
2 avocado
4 tbsp olive oil
4 tbsp yoghurt
1 tbsp lemon juice
salt and pepper
For Serving
Fresh salad leaves
Spicy baked potatoes (mix 5 potatoes, chopped in quarters, with 1 tbsp olive oil, 1 tsp cumin and 1 tsp
paprika powder, salt and pepper, and bake in the oven on 200°C for 15-20 minutes until golden)
Preparation
Preheat the oven on 170°C (air circulation).
Chop the broccoli coarsely and chop the parsley and parmesan finely.
Add all ingredients – except the egg and the coconut oil – together and combine.
Wisk the egg and gently fold it in the mixture.
Form 30 small patties (4-5 cm) and press them a little bit on a baking tray lined with baking paper.
Rub the patties with liquid coconut oil for an extra a delicious crust.
Bake the patties for 20-25 minutes in the oven until golden.
For the guacamole mix the avocado together with the other ingredients.
Serve in fresh salad leaves, baked potatoes and guacamole. Enjoy!