When we eat healthy we think we eat healthy. But is this right? I'm not sure. I read bad news that some food I eat isn't really healthy because of pesticides or other chemical substances. To eat really healthy is sometimes difficult and lots of self-study. It isn't possible all the time.
What is bioavailability?
I read about bioavailability a few years ago when I stopped eating meat and wanted to balance my iron. Vitamin C boosts iron absorption, but it must be consumed at the same time as the nonheme iron. That's a kind of bioavailability. Your body can absorb more of the healthy nutrients when you eat or drink some kind of vitamins, minerals or dietary minerals together.

Turmeric and pepper – a dream team!
Most of the curcumin that is ingested gets metabolized before it can get absorbed. Piperine (contained in pepper) is said to help make curcumin more bioavailable. Turmeric is really healthy because of the curcumin inside. Curcumin has been studied for its anti-inflammatory capabilities especially in the treatment of rheumatoid arthritis and other inflammatory conditions.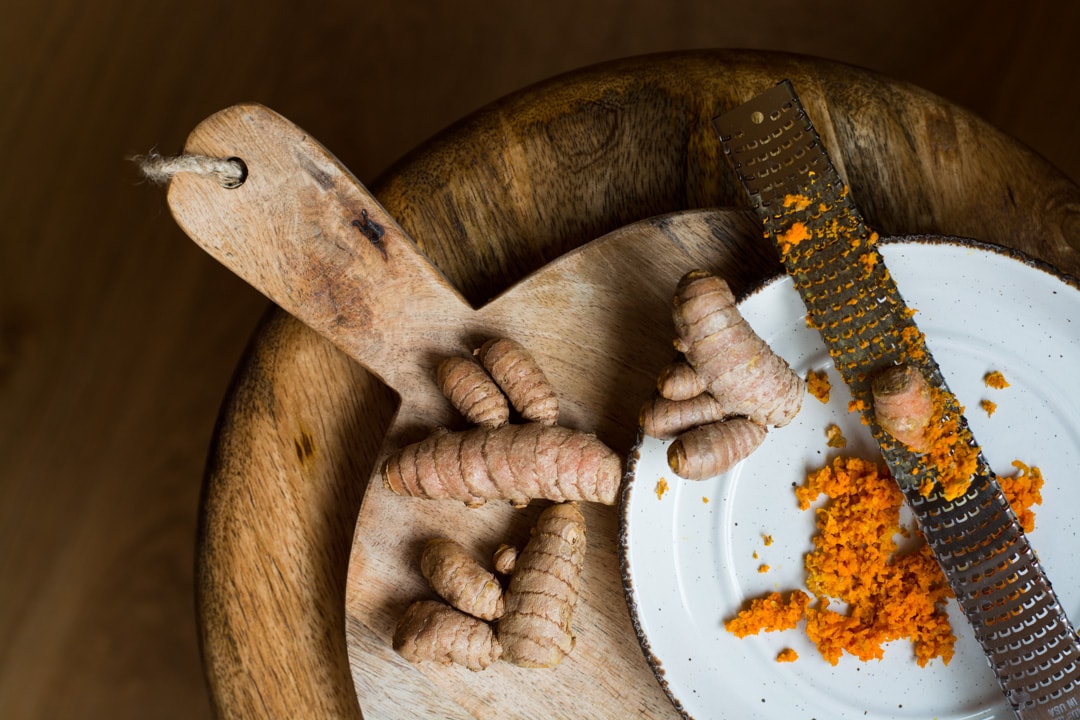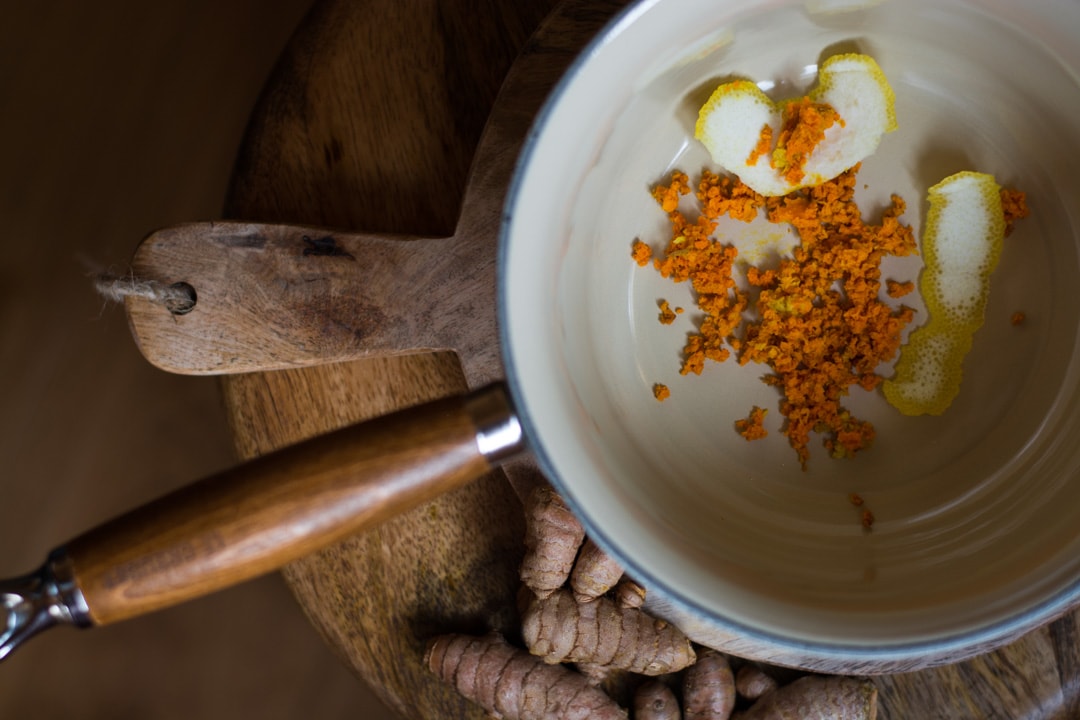 One great tip I got from another food blogger is to wear gloves when you use turmeric. I forgot it and my hands got so yellow after grated the turmeric roots. The pigment is really intensive and it's often used in the food industry to color food, for example mustard.

Gorgeous Lemonade – without harmful additives
You can easily prepare your own healthy lemonade without harmful additives. The curcumin is helpful to add a nice color and healthy ingredients. I used lemon as well as orange juice to balance the different flavors. It's a perfect mix from the intensive turmeric, sour lemon and sweet honey. Try to use only natural sweetener like maple syrup or honey to avoid unhealthy components in your lemonade. You can enjoy this lemonade warm or serve it cold with sparkling water.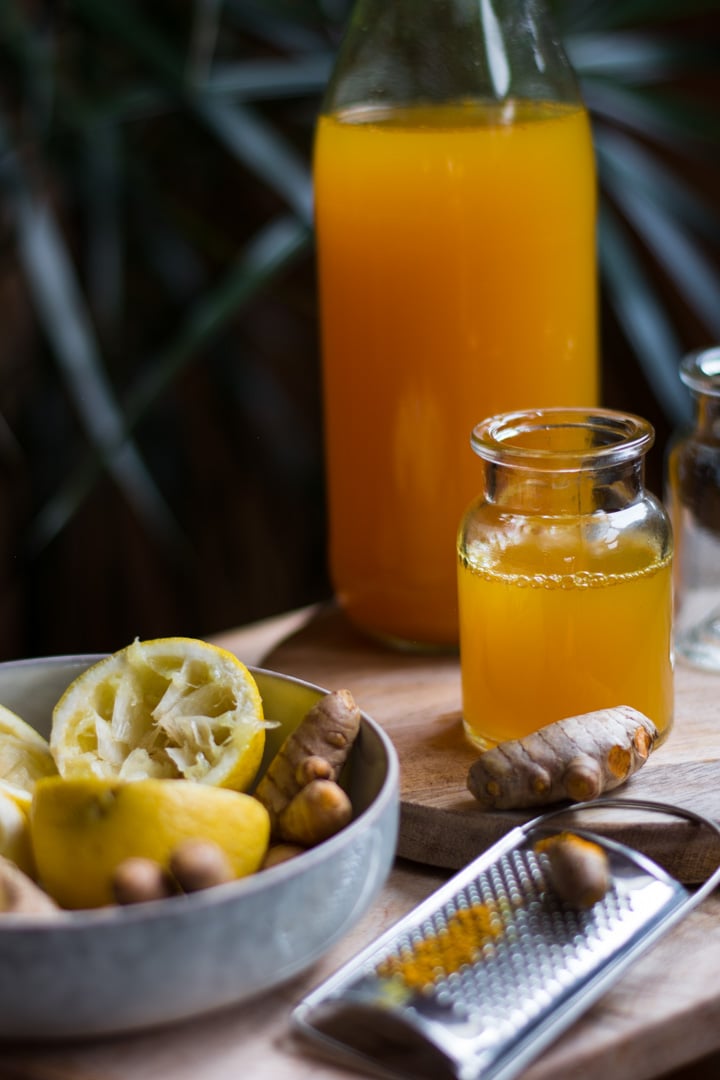 Turmeric Lemonade
Author:
nutsandblueberries
Ingredients
3 tbsp fresh turmeric root, grated
50 ml fresh squeezed lemon juice
50 ml orange juice
2 pieces lemon zest
1 tbsp fresh ginger, grated
500 ml water
4 tbsp honey or maple sirup
Instructions
Bring water to boil.
Mix water with turmeric, ginger and lemon zest.
Set aside for 15 min.
Filter water.
Add honey, lemon juice and orange juice.
Enjoy lemonade colt or hot.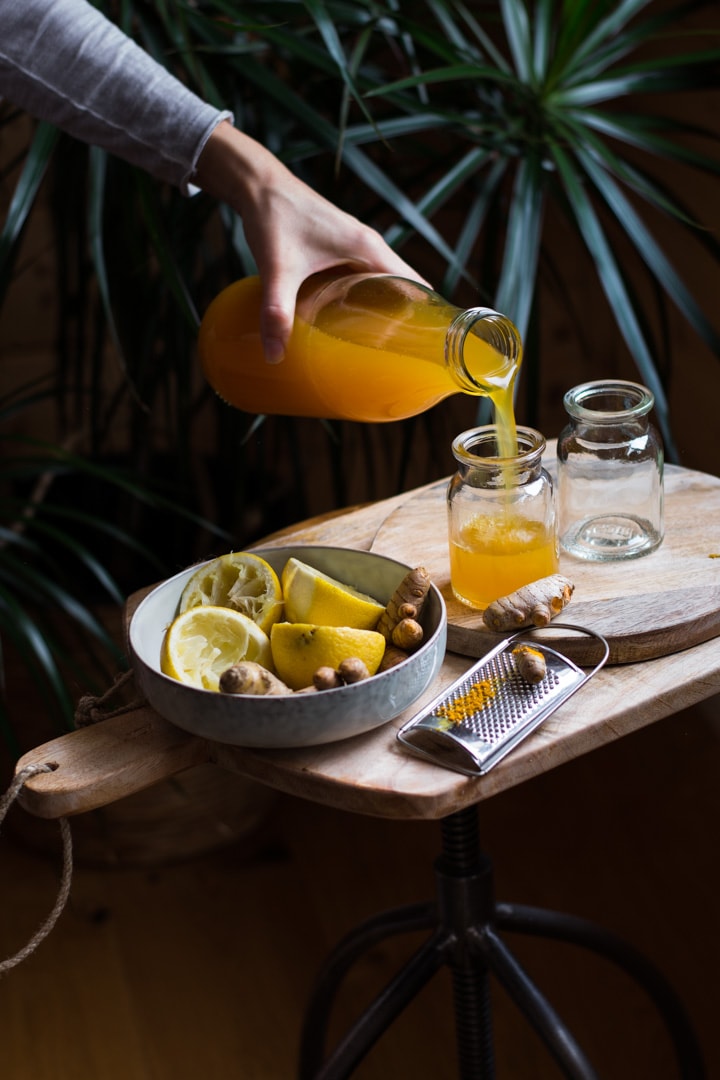 ---
Favorites of the week
Em shows how to eat vegan. This "marinated tofu with walnut pesto" is heaven
A grilled cheese sandwich is the ultimate comfort food. Find 14 facy grilled cheese recipes here
Help Kati to find the right cover for her new cookbook!
You may interested in the following as well
Have you every tried matcha? Try out this matcha latte
You can easily make your own healthy milk. One idea is this sweet walnut milk