Beetroot is my absolutely new superfood in my kitchen. Before I share a carpaccio recipe with you I like to tell you a little cat story and show you some cat pictures. Especially from our cute Karlo.
A wonderful little cat Story
I read the lovely story from two little kitties last week (check this post for more information) and I decided to share a little story from Karlo and some pictures from my cats as well on my blog because they are a big part of my life. And I'm sure lots of you are cat lovers too. I'm a cat lover since I was a little girl. My first cat came into my life when I was 7 years old and he was a friend during my school time until I finished my trainee program. After his passing when I was 22 I don't want a cat that fast again. Too much pain.

6 years without a cat
So I lived 6 years without an animal around me. Only my hubby and my brother were around me every day. What was good and I don't want to miss this time. But I often thought about having a cat again.
When I was 28 we got our Hank (found in a bush with 5 weeks), 1 year later we meet Tom in an animal center and we decided to bring him home to us as well. The "family" was complete and we decided two cats are enough. Fortunately we moved in a house in 2011 and on a romantic dinner time one night we looked out of the terrace door and saw a little red cat starring at us. We became totally nervous because our plan was never got a third cat into our home.
Hank >>

Come in
But we opened the door and the little red cat came in. Confident. Curious and too cute!
(my sneaking desire was to have a red cat one time)
That was the day we meet Karlo, our crazy little red male cat! He makes funny thing all day long and get crazy when he saw one of our other cats. He jump at Tom as soon as he came into the room and plays with my kitchen tools whenever I don't observe him. Karlo is a really special cat. I don't know if the red cats are always special but he definitely is. He is open-minded and always curious whatever we are doing. He talk with us when he came in or when he go out and he is so friendly to everybody who visit us.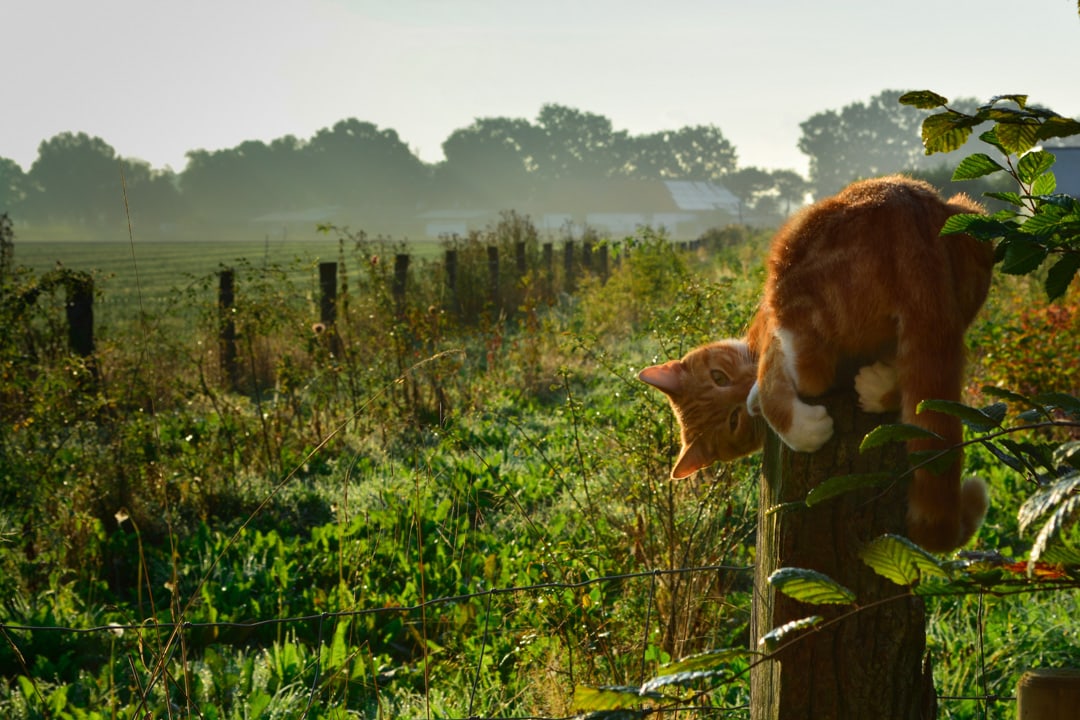 After this short cat story I want to share my latest favorite recipe (I know all recipes are favorites, haha).
But that color! That wide range of health benefits and this sweet earthy taste!
Beetroots are really one of the healthiest food you can eat!
Since I created my Healthy Beetroot Sandwich with smoked Tofu I stock beets in my fridge constantly. I already grilled them and served them with mashed potatoes or simple make a beetroot carpaccio with basil pesto. This carpaccio is made within minutes and the perfect snack, lunch or easy dinner when you enjoy it with some fresh baked bread.
I normally use cooked beetroots because they are still full of health benefits. Beets have a wide range of health benefits. These little roots contains vitamins, minerals and compounds like carotenoids, magnesium, iron and copper. They are very low in calories, with no cholesterol, but they do have the highest sugar content of all vegetables. That's the reason why they are so sweet.
The combination from sweet beetroots, feta cheese and the aromatic basil pesto is really special.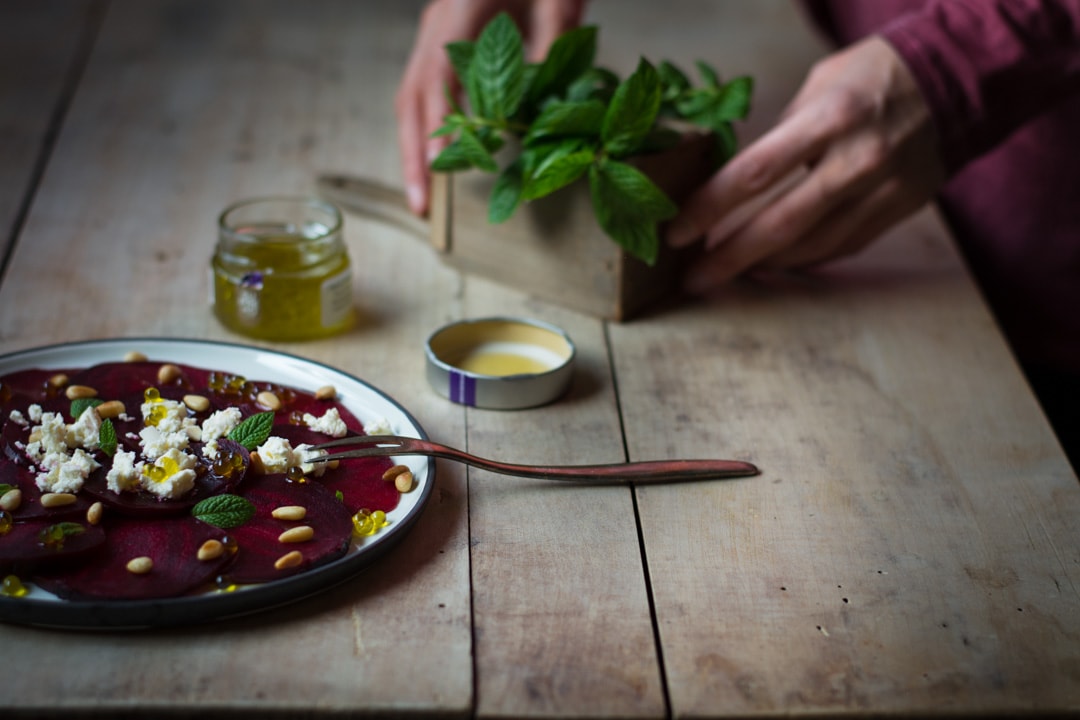 5 min. beetroot carpaccio with basil pesto
Author:
nutsandblueberries
Ingredients
2 medium beetroot, cooked
30g pine nuts
100g feta cheese
2 tbsp olive oil
1 tbsp apple cider vinegar
salt and pepper
For the basil pesto
60g basil leaves
100g pine nuts
120 ml olive oil
salt
Instructions
Preparation
Mix all ingredients for the pesto
Cut the beetroot in small slices
Arrange beetroot slices in a plate
Mix olive oil, apple cider vinegar for a dressing
Sprinkle dressing over the beetroot
Top with feta cheese and basil pesto
Serve with fresh baked bread or baguette!
Follow my blog with Bloglovin
---
Recipe idea for soups and stews
Here are the participant from my latest Instagram competition "#nabsoupsandstews".
Hopefully you find some great inspirations for your next winter savory meal.
If you don't find the recipe directly ask the Instagramer for the recipe!
Here is one of my favorites from the competition. Beetroot Potato Soup from Klara!

"#nabsoupsandstews"
Carrot and Coriander Soup from @eatmyyythoughts
Celery Root and Fennel Soup from @madeby_danica
Roasted Butternut Squash Soup from @ichabeld
Creamy Roasted Sunchoke Soup from @carrotsandflowers
Sweet Potatoe Lentil Soup @silverliningskitchen
Creamy Beetroot Soup @lenkas_kitchn
Beetroot, Apple and Ginger Soup @frei_style
Beet Lentil Soup with Coconut Cream @smoothie_swan
Roasted Pumking Soup @hazelnuts_and_sunshine
Red Onion and Mushroom Soup @smoothieflowersylph
Pumkin Soup with roasted Aubergines @luckystaranise
Curried Red Lentil & Roasted Pumpkin Soup @birdseedtweet
Seaweed Soup @wonderlifeofsarah
Cashew Cauliflower Soup @thehealthyfoodheaven
Roasted Chickpea Soup @the_golden_hour_
Turkish Red Lentil Soup @vitalityandmore
Vegan Khao Soi Thai Noodle Soup @greensmoothiegourmet
Beetroot Potato Soup @klaraslife
Pumpkin Soup with Beetroot Puree @eatsleepgreen
Harrissa Tomatoe Soup from @voilavegan
Moroccan spiced sweet potato, chickpea and kale stew from @heavenlynnhealthy
Creamy broccoli soup from @figsforall
---
FAVORITES OF THE WEEK
A christmas smoothie I discovered on one of my absolutely favorite blog (madelinelu) is this Vegan Gingerbread Shakes
Find wonderful food photography and a recipe for a Grapefruit Cinnamon Ricotta Ice Cream on Bettys Blog!
YOU MAY INTERESTED IN THE FOLLOWING AS WELL
Have you ever tried sage in a soup? No. Try it out – Creamy sage soup
When I don't have time I cook this Easy lentil soup!
Have you ever tried SOBA? Read more about this asian styled noodles – Soba Salad.