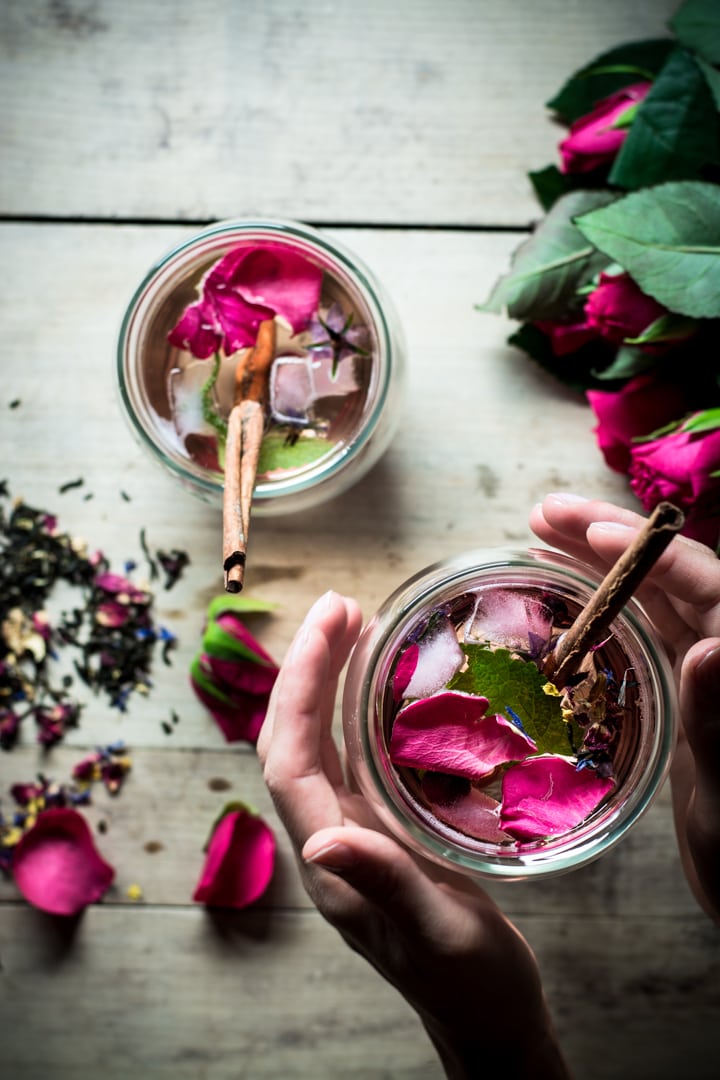 Happiness and Tea are so close together. Everytime when I'm drinking tea I'm happy – and I drink a lot of tea.
Mental Awareness – the L-Theanine in tea!
Did you know there is not only caffeine in tea? Yes, caffeine is one of the best known brain-booster. It's effects are wakefulness and attention. Caffeine is a stimulant whose effects subside fairly quickly.
But uniquely – tea contains the amino acid L-Theanine which is more calming — it relaxes without inducing downiness.
Caffeine and L-Theanine are a naturally pair found only in tea, which is why tea has been the drink of choice for people needing concentration and focus when settling into a long meditation.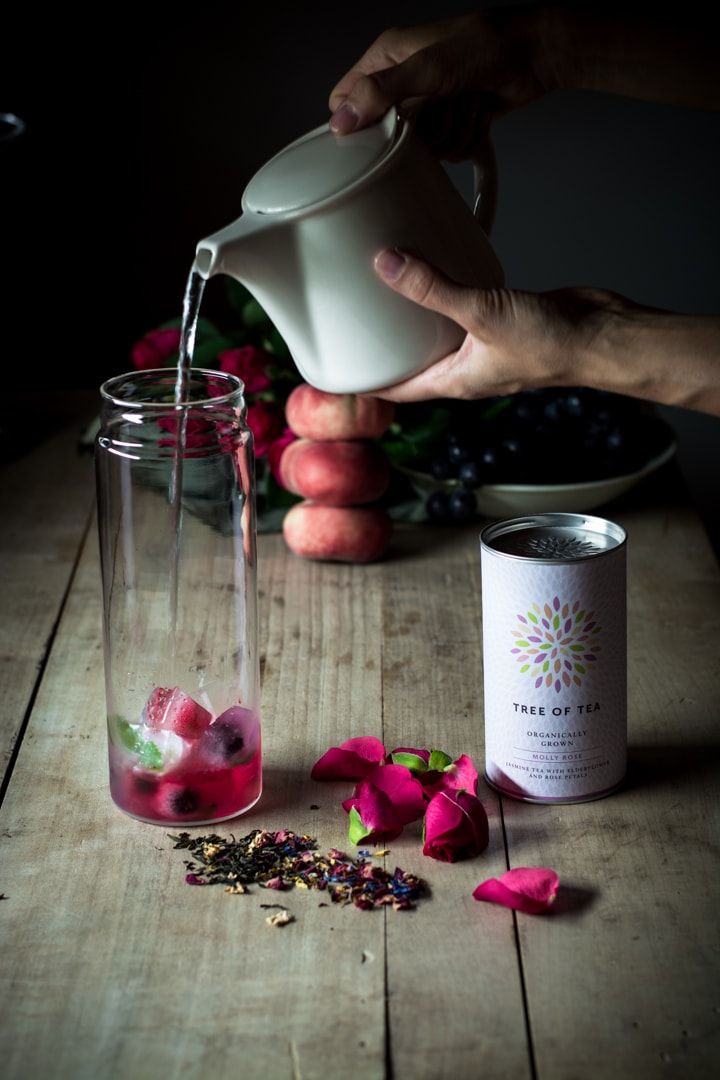 Tea Equipment
I collected a lot of tea equipment in the last years because I drink a lot of tea during the year. Tee strainer, Tee Thermometer, Tee Bottles. I'm in love with a new bottle from a German company. You can use it for infused water as well as for ice tea. Are you using tea equipment as well? What is your favorite? Mine is definitely the tea thermometer and my new bottle as well as my big tea glasses.
 
Ice Tea with lots of mint
I'm super proud and happy about my big mint bush in my garden. It's super easy to add mint to my ice tea as well as some rose leaves. I use different sort of tea to enjoy my ice tea. My absolutely favorite at the moment is a mix from jasmine tea, roses and peaches.
The flavors are amazing and the light taste of the roses is so romantic.

The colorful ice cubes I've ever seen
My first ice cubes turned out not perfect but I'm satisfied for my first try. I simple freeze some berries, mint leaves and flowers with water and use it for my fresh ice tea. The cubes are so pretty to use them during the summer for serving. What is your idea to prepare healthy and colorful ice cubes. Would love to read some idea in my comments later.

Organic – a must-have for tea
It's really important for me my tea is produced organic. Non organic tea is often full of pesticides and other unnatural products. Teas that are not organic are often air dried without rinsing, meaning that synthetic chemicals are dried on the leaf. This can affect the quality of the product and pose potential health risks.

 
Antioxidants in jasmine tea
Jasmine Tea is a mix from jasmine blossom and green tea. Jasmine is a flowering plant. When mixed with green tea leaves it becomes a magical elixir that is so delicious.
Jasmine tea also is high in antioxidants and combats the free radicals formed in the body. Free radicals are harmful and can hasten the aging process. By reducing the free radicals in the body, it effectively lowers the chances of developing cancer. Antioxidants also play a valuable role in slowing down the aging process.
Detox Tea and colorful summer ice cubes
Author:
Nutsandblueberries
Ingredients
1 liter of water
4 tsp organic jasmine tea of your choice
4-5 rose leaves
fresh mint
ice cubes
sweetener of your choice
Instructions
Bring the water to a simmer
Remove from the heat and add the jasmine tea
Let step about 2-3 minutes
Fill the tea in a bottle
Add the rose leaves and mint leaves
Let cool and store in the fridge for a few hours
Server with cold ice cubes and sweetener of your choice
Follow my blog with Bloglovin
---
You may interested in the following as well
Turmeric Lemonade – a healthy drink for the summer!
Jucing – More enegry in everyday life!
Favorites of the week
Pauline published her new cookbook: Living the healthy choice  
Try out SUP – Stand up Paddeling! It's my new favorite watersport.