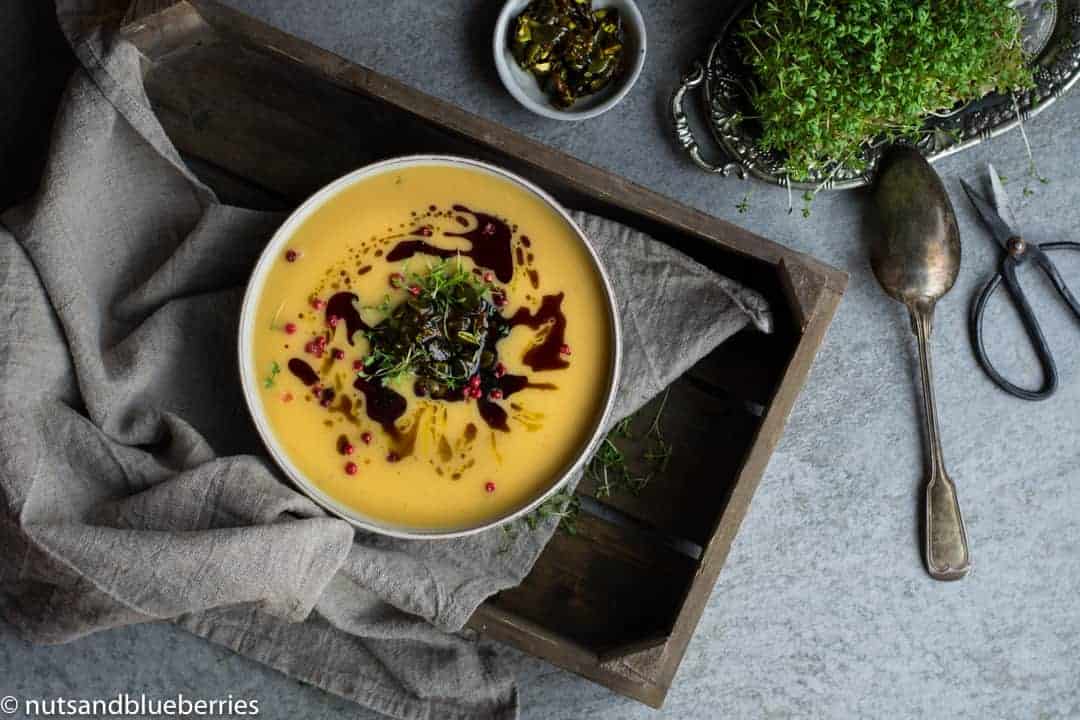 The Autumn is still present here in Germany and I decided to complete my plan to write a post about my butternut pumpkin soup. It was my first time I tried out this amazing sort of pumpkin which is so pretty and decorative, photogenic and healthy. Have you ever cooked a pumpkin? It was really heart to damage this beautiful pumpkin.
I hold one butternut pumpkin for my pictures because the natural color and the form is perfect as a prop in my food picture.
Do you use dairy products?
Pumpkins are wonderful to use in the kitchen. They have less calories! In that case I add some whipped cream for this soup to make it more creamy. LOL. I only use organic dairy products because I don't want to support the animal abuse. I try to buy the highest organic label I can get. I don't eat lots of dairy products. Normally I prefer plant milk or chia seeds as egg replacer. But sometimes I like to use them as well.
What is about you? Are you using dairy products? Or are you full vegan?
I watched a in German movie about harmful additives in food products. I'm really angry who the industry hoax us. We need to check carefully what's inside the products we buy in our stores. Sometimes harmful additives are not shown really carefully. I bought my first vegetable broth without any additives in an organic store last days and can't be more happy to found it.
In this case this soup is free from any harmful additives and industrial sugar. Please take care of the pepper in the soup because the sprinkle already contains a lot of crushed red pepper.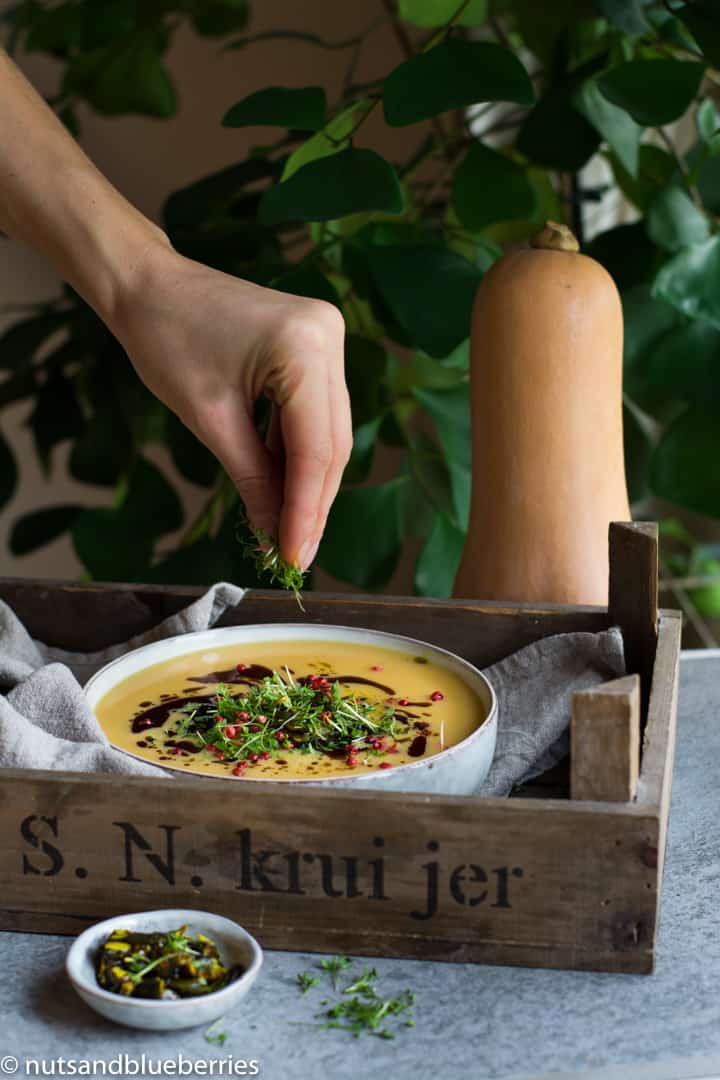 Autumnal butternut soup with spicy honey sprinkle
Serve 4
Autumnal butternut soup

Autumnal butternut pumpkin soup with spicy honey sprinkle
Author:
nutsandblueberries
Ingredients
• 500 gramm butternut pumpkin (1 small)
• 750 gramm potatoes (starchy)
• 1 red onion
• 10 gramm fresh ginger
• 2 tbsp olive oil
• 1 liter vegetable broth
• 1 tsb cumin
• 1 tsb curry
• 100 mm whipped cream
• Salt & pepper
Spicy honey sprinkle
• 2 tbsp pumpkin seeds
• 0,5 tsb red pepper
• 0,5 tsp
• 1 tsp curry
• 1 tbsp olive oil
• 1 tsp honey (organic)
• Mortar
Instructions
Pell and cut the butternut pumpkin in small cubes
Pell and cut the potatoes as well in small cubes
Chopp the onion and the ginger
Heat olive oil in a pan and add onion and ginger
Add cumin and curry and fry for 1 min
Add potatoes and pumkin and fry for another few minutes
Add vegetable broth
Let simmer for 20 minutes
Stir in whipped cream
Season with salt and pepper
For the spicy honey sprinkle
Roghly chop the pumpkin seeds
Mortal red pepper corns, curry and salt
Heat olive oil in a pan and fry the pepper, salt and curry for 1 min
Add pumpkin seeds and honey
Enjoy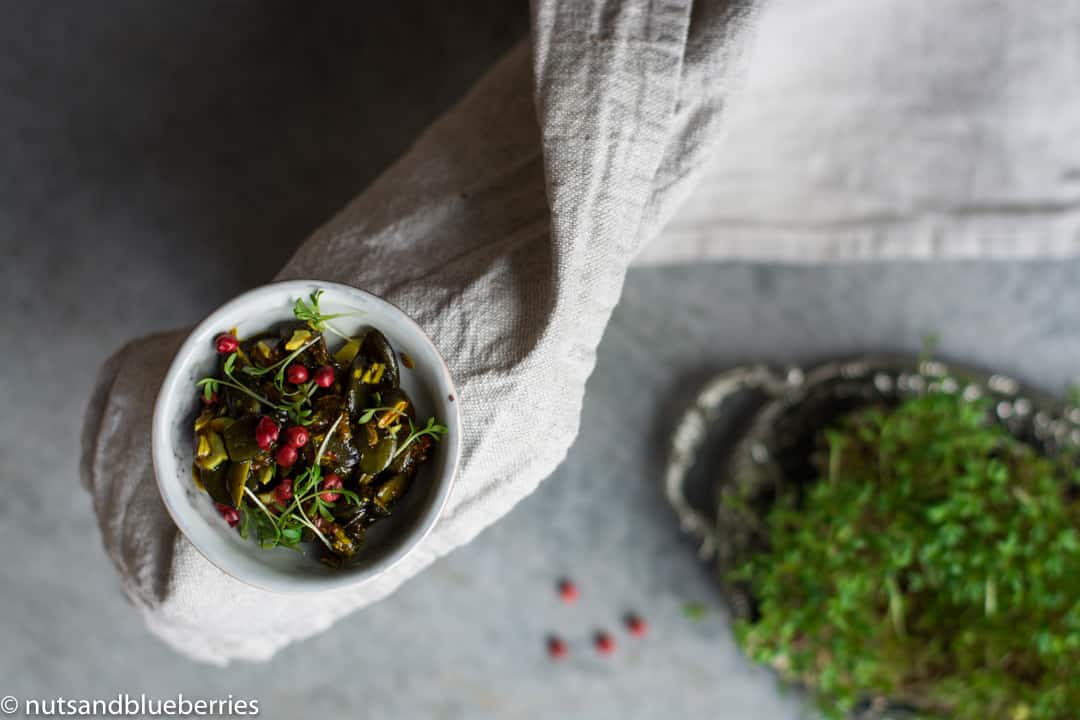 ---
Favorites of the week
If you are a cat lover like me you need to check out the story from Rahu und Ketu. You will find an pecan apple goat cheese tart as well on Lyndseys Blog!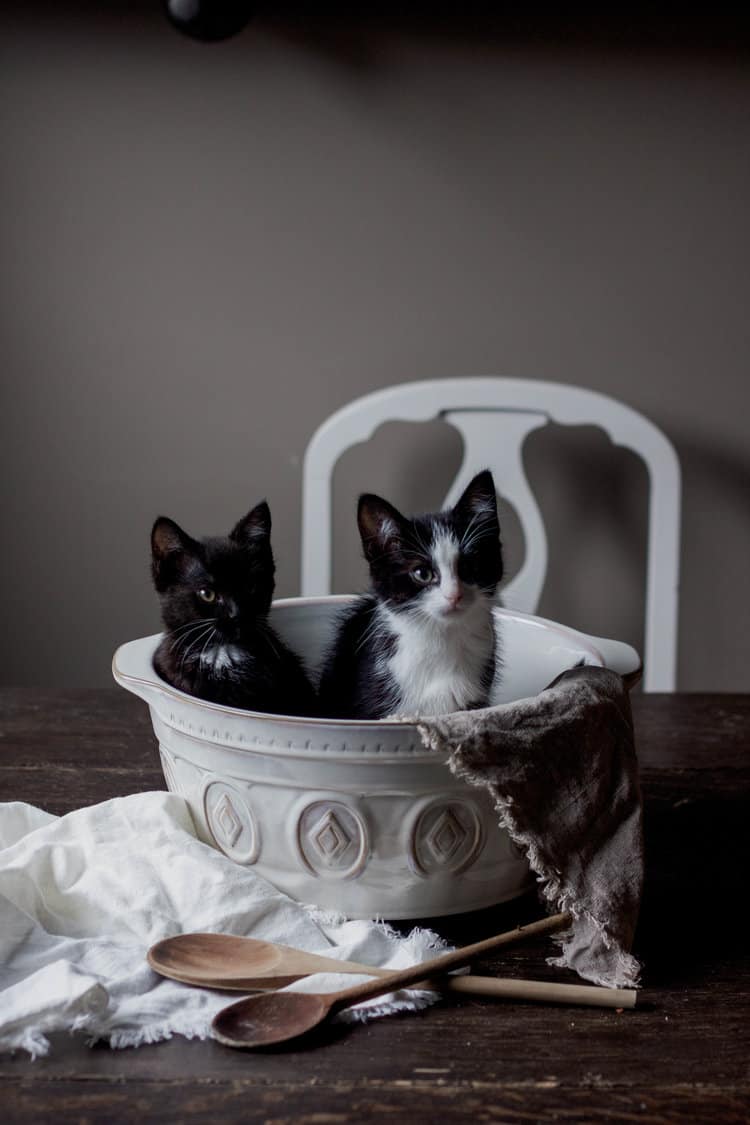 Check out my absolutely favorite Instagram Account > Panaceas Pantry
You may interested in the following as well
The easiest lentil soup ever
Vegan meat balls in a creamy lentil Curry!