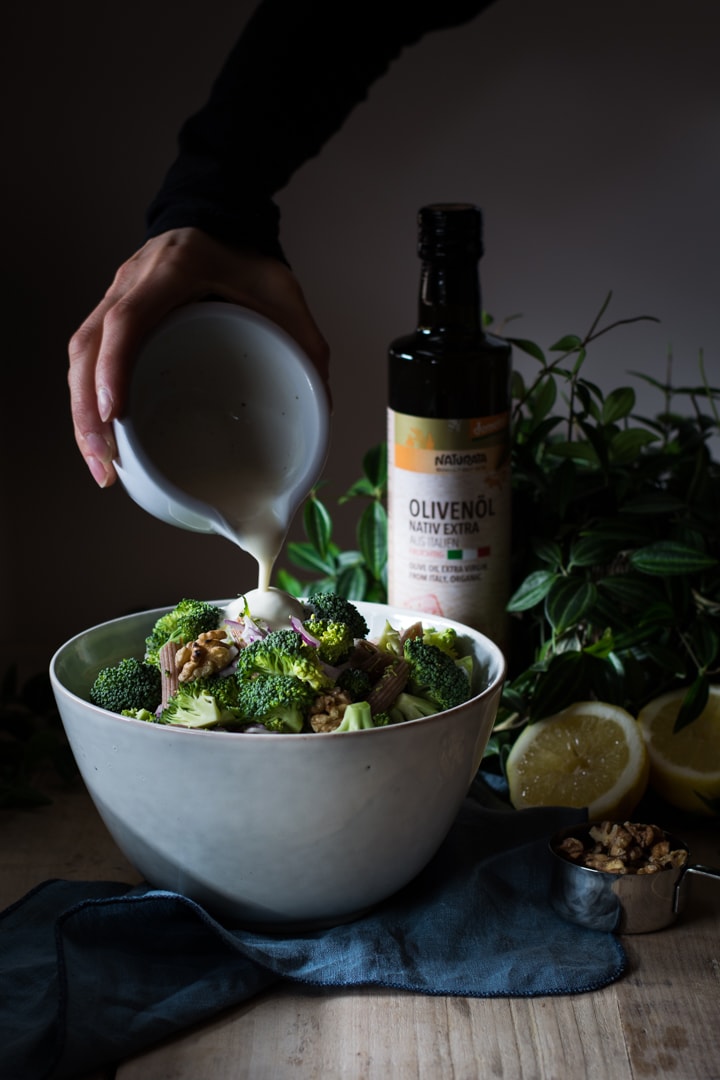 Welcome spring! Welcome grill season! Welcome Broccoli salad!
Who isn't counting the days until it's getting warmer? I'm happy the spring season starts here in Germany. I welcome the warmer days with a wonderful salad made from broccoli, walnuts and vegan mayonnaise. Did you know vegan mayonnaise taste similar to the dairy one? You definitely will miss nothing by using the vegan one.
Healthy benefits from Broccoli
Broccoli is one of the best salad ingredients to use raw. It's ultra-healthy and easy to prepare. Did you know poor vitamin K intake is linked with a high risk of bone fractures? Broccoli also contributes to your daily need for calcium. These nutrition vegetable supply loads of nutrients for Little calories.

 
Fatty acids aren't unhealthy when you use the right ones
I learned a lot about fatty acids in the last years and I'm happy I understand I can easily eat them because they are a lot of healthy fatty acids in the ingredients I use in my kitchen. Fats from walnuts or high quality olive oil are two idea to provide your body with omega-3 and omega-6 fatty acids. The secret is to use more plant-based fats instead of dairy ones.

Broccoli slaw with roasted walnuts
Author:
nutsandblueberries
Ingredients
75g walnuts, roasted and roughly chopped
1 midsize Broccoli
1 red onion, finely sliced
100g penne
100g vegan mayonnaise
100ml nut milk
2 tbsp lemon juice
1 tsp agave syrup
4 tbsp olive oil
salt and pepper
Instructions
Chop the broccoli.
Cook the penne.
Mix up the ingredients for the dressing. Mayonnaise, nut milk, lemon juice, agave syrup, olive oil, salt and pepper.
Mix the broccoli, penne, onions and walnuts.
Taste with salt and pepper.
Follow my blog with Bloglovin