A very creamy sweet porridge with millet is such a dream and one of my absolutely favorite breakfasts! Topped with cold blueberry icecream – YEAH!
I will translate the latest recipes in english because some of my Instagram followers asked my to add the english version.
I'm so happy to share alle my recipes also in english with all international foodies.
This creamy porridge is made with millet. Millet includes a high Level on iron and a lots of other nutrients for your nails and hair.
Furthermore millet is glutenfree for all who are gluten intolerant.
This ice cream is healthy because it is made with frozen bananas and blueberries. You can use bananas as a natural sweetener in your breakfasts.
Optional you can use the superfood ACAI. I use the ACAI from organisburst. The ACAI berry have a very high ORAC value (Oxygen Radical Absorbance Capacity).
That is the value to absorb free redicals. I love the taste so so much,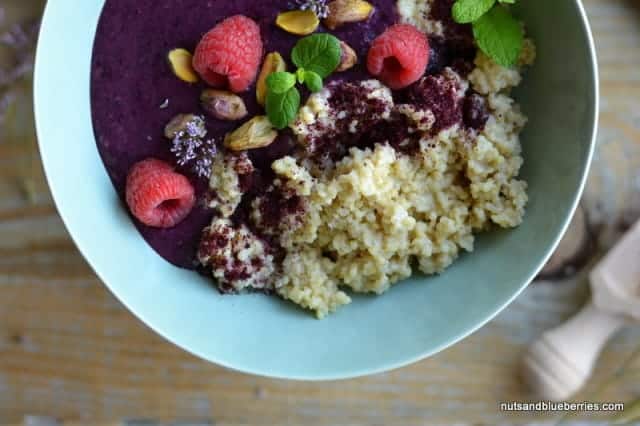 Vanilla millet porridge with blueberry icecream
for the porridge
2 tbsp millet
250-300ml almond milk (or any other milk)
a pinch of salt
1 tsp raw honey
1 tsp ground vanilla
for the blueberry ice cream
1 frozen banan
70ml almond milk (or any other milk)
1 tbsp pistachios
1 tbsp desiccated coconut
2 tbsp frozen blueberries
1 date
optional
1 tsp ACAI powder
Topping
self made Granola
nutbutter (I use almond butter)
blueberries
how to make the porridge
Rinse the millet and bring 250ml almond milk and the pinch of salt to boil. Add the millet, vanilla and honey and cook round about 10 minutes until the porridge is creamy. You may add a Little bite more milk if necessary. Let cool down a Little bit.
how to make the icecream
mix all ingredients until it is totally creamy.
Add icecream over the porridge and top with granola, nutbutter and berries. Enjoy!