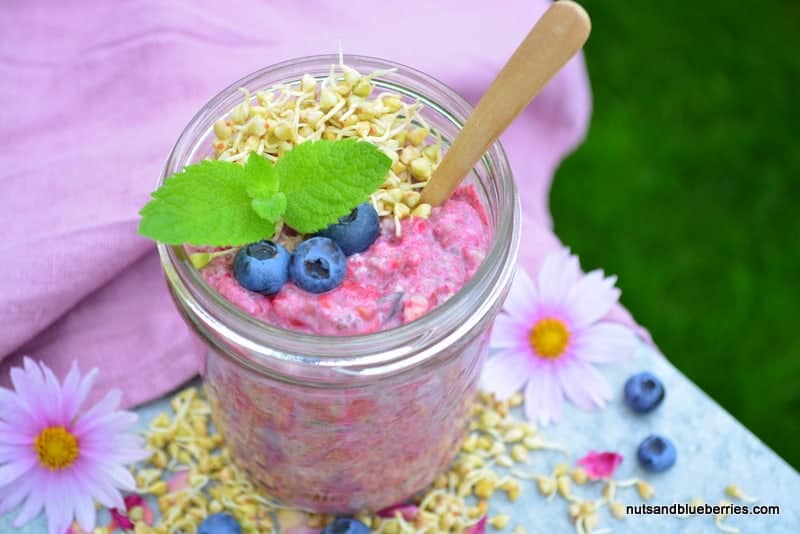 Berries are really one of the best of antioxidants! Raspberries are an excellent sources of vitamin-C, which is also a powerful natural antioxidant. They are rich in B-complex group of vitamins and vitamin K. Tons of healthy vitamins to nourish your body!
Nuts and seeds are full packed with healthy fatty acids and they give you lots of energy for your concentration during the day. I like to add some nuts or seeds in every breakfast I ate and I love to roast them for a salad topping.
You can also make your own nutmilk as an option to cow milk to reduce animal products in your diet.
I use oats in this porridge because you gets such a creamy and healthy base. When you soak it together with a pinch of apple cider vinegar to make the oats more digestible. Soaking is an effective method used to help breakdown the difficult to digest components of grains, called phytates. When it comes to soaking, acid mediums are a vital part of the process. That's because the acid medium serves as a catalyst to initiate the culturing/fermenting process that enables phytase be released.
Chia are a good choice to add fibre and calcium. Furthermore the Chia seeds soak overnight and make the porridge more solid.
This porridge need to be prepared in the evening, so you have less stress in the morning.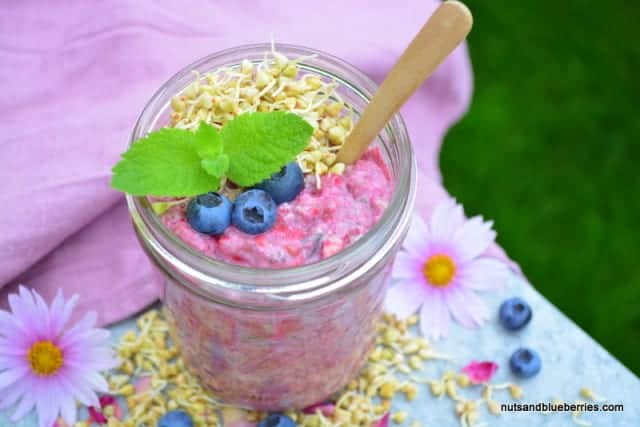 Raspberry Chia Porridge
Served 1
70g rolled oats
1 tsp apple cider vinegar
1/2 rippe banana
120ml almond milk (or any other you prefer)
1 date or 1 tsp agave syrup
1 tbsp chia seeds
1 tbsp sunflower seeds
1 tbsp pumpkin seeds
50g fresh or frozen raspberries
optional
1 tbs maca powder
Topping
50g fresh raspberries
50g fresh blueberries
Mash the banana and the raspberries with a fork and add the almon milk. Add oats, chia seeds, sunflower seeds and pumpkin seeds. Sweeten it with 1 chopped date or 1 tsp agave syrup.
Let soak overnight in the fridge.
In the morning stir around and add a bit of almond milk if it is to solid. Top with fresh berries. Enjoy!