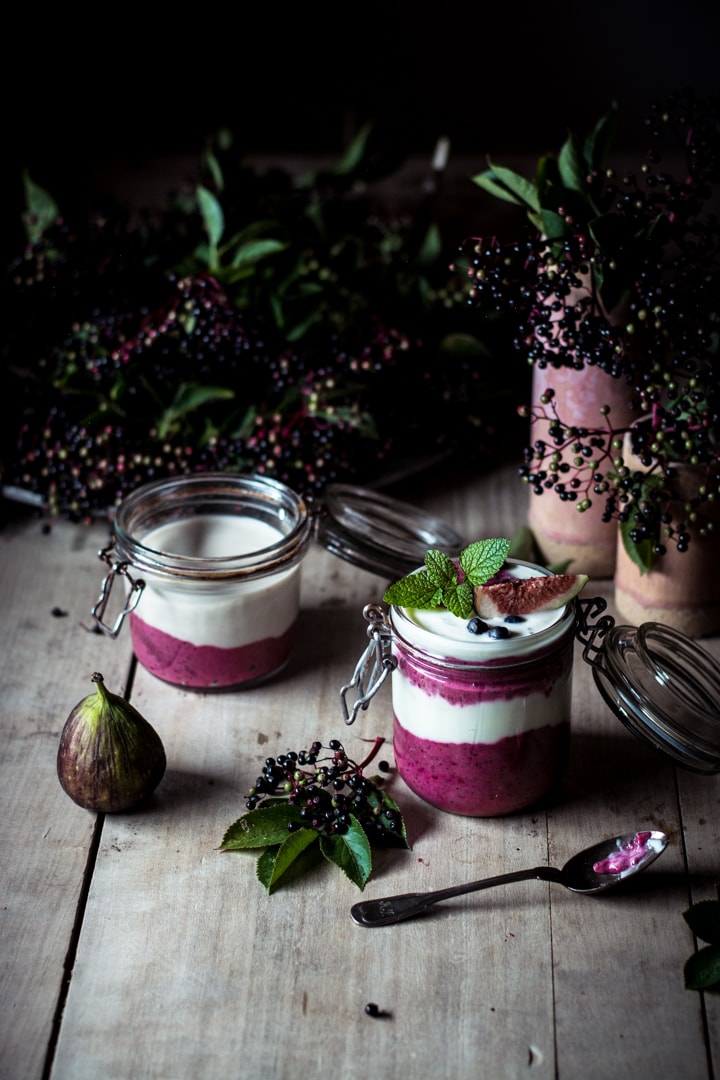 As you can see in one of my latest posts I used Elderflowers for my chia pudding – Elderflower infused coconut mousse with strawberries.
Now – a few weeks later – the elderberries are ripe and I can't be more happy to pick them and use them for my next chia pudding recipe. They are overall at the moment – everywhere I look I see them. They are so pretty when they hang down from the trees.
Elderflower and Elderberries
August is the best time to use the elderberries after you used the flowers in july. You can use both in the kitchen. The elderberries are ripe a few weeks later than the elderflower.
I read about elderberries. They are really healthy. They includes minerals like iron, copper as well as vitamins. Especially vitamin A, B and C. Furthermore the are anti-inflammatory and antioxidant. Elderberry are very good for your skin! These berries has made its way into cosmetic products. Its antioxidants, along with its high vitamin A make it awesome for skin health. Elderberry could give a natural boost to skin.

 
Preparation of elderberries
It was my first time I used elderberries in my kitchen this year and it wasn't really difficult to prepare them. The most important thing is to cook them before using the juice. The raw berries itself are toxic!
I decided to make elderberry juice because juice is so versatile. Just when you have the juice you can simply turn it into a syrup. Simply simmer the juice until it reduces and turns syrupy. You can add coconut sugar to the syrup and use it to flavor whenever you want.
Elderberries are poison. They lose their poisonous properties when cooked. The risk lies in the elderberry leaves and stems which contain a toxic alkaloid.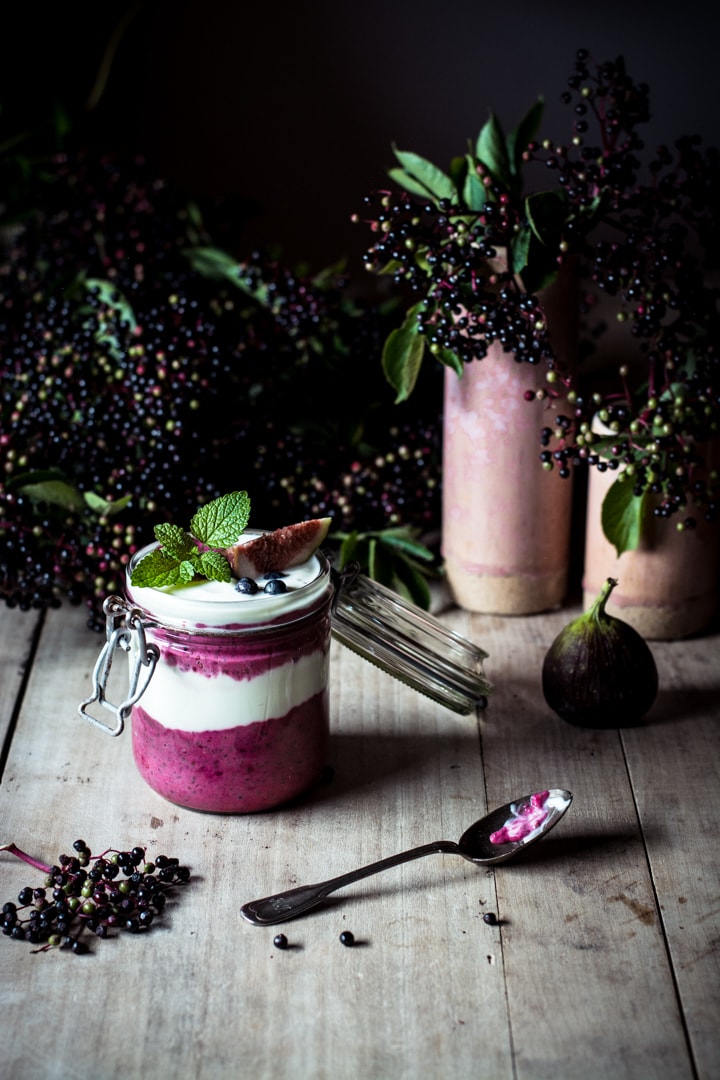 After a short look into my fridge I decided to use hemp milk, yogurt and beetroot (for the color). I only use a small piece of beetroot to get the pink color because I was inspired by a picture from Lore on Instagram.
I'm a little bit proud of this photography because I caught the right light and I had the idea to use the elderberry plants in the picture as well. I'm talking about the photography so much because it is a big big part of my blog work. It's the main component I own my blog. I working on a blog post about Adobe Lightroom presets. It will comming soon!

 
Versatile Elderberry Juice
Before you mix the chia pudding you need to prepare the simple elderberry juice. You can store the juice in the fridge for up to a few days. I love to use it in my breakfast as well as enjoy it hot with some milk in the evening.
First start to prepare your juice.

Elderberry juice
Author:
nutsandblueberries
Ingredients
250g elderberries
50 ml water
3 EL coconut sugar
Instructions
Cook the berries and coconut sugar for 10 minutes
As soon as the berries are soft add them to a sieve or towel
Squeeze the juice out and fill it in a bottle
Layered elderberry chia pudding with yoghurt
Once you have the juice it's up to you how you use it. I prefer to add a littel bit in my breakfast variations. My favorite at the moment is this pretty looking chia pudding. When you don't use beetroot for the pink color the pudding will turn into a dark purple because the Juice itself is very dark.
Layered elderberry chia pudding with yoghurt
Author:
nutsandblueberries
Ingredients
250ml oat milk or another milk you prefer
50g cashew nuts
1 banana
juice from 1 lemon
2 dates
4 tbsp chia seeds
½ beetroot
3 EL elderberry juice
200g yogurt (soy or coconut works well)
For serving
fresh mint
figs
Instructions
Mix all the ingredients, except the yogurth, in a blender
Let the chia pudding soak for 10 minutes
Layer the chia pudding and yogurth
Top with fresh mint and figs
Follow my blog with Bloglovin
---

You may interested in the following as well
Favorites of the week
I want to recommend a movie – LION the long way home