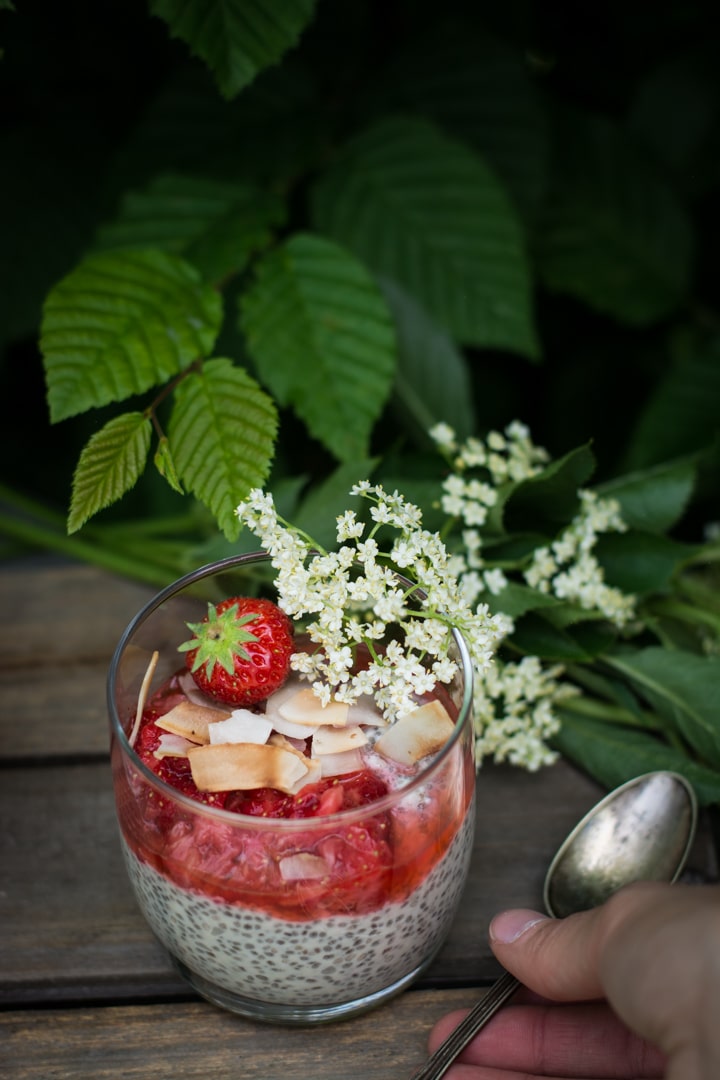 Elderflower-Season!
I want to ccok more seasonal since ages. Honestly I use more seasonal plants and fruits from time to time but not that often. Do you feel the same? Normally it isn't that difficult.
Seasonal summertime
The summer months are perfect to start with seasonal cooking. Fresh berries, wild herbs, asparagus, strawberries – we find a lot of healthy natural ingredients here in Europe.
I'm lucky to live in a small village close by a forest and fields. When I leave my house I smell and see tons of wild herbs as well as elderflower trees.

 
Healthy elderflower
Elder contains vitamin c, which is important for the health of your skin as well as your immune system. This wild plant also contains a flavonoid called quercetin, a powerful antioxidant. This high antioxidant content makes elderflower beneficial for protecting your body from oxidative stress.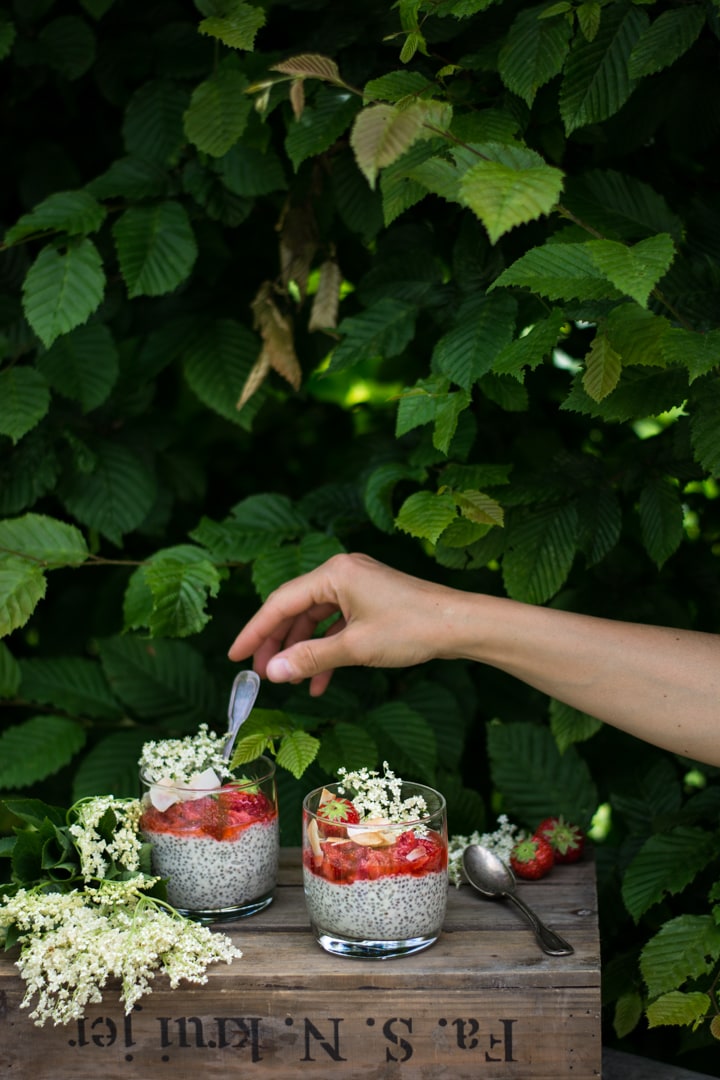 Elder is a popular plant to use in the kitchen. But not only in the kitchen. You can use elderflower also as medicine and cosmetic. Here some ideas to use elderflower.
How to use elderflower
Elderflower water for a smooth skin. Mix 6 teaspoon elderflowers with 1 liter boiling water. Cool down before cleaning your skin.
You can also use it for a steam bath.
As well as a complete bath. Mix 200g elderflower with 2 liter boiling water. Let simmer for 1 hour before using it for your bath (20 minutes).
If you like to have a relaxed and good sleep, enjoy a elderflower milk. Mix 2 umbels of elderflower with 250ml of plant milk and let simmer for 30 minutes.
Garnish your meals with fresh elderflowers. You can eat them raw.
Blog Passion
Are you a blogger as well? Or do you think about starting a blog?
The best thing to be a blogger is to write about topics you really interested in. For example about Elderflowers, haha. Lara from Vanillacrunnch wrote about her experiences in blogging. If you are interested in reading, visit her blog:  http://vanillacrunnch.com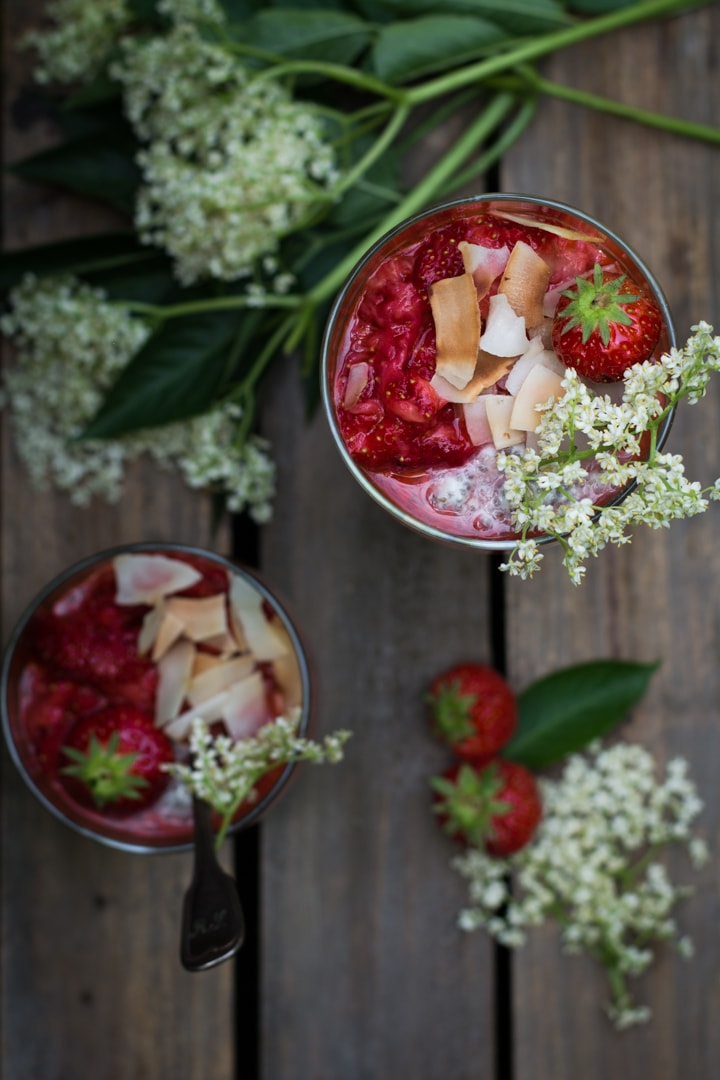 Elderflower infused coconut mousse with strawberries
Author:
nutsandblueberries
Ingredients
Serve 4
50g chia seeds (black or white)
200ml full-fat coconut milk (see note)
2 tbsp elderflowers
5 tbsp maple syrup
1 tsp ground vanilla
pinch of salt
8 strawberries
1 tbsp maple syrup
coconut flakes
Instructions
In a large food processor process the elderflowers, coconut milk, maple syrup, ground vanilla and a pinch of sea salt until lightly incorporated.
Add the chia seeds and stir around for a few minutes.
Refrigerate overnight.
To serve, toast a handful of coconut flakes in a skillet over medium heat until lightly browned. Careful – the flakes burns easily.
Mash the strawberries and mix them with 1 tbsp maple syrup.
Top the elderflower infused coconut chia mousse with the toasted coconut.
Serve and enjoy!
Note: Use full-fat coconut milk - this does not work with light coconut milk.
Follow my blog with Bloglovin