What a nice name? Isn't it? I saw so many Buddha bowls and think about to make my own. No its done and I am so happy to share the recipe with you.
I am sure it's an new food trend to serve different delicious food in one bowl. The name comes from the round stomach from the Buddha. That's so cute.
You can add what you want in that bowl and serve with nice dips and sauces. I use a simple yoghurt dip because it fits to all ingredients I use and I really love potatoes with avocado and yoghurt dip. Buddha bowls are also often served with hummus or tahini sauce. You can get creative in any way!
I decided to prepare some falafel and baked potatoes because they are really easy to make. I don't want to have a lot of work. The falafel and potatoes are easily baked in the oven so you only need to fry the smoked tofu. If you won't fry it you can eat the smokes tofu non fried in that bowl. It works as well. I really love fried smoked tofu and it works in seconds.
The combination of warm and cold ingredients in that bowl and the mix of soft and crunchy ones are so mouthwatering. Use Romaine Lettuce Leaves because this salad is really crunchy and works good together with the falafel and yoghurt dip.
All the ingredients I used in this buddah bowl are very healthy and digestible. The perfect mix for a lunch or dinner. Fresh herbs and spices are a big benefit to get a special aromatic flavor. Furthermore these ingredients are full of essential oils and anti-oxidants to provide your body.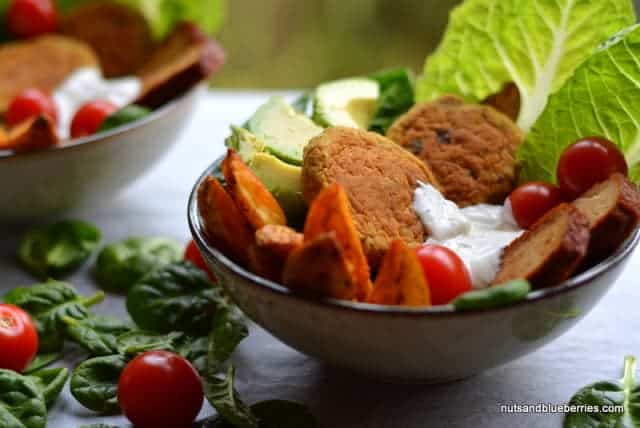 Recipe for 4 Buddha Bowl
Falafel
400g canned Chickpeas
1 big bunch parsley
1 big bunch mint
1 tsp baking powder
1 red onion
2 gloves garlic
1 tbsp flour
4 tbsp olive oil
1 tsp cumin
1 tsp turmeric
Baked Potatoes
8 midsize potatoes
1 tsp turmeric
1 tsp paprika
3 tbsp olive oil
500g Yoghurt (use soy for vegan)
200g Smoked Tofu
2 Avocados, cut in slices
8 Romaine Lettuce Leaves
20 Cocktail Tomatoes
200g Baby Spinach
Salt and Pepper
Preparation
Baked Potatoes
Line a baking tray with paper.
Preheat the oven on 200 C.
Cut the potatoes into wedges and mix them together with the spices and olive oil in a large bowl.
Place them on the baking sheet.
Bake them for 30 minutes until they get crunchy.
Falafel
Drain and rinse the chickpeas. Pick up the herbs leaves.
Line a baking tray with paper.
Add all Falafel ingredients in a mixer and mix until you get a creamy mixture.
Form 12 balls and place them on a baking try with baking paper.
Bake them 15 minutes together with the Falafel on 200 C.
Smoked Tofu
Fry Tofu over high heat for 2-3 minutes.
Yoghurt
Mix yoghurt with salt and pepper.
Arrange all your Food in 4 bowls and enjoy!