Every weekend I plan my week because it is very important for me to eat a healthy dish every lunch time. I hate eating spontaneously. I like to enjoy what I eat at lunch time. My lunch should give me lots of health benefit to get new energy for the other half of the day. I am really lucky because I can eat at home in my lunch time. But if I couldn't do that I would prepare my lunch at take it with my every single day. Good planning is the base for a healthy diet. You don't need to cook elaborate. It is only important to cook for 2 days so you have less stress at one day you don't need to cook. I cook two times a week an during the weekend. I prepare healthy treats or soups and freeze them to have them on hand when I need them. Now it became a routine for me to have a good diet management. You can start in little steps by planning only a healthy breakfast and when you are safe with this you can start to plan lunch and so on. I will add a healthy living category soon with my tips for a healthy living.
I am really happy to share my favorite tofu Bolognese recipe with you!
I tried out different tofu Bolognese recipes and need a lot of time to find the perfect recipe for me and my hubby. Now it's done. I don't cook a lot with tofu but in this recipe I love love love it. This recipe is a vegan but we use parmesan for the topping. So it is on your side if you use cheese or not. For the red wine use vegan red wine if you like it vegan.
I use a lot of fresh herbs because fresh herbs because they are so good for my health. Herbs contains a lot of essential oils. That's the reason why they are so delicious in the kitchen. Herbs also contains a lot of secondary plant products which are detoxifying for your body.
Tofu is a an excellent source of protein and contains all eight essential amino acids. You find also iron and calcium and the minerals manganese, selenium and phosphorous in tofu. Vegetarians like to eat tofu because of its high qualified protein. You find also protein in other animal products like milk or cheese. But when you don't eat cheese that much or eat vegan tofu is a really good ingredient for your diet.
I use canned tomatoes in this recipe because canned organic (!) tomatoes are also really healthy for sure. Tomatoes are the best source of the carotenoid pigment lycopene. The cooking process with a little oil helps to carry the lycopene into the bloodstream.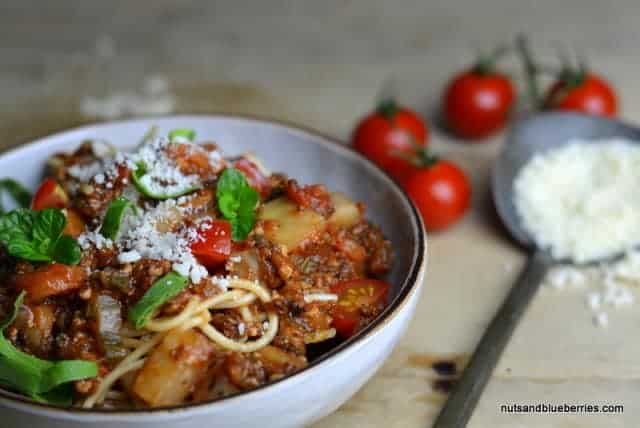 Aromatic Tofu Bolognese
Serve 4
800g canned tomatoes
1 eggplant
200g Tofu
2 tbsp olive oil
1 red onion
1 bay leaf
4 juniper berries
50ml red wine (take care of a vegan wine if you like to cook vegan)
1 tsp agave syrup
1 tsp broth
2 carrots
1/4 celery
5 tsb rosemary, oregano, thyme
10 leafs basil leafs (and more to serve)
salt & pepper
300g whole grain pasta
optional:
100g parmesan for topping
Preparation:
1. Finely chop the tofu and the eggplant (in cubes). I use my Vitamix but you can also use a fork for the tofu.
2. Fry the tofu and eggplants with the bay leaf and the juniper berries over high heat while stirring around the whole time.
The tofu may not look black only golden!
3. When the tofu is golden add chopped onion, carrots and celery and fry for another few minutes.
4. Deglaze with the wine.
5. Add the tomatoes, broth and herbs and let simmer other 5 minutes.
6. Meanwhile cook the pasta.
7. Season with salt, pepper and agave syrup.
8. Serve with fresh basil leafs and parmesan.