WOW! Another super healthy nutritious superfood to add in my smoothies: Boost Yourself Workout Superfood Blend. All our ingredients are in their purest forms, the way they should be. Nothing artificial, no added sugar, no additives, no harmful preservatives, no fillers and no bullshit. Specifically formulated for quick post-workout recovery!
I really love that healthy combination from hemp protein, brown rice protein, raw cacao, maca root, wild cranberries and baobab fruit. The flavor is really delicious, the taste is only a pinch of choclate and maca. Hemp protein contains all essential amio acids and hemp protein is similar to your Body Protein. Because of this your body can easy absorb the hemp protein.
Workout blend is a energizing superfood blend designed to support your body after physical activity. It helps your body with recovery, boosts energy, fight fatigue and promotes lean muscle gain. It's formulated to make your workout more efficient. When you consume carbohydrates and protein in liquid form, your body easily processes the nutrients, meaning your cells receive the nutrition expediently.
I combine this blend with carrots to reach one portion of the 3 recommended vegetables a day and soaked cashew nuts for extra creaminess. I love adding different ingredients in a smoothie to get different healthy nutrients. You can easily chop the carrot when your blender isn't strong enough.
I often used frozen banana because I freeze them when they are ripe. You can easily peel them and freeze in small pieces and use them whenever you want.
By the way. You can learn more about this lovely Company in my blog post: Boost Yourself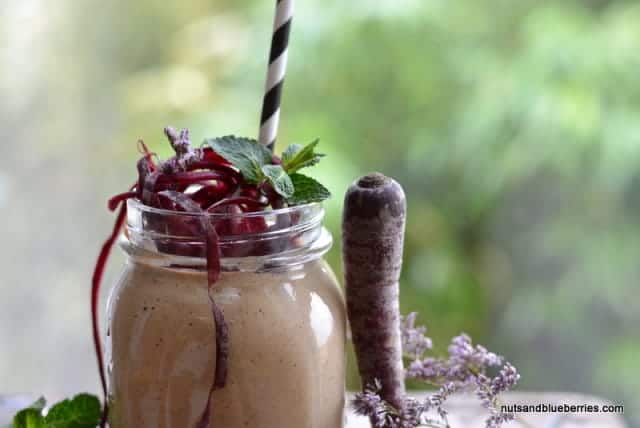 Carrot Banana Smoothie
Serve 1
1 small carrote
1 ripe Banana, frozen
1 handful cashew nuts (soaked over night)
250ml almond milk
1 tbsp chia seeds
1 tsp ground vanilla
1 tsp ground cinnamon
Optional
1 tbsp Workout Boost Yourself Super Blend
Preparation
Soak the cashew nuts and chia seeds in separat bowls over night.
Drain and rinse cashew nuts in the morning.
Mix all ingredients in a blender until completely smooth.