There are a lot of reasons to eat more nuts during the day. For me it is an important ingretient for my muesli, smoothies, cookies, salads and other meals. You can ground them or use them complete for whatever you want. Nuts and especially walnuts are full packed with many healthy benefits, for example plant-based Omega-3 fatty acids which are anti-inflammatory. It is so easy to add nuts within the day.
I love beking Muffins for the whole week and take them with me to work to have a healthy snack on hand. This recipe can be make vegan or with yogurth and honey if you like.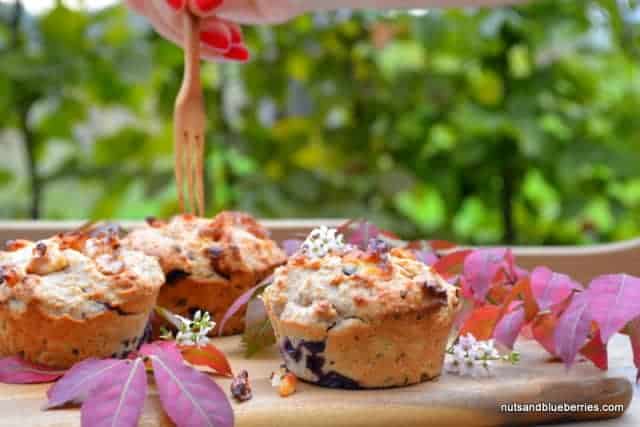 Walnut Muffins with caramelized walnuts
makes 12
4 ripe bananas
10 Dates
4 tbsp coconut oil
4 tbsp applesauce or yoghurt
200g rolled oats
200g spelt flour
2 tsp baking powder
1 tsp cinnamon
1 tsb salt
100g walnuts
Topping
1tsp agave syrup or raw honey
1tsbp walnuts, chopped
Preheat the oven to 200°C. Mash the bananas with a fork and ground the rolled oats finely.
Add all ingredients together and mix carefully. Than chop the walnuts and add them to the mixture.
For the toppig dizzle the agave syrup or honey over a few chopped walnuts.
Use a Muffin tray and oil them with a bit coconut oil. Fill in the Muffin mixture and top with dizzeled walnuts.
Bake for 200min until the Muffins get golden. Enjoy!