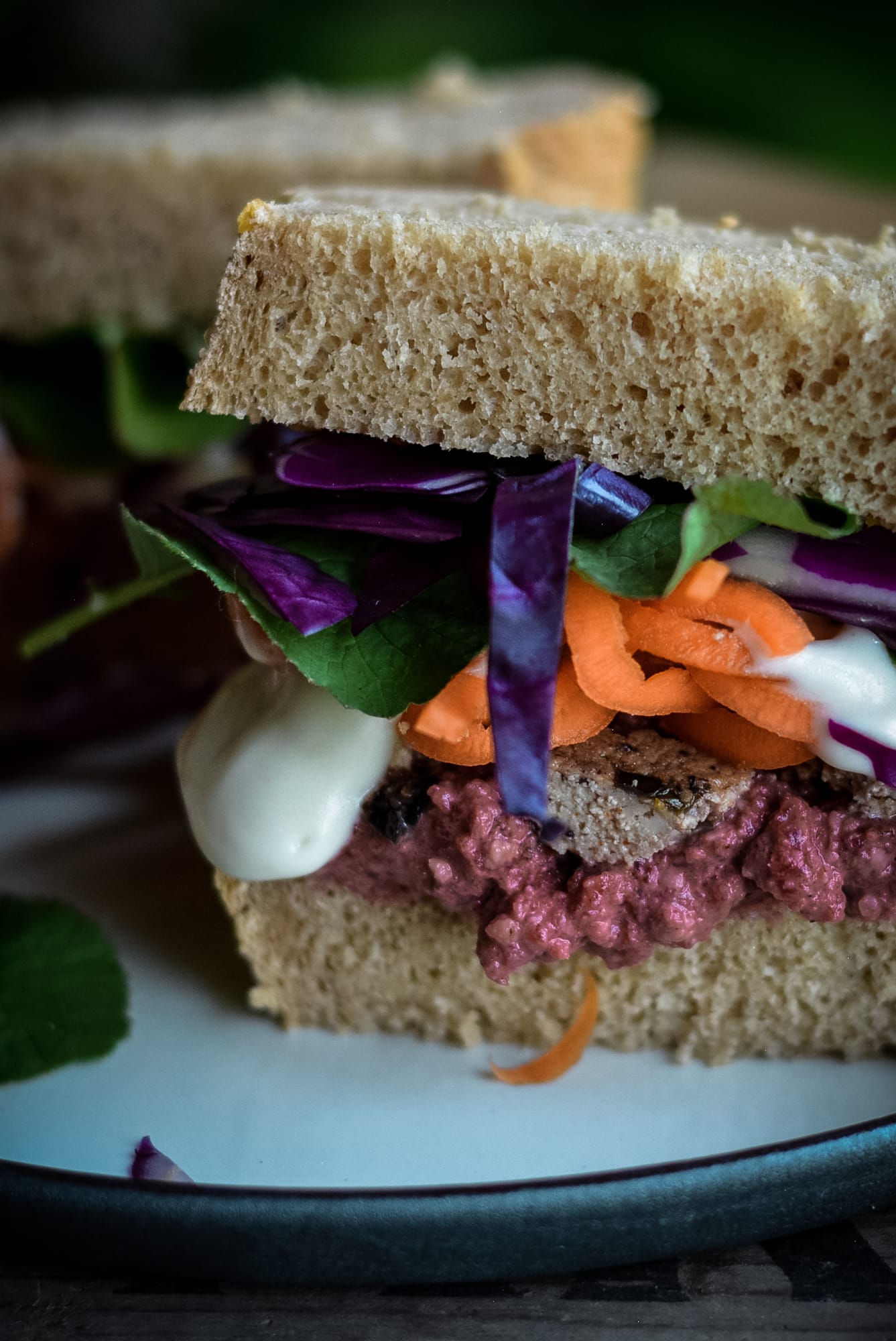 Who don't love to eat a sandwich? I never made lots of sandwiches in the past because I don't know how to prepare them. But life is learning right? So I tried out my own Sandwich Version and it worked well as you can see in the picture. Really proud. Haha. I love to combine different colors and ingredients. Soft ones, crunchy ones, warm and cold ones.
Who didn't get mouthwatering by starring at a sandwich like this? I searched for an alternative for hot summer days. Normally I enjoy salads like this one from my friend Tracy: Broccolie Slaw. But sometimes I need another idea instead of eating salad all day long. Burger are also a classic and nice summer meal idea. For example my Mr. and Mrs. Chickpea Burger.
Tofu on a Sandwich
I love to use Tofu in my kitchen since a few months. I already learned that preparing tofu right isn't a wonder and its really tasty when you know how to prepare it. You can use the smokes tofu cold or fry it to get a crunchy mode and a warm flavor. Take care of GOOD QUALIFIED TOFU. There is a big difference between the brands.
Vegan or Vegetarian
If you don't want a vegan Sandwich you can simply switch the vegan mayonnaise in a vegetarian one. Or add some cheese. I was totally overwhelmed about the taste of vegan mayonnaise. Have you ever tried vegan mayonnaise? It don't taste really different to normal mayonnaise.
This Sandwich is made with a light flavored red beet hummus which is made within seconds. I got this really nice inspiration from my friend Niki (www.rebelrecipes.com). You find the original recipe here: Beet Root Hummus. Because I have a garlic allergy I made my own one without garlic. Beet Root is a natural superfood which your body will love. Beets are full of potassium, magnesium, fiber, phosphorus and iron. Beets are also particularly beneficial to women whom are pregnant, as the vitamin B and iron are very beneficial to new growth cells during pregnancy and replenishing iron in the woman's body.
Grated carrots and Red Cabbage is such a crisp benefit for this Sandwich. It's the perfect balance between softness, crunchiness and the smoked flavor from the tofu.
I love to prepare the ingredients for this Sandwich in advance and make it IN TIME when I need it. You can store the ingredients up to 3-4 days in the fridge. Perfect for days you don't have many time to cook. And you can eat the Sandwich whenever you want. It's the perfect start in the morning as well as a great lunch or dinner.
Bread
The right Bread is really important for a Sandwich. Therefore I use a wheat whole grain bread which is fluffy and healthy as well. Don't use a Bread which is too strong. Use one which is light and fluffy. One which have less seeds or nuts.

Healthy Beetroot Sandwich with smoked Tofu
Author:
nutsandblueberries
Ingredients
2 Slices of soft bread (I use wheat whole grain)
4 Slices smoked tofu
2-3 tbsp vegan mayonnaise
1 carrot, grated
red cabbage, grated
basilicum
Red Beet Hummus
2 red beets (I used cooked ones)
4 tbsp walnuts, raosted
4 tbsp olive oil
salt and pepper
2 tbsp tahini
Instructions
Mix up all ingredients to make the red beet hummus. Season with salt and pepper.
Fry the smoked tofu slices over high heat for a few minutes until crispy
Spread one half of the bread with red beet hummus
Add smoked tofu and spread the vegan mayonnaise on top
Final add the grated carrot and red cabbage. Sprinkle with some Basilica leaves if you like
Top with the other half of the bread
Enjoy.
It's a mess but it really worth it :o).