Bring more color in your life! Looks at this purple cabbage salad with roasted walnuts – it makes me happy only looking at it. Purple cabbage is so easy to prepare in the kitchen and so full packed with health benefits. When cabbage is cooked, it lose many of its valuable minerals and vitamins. The vitamins and mineral content of raw purple cabbage is the most significant reason to consume this vegetable. I love preparing the cabbage with my hands and knead in the dressing so the cabbage gets softer.
Beside purple cabbage I use green peas and roasted walnuts in this salad to bring an excellent sources of folic acid. Folates are one of the B-complex vitamins required for DNA synthesis inside the cell.
Walnuts are a great source of plant based protein and they also contain many other vitamins. The omega-3 fatty acids are good for your brain and to lower cholesterol. The best way to profit from the healthy fatty acids is to contain nuts and seeds in your diet every day.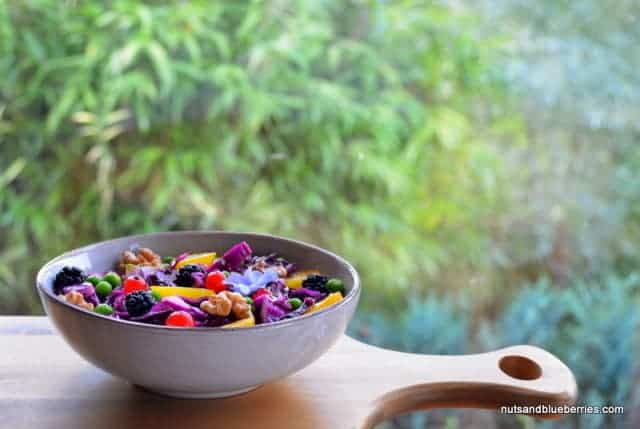 Purple cabbage salad with roasted walnuts
Serves 4
A small purple cabbage
300g green peas (frozen)
200g cocktail tomatoes
50g walnuts
6 tbsp walnut oil
6 tbsp cider vinegar
2 tsp granary mustard
1 tsp raw honey or agave syrup
salt and pepper
optional:
200g ewe's cheese
fresh blackberries
Defrost the peas and roast the walnuts carefully in a pan without oil. Let the walnuts cool down.
Chop the purple cabbage finely and knead the dressing (walnut oil, cider vinegar, granary mustard, raw honey or Agave syrup, salt and pepper)
a few minutes with your hands into the salad.
Quarter the coktail tomatoes and add them together with the peas to the purple cabbage.
Let simmer the salad at least one hour or overnight.
Serve with roasted walnuts, ewe's cheese and fresh blackberries.