Chickpeas are very high in vegetable protein which is very valuable for vegetarian diet. One-cup serving of chickpeas provides 21% calcium, 13% vitamin C, 69% iron, 55% vitamin B-6 and 57% Magnesium.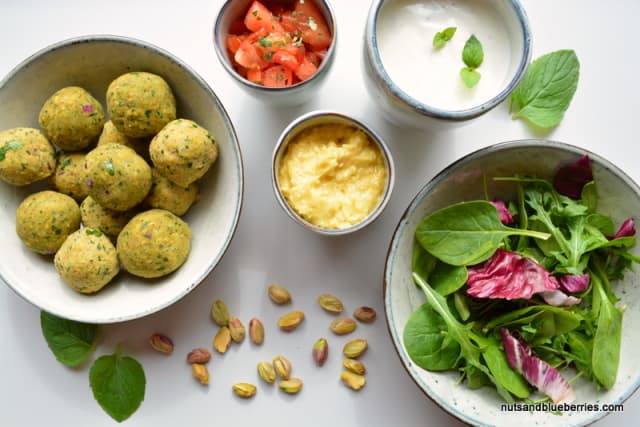 Nut and Seed Falafel with Cashew Butter
Recipe below for falafels, cashew nut butter, tomato salsa and mint dressing.
You need also salad for serving!
INGREDIENTS
for 20-25 falafels
FALAFELS
250 g pistachio nuts
50 g sunflower seeds
400-450 g canned chickpeas
½ punch of fresh mint
½ punch of fresh parsley
1 red onion
1 tsp ground cumin
2 tsp spelt flour (or other flour)
1 tsp baking powder
3 tbsp olive oil
Rinse the chickpeas and put them in a large bowl (or food processor) with olive oil, finely chopped onion, cumin, flour and baking powder. Blend this combination until it is very smooth. Chop the nuts and seeds coarsely (not to fine!) in a food processor or other kitchen machine. Chop the fresh mint and parsley finely and combine chickpeas mixture, nuts, seeds and herbs together and combine very well.
Cover a backing tray with baking paper and preheat the oven to 190 degrees. Using your hands and form 20-25 small round falafel and place them on the backing tray.
BEFORE BACKING PREPARE THE CASHEW NUT, MINT DRESSING AND TOMATO SALSA (SEE BELOW)
Bake for about 15 minutes.
CASHEW BUTTER
75 g butter (room temperature)
50 g cashew nuts
big pinch of coarsely salt
Chop the cashew nuts coarsely and mix together with the butter and salt. Place in the fridge.
TOMATO SALSA
3 tomatoes, cut in small cubes
½ red chili, cut in small stripes
½ tsp dried oregano
3 tbsp olive oil
salt and pepper
Mix all ingredients together and place in the fridge.
MINT DRESSING
250 ml yogurt
¼ punch of fresh mint, coarsely chopped
salt and pepper
Mix all ingredients together and place in the fridge.
SERVE
Spread the wrap with cashew butter, place salad, 3 falafels, tomato salsa, mint dressing on it and fold it gently.