This Quiche is one of my absolutely favorites! I use coconut oil instead of butter and oeat for the crust.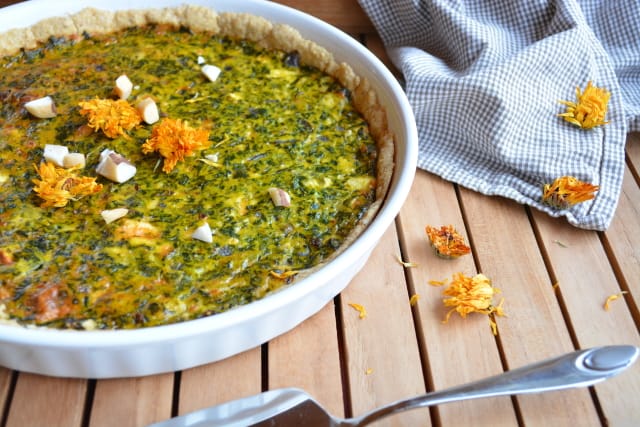 Feta spinach quiche with oat flour
for a 30cm quiche case
INGREDIENTS FOR THE PASTRY
95 g oat flour (ground rolled oats in a food processor)
70 g ground chickpeas flour (or spelt flour)
3 tbsp corn starch
1 tsp sea salt
4,5 tbsp cold-pressed coconut oil (or butter)
5 tbsp ice-cold water
INGREDIENTS FOR THE FILLING
5 eggs
200 g feta cheese
2 tsp dried oregano
1 tsp red chilli flakes
3 tbsp olive oil
3 red onions, finely chopped
200 g frozen spinach
salt and pepper
Put the oat flour, chickpea flour, cornflour and salt in a bowl. Add the coconut oil and ice-cold water.
With your hands prepare the dough and form a ball to chill with transparent film in the fridge for 30 minutes.
Preheat the oven to 180C.
Wisk the eggs and crumble in the feta cheese. Add the oregano, chilli flakes and a pinch of salt and pepper. Set aside.
Heat the olive oil in a frying pan on a medium-high heat.
Add the onions and fry for few minutes.
Add the spinach and a pinch of salt and put the onions and spinach to the egg mixture. Stir well.
Press the dough into a 30cm Quiche case.
Form the dough until the edge of the case.
Prick the bottom with a fork and blind bake for about 10 minutes. Reduce the oven to 170C.
Then throw the filling into the baked quiche case and bake for about 30 minutes until the filling is finished.