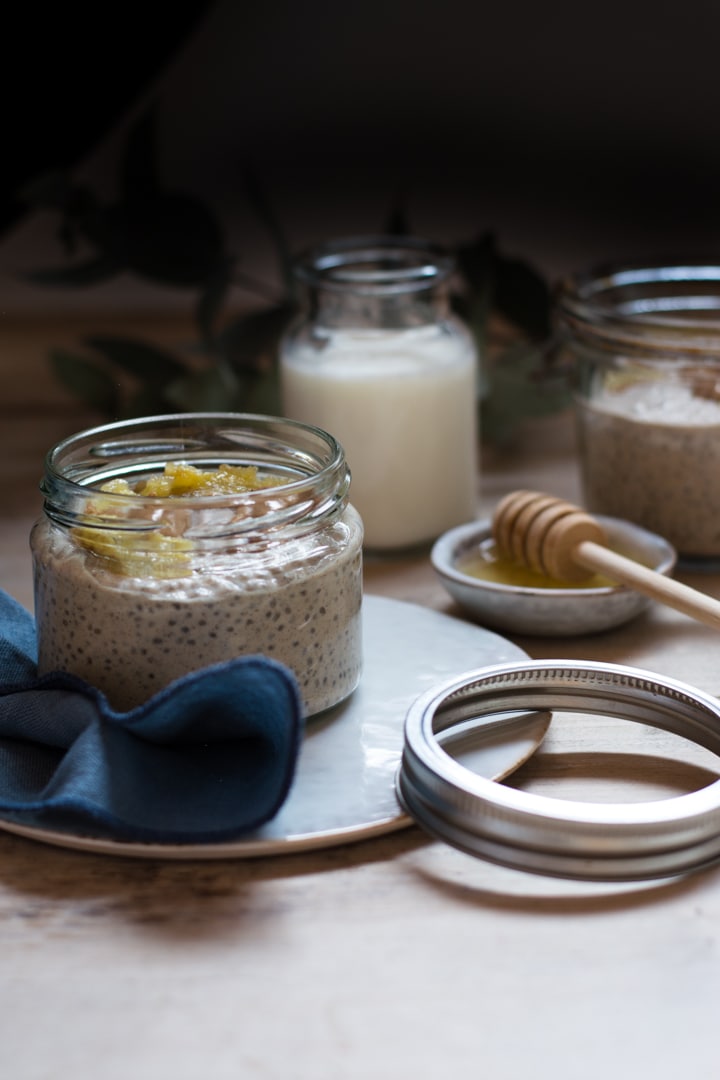 Breakfast Love
Are you a breakfast lover? If yes, you should try out baked banana with oats, chia or yoghurt. If not, you should start with this vanilla chia pudding soon. Frying bananas is really simple and so delicious. They are getting sweeter after frying and you can add your favorite spices as well. Ground vanilla, turmeric or simply coconut sugar is a great idea "to pimp" your baked banana. You can also add some sesame seed. The list is endless.

Enjoy the silence
The mornings are so beautiful. I love to spending time outside with my camera and cats, enjoying the silence and magical light. Hank always sits on a wooden stake in my garden in front of me, listening to the early birds singing. He is a special cat, he don't hunt very often, satisfied with his food he gets from me. We all spend a lot of energy with talking all day long, working hard. Everybody needs a break from time to time. Why not celebrate it on Sundays? I read a wonderful article about "Why I recommend making Sunday a day of silence". It is all about discipline to take time and spend a day "off".

Food Photography
I really love what I'm doing right now and how I live. One big element is my food photography which became a big passion in my life. As you can read in my post about my "Experiences in Food Photography" it was a long way to optimize my skills and I'm still learning. Dearnas Food Photography Styling Guides helped me a lot to learn more about the right focus, equipment, how to use Lightroom and lots of other photography stuff. If you want to optimize your skills to I highly recommend them. You find more information here "Dearnas Food Photography Styling Guides".

 
Chia and cashew as a creamy team
As you can see on Instagram I don't eat chia breakfasts very often. I normally prefer filling smoothies or nutcreams. But I came across a chia idea a few months ago and felt in love with the combination of chia and cashew nuts. As a nut addict I especially love cashew nuts because you can simply add them to make a meal more creamy without adding dairy products. I'm not a full vegan but I love to eat vegan from time to time. You can read more about my weekly diet and cooking routine in my last post: diet and cooking routine.
Healthy source – chia seeds
Chia are a good choice to add fiber and calcium. I've got a few recipes with chia. You can use it in baked treats as an egg replacer or simple soak them. One of my favorite recipes with chia seeds is my Raspberry Chia Porridge.
Back to the current recipe. It's made from cashew nuts to make it more creamy, chia seeds and some spices. It's simple to make. The only thing you need to care about is to soak the cashew nuts overnight and let the chia pudding soak for 1-2 hours in the morning. I often soak the nuts on Saturday or Sunday and prepare the pudding in the evening and chill overnight.
Creamy Vanilla Chia Pudding with baked Banana
Author:
nutsandblueberries
Ingredients
75g chia seeds
150g soaked cashews (best is to soak overnight)
4 dates
2 tsp ground vanilla
400ml water
Instructions
Place chia seeds with 150ml water in a bowl and set aside to soak.
Place soaked cashew nuts with water, dates and vanilla in a high speed blender.
Mix the liquid with the chia seeds and whisk every few minutes to prevent from clumping.
Place in a fridge or cold place for 2 hours.
Heat a pan with coconut oil and fry the banana over medium heat.
Serve chia pudding with warm banana and top with almond butter.
The pudding will keep for up to 5 days.
I got the idea to add cashew nuts from Amy Champlin, you find the original recipe here (http://amychaplin.com/2012/01/13/vanilla-chia-pudding-with-berries-and-a-chocolate-version/) .
Mine is a little bit more simple.
Pin me!
---
Favorites of the week
I came across a wonderful Instagram account from a vegan foodie & hungry puppy Olia and Cookie 
Sarah Britton from mynewroots published her second cookbook
You could be interested in these posts as well
More chia breakfast ideas? Looks at this Raspberry Chia Porridge 
Learn how to create the perfect smoothies with "Make the perfect smoothie more filling"
My absolutely favorite smoothie! With lemon and cashew nuts and turmeric! Excellent superfood!