Anyone can start a blog for free so it is not a surprise that there are more than 200 million blogs in 2017 wordwide. See best-free-Blogging-sides.
I'm proud to be one of them.
There are lots of people who are writing a blog about the topic "Blogging" because there is a really big need for blogger tips.
I write this blog post today for my community, for my friends, for my family and all the people who are interested in knowing more about my work as a blogger and instagrammer.
A lot of people asked me why I'm not starting a full-time blog business.
I will try to explain why I prefer to be a hobby blogger.
Fulltime or Hobby blogging?
I never expected that blogging is multifarious as it is. I'm sure it's a key fact why so many people decided to start a blog. The latest new blog I read was from my Instagram friend Anina. She talks about fair fashion and vegan food. Great work!
A lot of blogger realizes very fast what it means to have an own blog. It means a lot of fun but a lot of work as well. The more you learn about blogging the more possibilities came across your head.
I'm a Hobby blogger. And I love it!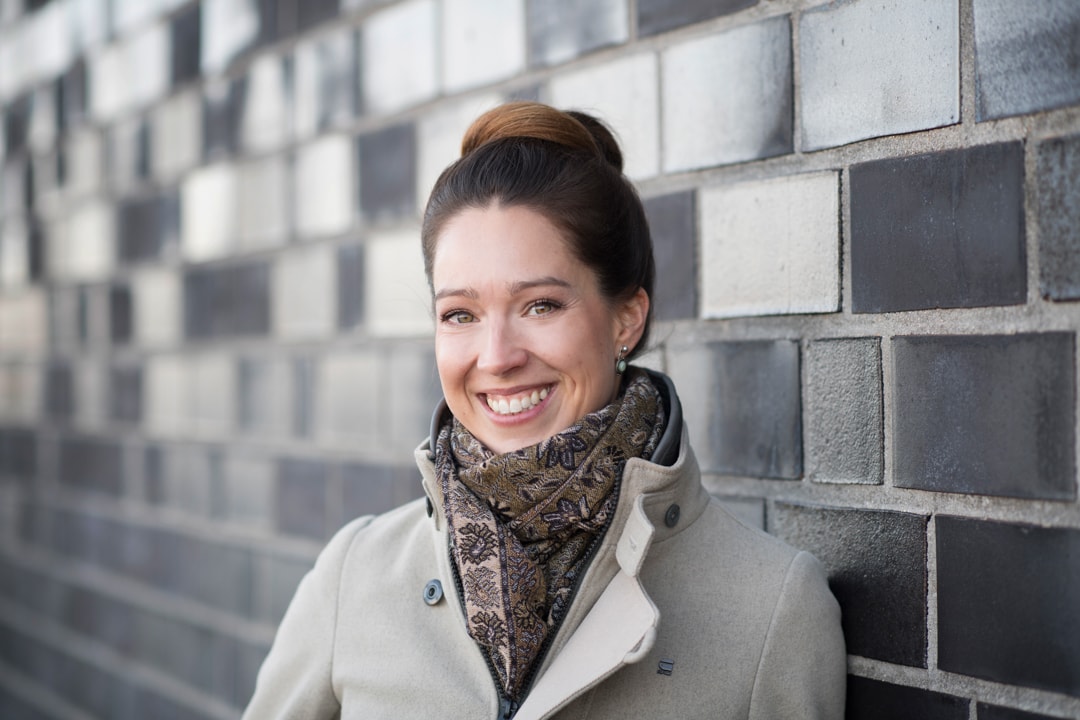 Why I'm working as a Hobby Blogger
I'm working for a midsize trade company since 14 years. I'm the head of E-Commerce – the company name is www.macle.com. Sure. I thought about quitting my job and working full time as a Blogger. Not because I don't like my job. The reason is because I was interested in being a full time blogger.
But after thinking carefully and after writing down all the risks I decided to stay in my safety job. I heard about the "dark side" of blog business and the pressure to earn enough money for your life. You can't earn enough money with your blog as a page only – but you can establish a business around your blog (for example www.greenkitchenstories.com – they wrote cookbooks, they established an app, they are holding workshops etc. And they need to travel a lot).
To grow a Business "around" your Blog
I wrote a blog post about  Can you make Money Blogging with a small blog? to show it is possible to earn money as a Blogger. But it is difficult to earn enough for life. Normally fulltime Blogger grow a Business around the blog. Means they write cookbooks or apps and sell them. They are doing workshops or working on creative projects for brands (for example as a Food Photographer).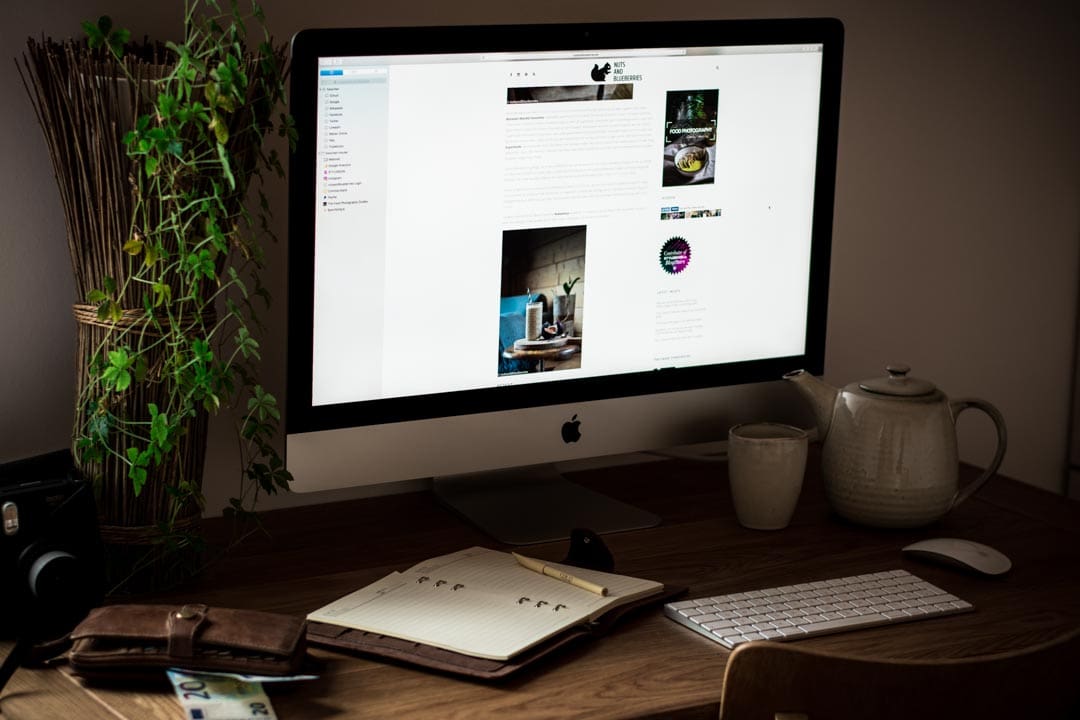 What is my main work as a Blogger?
Because I'm a hobby blogger I'm really independent. I can do whatever I want. When I want. It isn't my goal to expand my blog and get thousands of readers. I focus myself on:
I would love to have more time for developing my blog website. But I'm fully busy with these few points. Sometimes I take time to read other blog posts. When I read one I read it completely and leave a comment most of the times because I know how many work it is to write a blog post. One of my latest favorite is this one from Lara: Cini-Minis
1. Blog and Instagram Posts
My main focus is to write my blog posts. I need 10-15 hours for one post. And I'm only publishing one in 5-6 weeks. I'm only writing when I have time and I take the time for it because I love thinking about it and writing it. Most of the times it's really spontaneous. My topics are only topics I'm interested in. I would never write about a topic only because people would love to read it.

Instagram
I pulish a few posts on my Instagram feed @nutsandblueberries weekly. I need 2 hours for one post because I love to write long captions and tag people as well as interact with my follower. I'm still answering every single comment and I try to visit all my friend as well when I'm online. So as you can see it is a lot of work as well to publish an Instagram post.
My motto is: quality instead of quantity
I want to have fun – NO STRESS!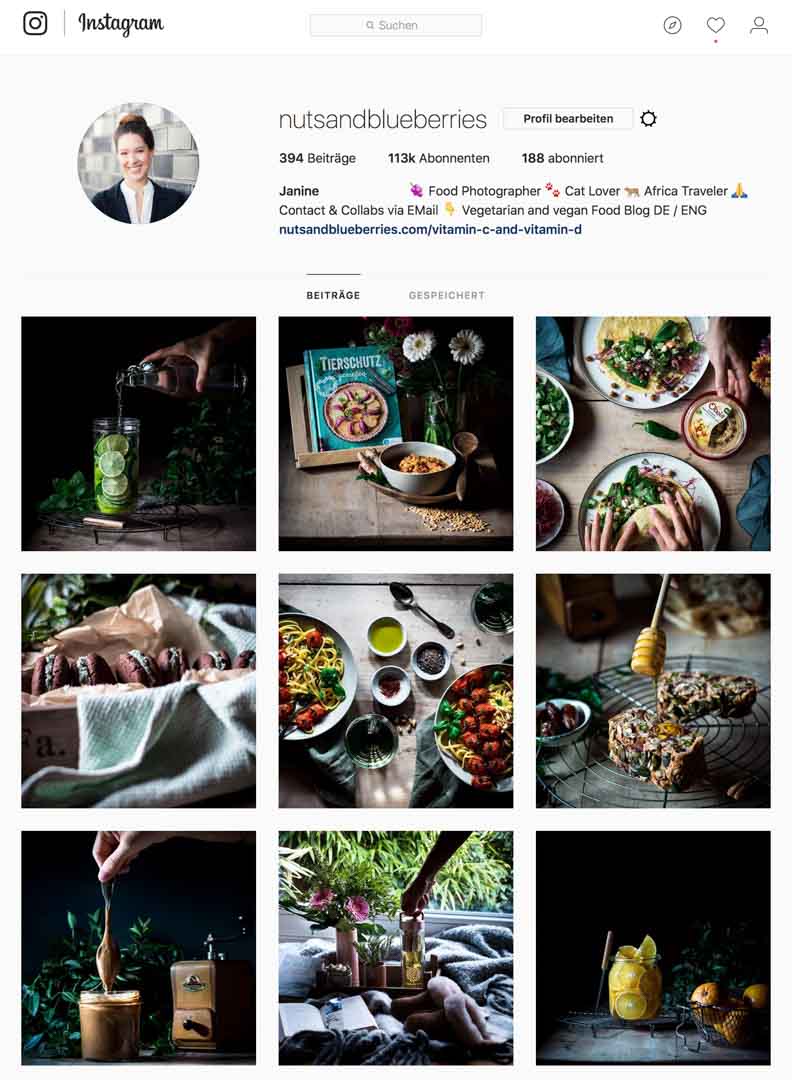 2. Food Photography
If you are a Blogger and Instagrammer you need to love to produce good content. That means you need to love writing and the best is to love high quality images as well. It takes a lot of time to learn more about photography. I invested a lot of time and I just learned to use Lightroom. You can read more about my experiences here: Dark and moody Food Photography
I'm happy I invested the time because today it is so much easier to take good food Pictures.
3. Networking on Instagram
There are a lot of technical guides which helps you to understand the technical issues of your blog software. For me it is really difficult and I'm still a beginner. I didn't use Google or something like this to promote my blog. I'm only using Instagram because I love this social media platform. I "met" so many wonderful people there and I would love to meet them in real life in the future.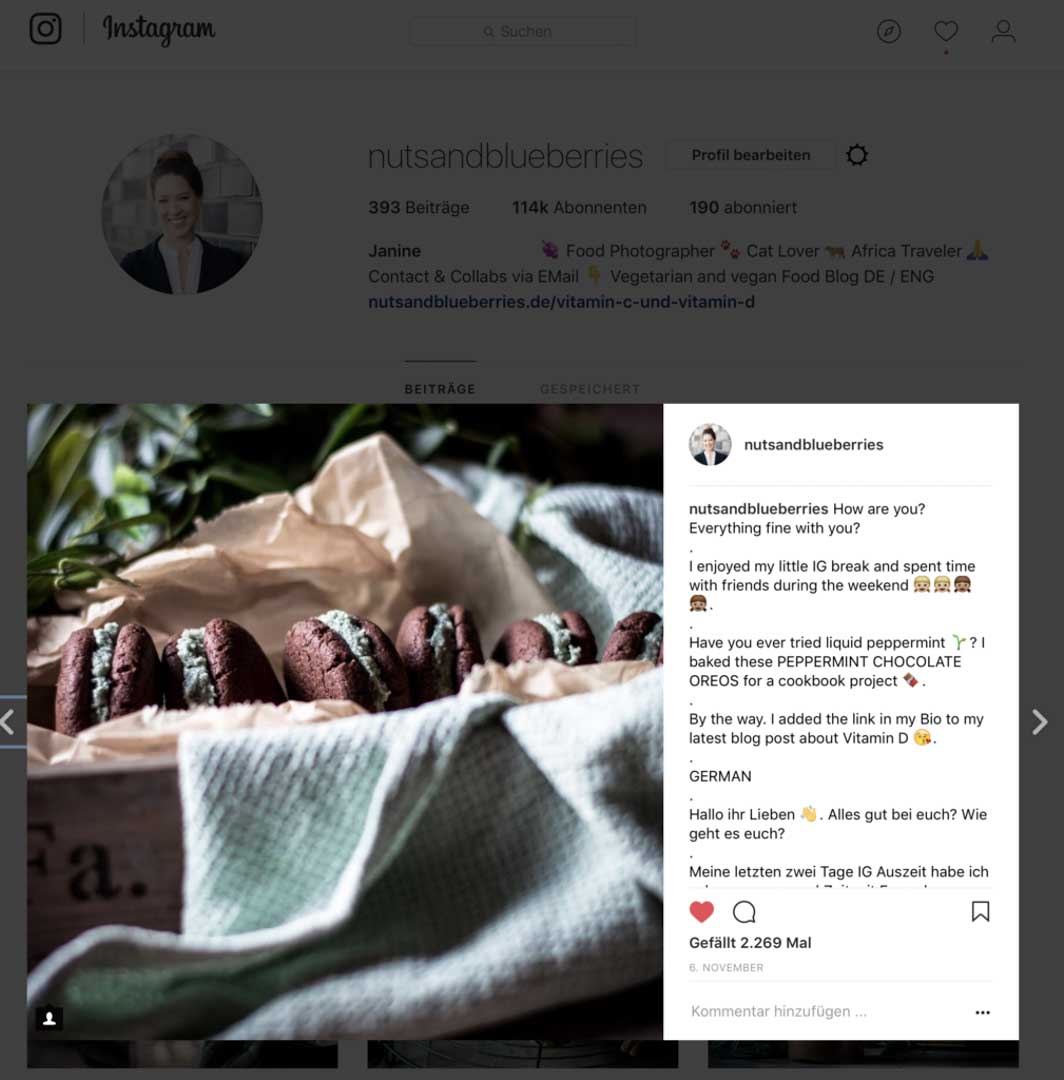 I have fun to learn from each other. A few Instagramer are reading my blog and I read their blogs. I also love to support other blogger and Instagramer from time to time – no matter if they support me back (I support a lot more than I get back haha). But it's ok. It's coming from my heart.
For example: I have a close-relationship to Klara from @klaraslife – she just sent me a birthday postcard.
Or Gudrun from @foodiegudi – she isn't a blogger but she is always kind and help my out at any time when I have questions about herbs and food.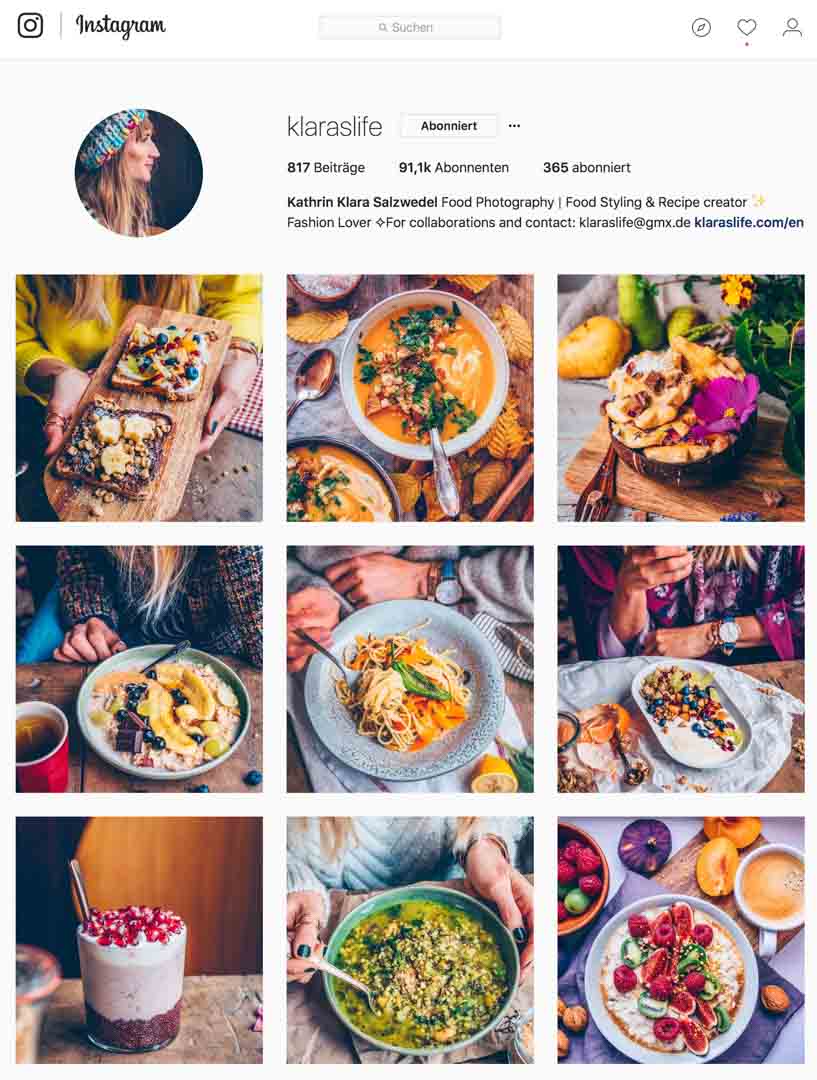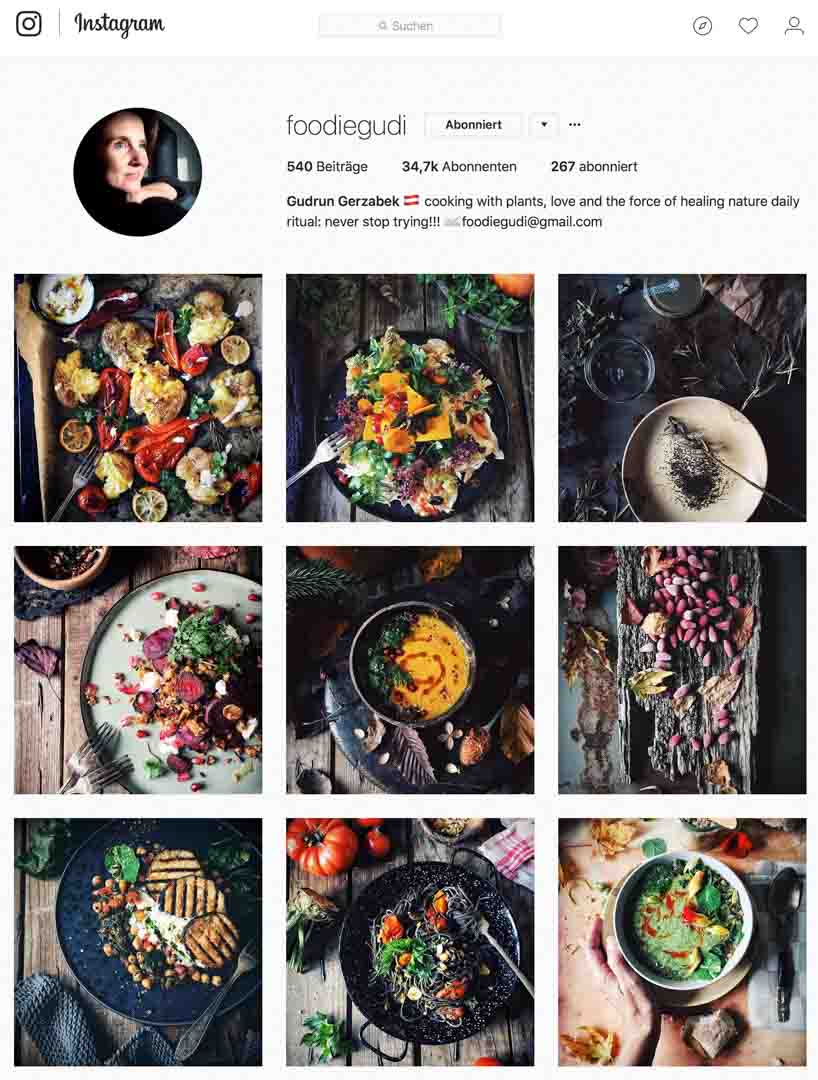 Instagram is my main social media platform and I have less time for others. I read that pinterest is very good to promote your blog. And I tried out to create an Image one time and I really love it. I want to create more images for my pinterest platform as well in the future. If you like to follow me visit: nutsandblueberries on Pinterest
And Facebook?! I see a lot of you are using it but I don't like it. Too much information. I only have my little page: nutsandblueberries on Facebook
4. Cooperations & volunteer projects
I often support blogger who wrote a cook book because I love their work and love to share it. I don't get paid for these kind of cooperation. Sometimes I get a book for free.
In the last year more and more companies asked me to work with them. They want to get product placement on my blog and / or Instagram. I only work together with companies and brand I really like and I love to recommend. Great when you are a hobby blogger. No pressure. But I don't accept a lot of cooperations – I have less time.
It makes so much fun to get free product samples from time to time. But I don't want to get too much because I need to give always something back to the people or companies. It's WORK!
When it is a bigger company I ask for a professional fee. It's a good idea because I need to compare my maintenance costs. Technical stuff and giveaway material for my blog as well as Lightroom costs round about 100-150USD per month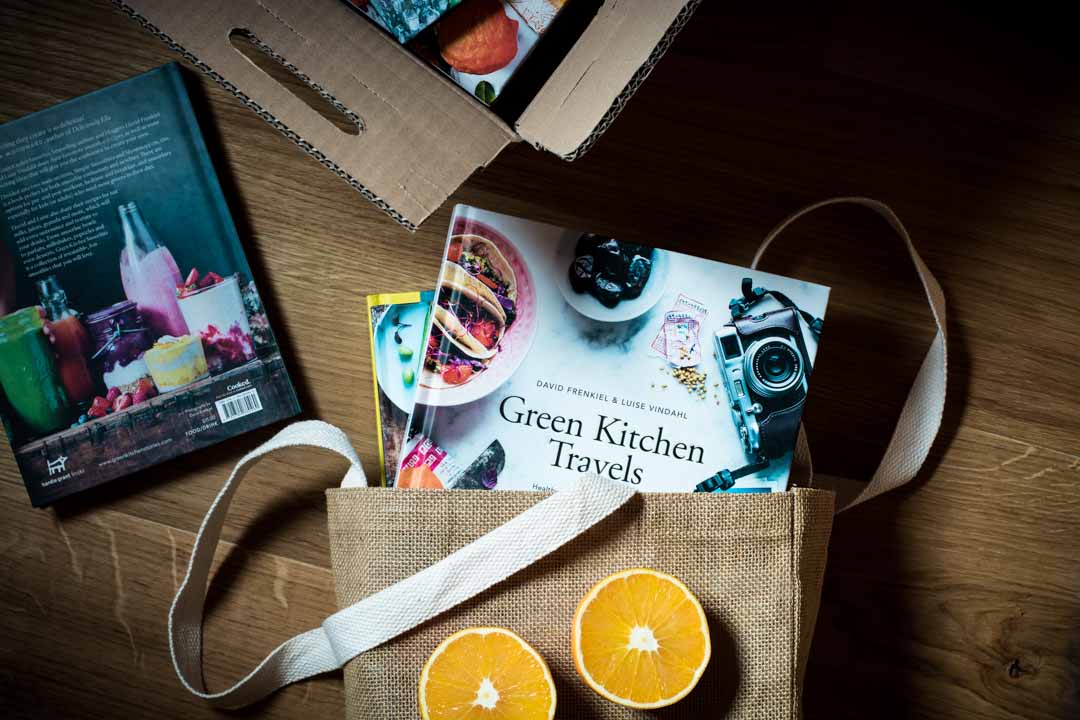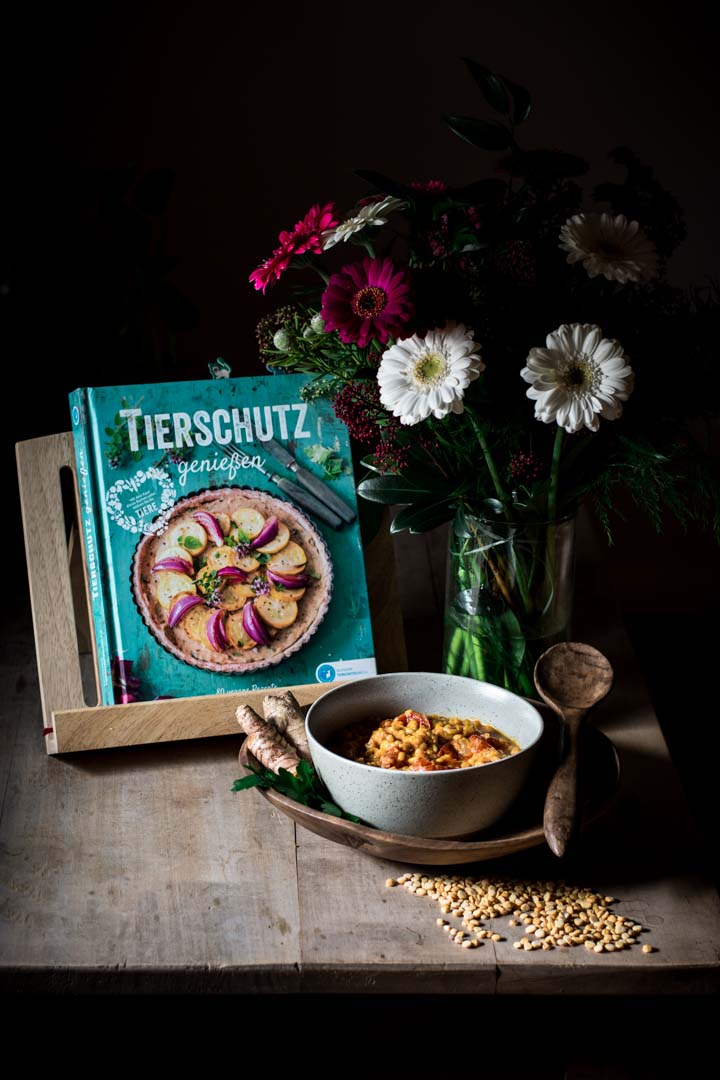 5. Cooperation's with Publisher, magazines and Online platforms
I get asked very often if I'm interested in publishing a recipe in a magazine or online platform. It's always a pleasure to participate. I can't accept all offers because I have less time. This year I get asked if I like to write my own cookbook! Isn't that amazing? Unfortunately I didn't have time at the moment. But maybe next year?

If you are a blogger you need to ask yourself more often what you really want! The possibilities are endless!
As a Blogger you get ask very often if you like to give an interview. Here is an example on Dearnas page: Interview

Bloggen isn't "sweet cookie" at all
I didn't know what it really means to be a blogger when I started in 2015. It is amazing and I love it. But it's also a challenge to stay realistic and to avoid stress.
Blogging contains 50% very very taxing things. To keep the blog in good condition or to understand technical issues is really hard. And I sometimes like to stop all that stuff. To understand worldpress and SEO marketing is still a big big challenge for me. But without understanding all that shit your blog can be hacked easily. I made this experience. Now I get help from a consultant agency because i DON'T UNDERSTAND THAT SHIT – for example:
I'm happy to get some tips from time to time. Thank you Lara for your recommendation for the Google Speed Tester! ). But most of the times I really don't understand that stuff.
Oh and it is also hard for me to write the posts in english as well. But I do it because I'm so active on Instagram and lots of my favorite blogger friends are writing in english as well.
The lesson is clear…
As a hobby blogger you need to think about really carefully how to invest your time. You need to stop wanting ALL that stuff! Otherwise you will have to much stress and no fun. You need to do it with passion.
Are you a full-time or a hobby blogger?
What's your experience?
Would love to read your words.
Leave a message on my blog.
Pin me on Pinterest

---
---
Favorites of the week
One of my nee favorite recipes: Cini Minis from Lara
You may interested in the following as well
You can earn money with a small blog as well: Read more
You like to produce better content? Read more