I use blueberries nearly in every recipe in the summertime. I like to try out a blueberry dressing long time ago and now I have done and it is so so good. So good to share it with you ;o)
I read a very good book from Sarah Britton from mynewroots.
From her I learned to use the complete corn instean of the processed one.
Oeat are so healthy because of the high Level of iron which is important for a vegetarien and vegan diet.
In this salad I combine a lot of really healthy ingredients like kale, beans and grain oats.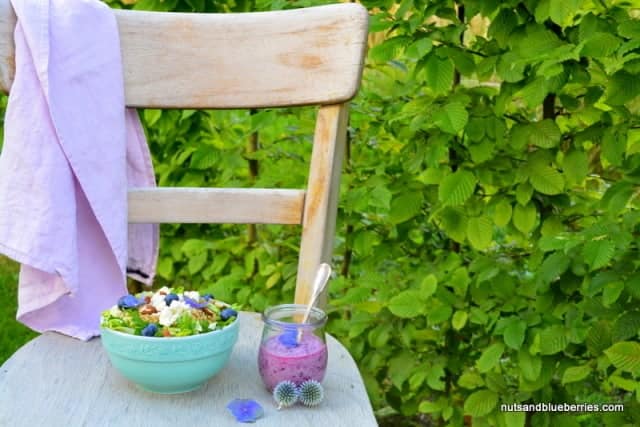 Oat salad with blueberry dressing
200g grain oats
1 romaine lettuce
200g savoy cabbage
125g feta cheese
400g white beans (uncooked or canned)
Dressing
100-125g blueberries
2 tbsp brazil nuts
2 tbsp walnut oil
3 tbsp apple vinegar
1 date
10 tbsp water
a slice of feta
Topping
2 tbsp almonds (unsalted)
few blueberries
When you use raw beans cook them 45-60 mins until they are firm to the bite.
Cook the grained oats 30 mins until they firm to the bite.
Chop the salads into little slices.
Roast the bazil nuts for the dressing and the almonds separate for the topping.
Mix the roasted bazil nuts and the other dressing ingredients until the dressing is creamy.
Mix all salad ingredients with your Hand and top with dressing, roasted amonds and fresh blueberries. Enjoy!