Healthy snacks for extra power during the day are one of the best things I enjoy every day. I prepared some healthy sweets on the weekend, stock them in the fridge for round about one week. Depends on how hungry I am. This hemp protein bars are full packed with lots of protein which is perfect before starting a yoga or fitness session. You find a great nut and seed combination in these bars. For example pumpkin seeds. Pumpkin seeds are a rich source of zinc. Zinc is important to your body, for cell growth and division, sleep, mood, your senses of taste and smell, eye and skin health. I use coconut oil instead of butter because coconut oil is a real and natural superfood which includes lot of healthy fatty acids and vitamin e. Vitamin e is THE vitamin for a good skin. LOVE LOVE LOVE vitamin e – YEAH!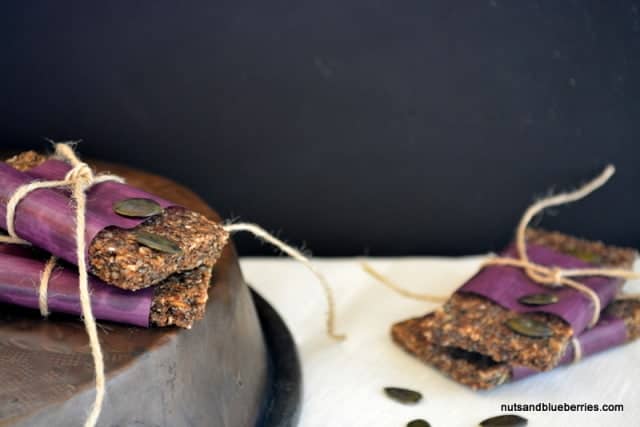 Hemp protein bars
makes 15 bars
50g hemp seed
100g ground coconut
150g pumpkin seed
80ml coconut oil (3 tbsp)
20 dates
40g raw cacao
50g rolled oats
2 tbsp poppy seeds
50g chia seeds
You need a tray or baking sheet (30x 20cm). Line it with baking paper.
Grind the hemp seed, grated coconut and pumpkin seed coarsely.
Mix the dates and cacao with the coconut oil and add the ground ingredients and rolled oats, poppy seeds and chia seeds. Knead with your hand until it is a sticky mixture.
Press the mixture on the baking sheet and chill in the fridge until you cut it into 15 bars. You can store the bars up to one week in the fridge.