Fried Egg Sandwich – This is a very easy delicious healthy sandwhich full packed with lots of vegetables and healthy fatty acids! Perfect for a late breakfast or evening meal.
They are not really more things in the worls which makes me feel more happy than happy healthy animals. For me the most important thing is to respect all animals in their nature life. That is the main reason I live as a vegetarian and somtimes as a vegan. I love to eat cheese and eggs but I'm only eating these animal products when they are comming from free living happy animals. Sometimes the normal european organic Label is not enough for me because they are only a minimum of standards of the animal farming. So I try to buy as much high organic labeled animal products as I can.
This Fried Egg Sandwich is made with eggs and a lot of vegetables. You find mushrooms which are contains Vitamin D. Vitamin D is a relatively rare vitamin to find in vegetables. This essential vitamin can facilitate the absorption and metabolism of calcium and phosphorous. Mushrooms also contains levels of these two nutrients, so the combined effects of having all of these nutrients in one powerful source, mushrooms, makes it a good idea to eat them whenever possible.
You absolutely need to add Avocado to this sandwhich because I don't add butter or something like that. The Avocado is the creamy part of the sandwhich. I eat a looooot of Avocado because Avocado is the best topping on Toast. And I love toast. Avocado is very very rich in healthy fatty acids and Avocados are the best fruit source of vitamin E, an essential vitamin that protects against many diseases and helps maintains overall health.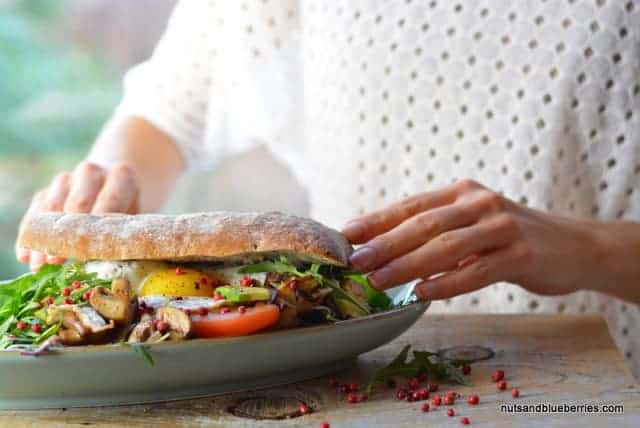 Fried Egg Sandwich
Serve 2
2 whole grain buns
2 organic eggs
200g mushrooms
1 Avocado
Rucola salad
1 Tomatoe
1 Red Onion
Salt and Pepper
red pepper corns to garnish
Quarter the mushrooms, slice the onion and fry them on high heat until golden.
In the meantime cut the Avocado and Tomatoe in slices and wash the salad.
Switch of the hob, set aside the mushrooms and use rest temperature for frying the eggs.
Start to layer one half of the bun with salad, the avocado and tomatoe.
Than add the mushrooms and top with the fried egg. And season with salt and pepper.
Garnish with red pepper corns if you like.
Enjoy!